I have been through this process – twice!
It requires skill, financial resources, contacts, luck and extreme amounts of hard work and perseverance.
Your best chance of success is with custom designs that fill voids in small niche markets with minimal competition.
Lower cost furniture designs, suitable for mass production and widespread retail distribution, are far more difficult, unless you already have established a solid reputation and name recognition.
The more commercially successful your design is, the more difficulty you will have protecting it against competitors.

If you do not have patent protection they will copy it.
If you have patent protection they will simply ignore it or design around it.

Individuals and small companies cannot afford patent litigation, no matter how strong their case is. Large companies know that and take advantage.

Licensing designs to a larger company comes with its own perils.

The more successful your products are, the more incentive your licensee will have to find a reason to stop paying you.
True story – I was once in an elevator at the International Home Furnishings Market in High Point, North Carolina and overheard a conversation between two sales reps.
The reps were discussing an exciting new sofa design that had just been introduced by a competitor.
It was still the first day of the market. Already their company had sent a designer into the competitor's showroom to study the new sofa.
The reps were expecting to have a prototype of a similar sofa ready for their showroom within 48 hours.
25 years ago I put together a team that designed an entire line of unique modular sofas and sleepers.
I was the marketing expert.
I started the design project after becoming aware of a major niche market that had no existing competitors.

My responsibility was determining what special features and functionality would be needed to create products that would fill this market void.
The second team member was the prototype builder.

His job was to create actual furniture from a theoretical concept that had never before been tried.

A third team member was a professional furniture designer.

He fine tuned the styling so that our functional pieces looked attractive to furniture purchasers.

Equally important to the success of this project, was excellent patent and legal representation.

Getting a patent is not the difficult part.
Crafting a patent that is strong enough to defend against companies that try to design around you, requires an extremely high level of skill and experience.
Legal expertise with lease agreements and contract negotiations is also critical.
When we had 20 prototypes ready for presentation, we hired a furniture industry mergers and acquisitions specialist, who had contacts with the top executives of several manufacturers.
We licensed our designs (and patents) to a major manufacturer.
Over $25 million of our furniture was sold over a three year period.
In addition to royalties and consulting contracts, the manufacturer also assumed the (substantial) costs for the 5 U.S. patent applications we had filed, in addition to multiple international patents.
Before signing the contract, we held out almost six months until the company agreed to pay us a royalty based on sales, rather than profits.

That decision was critical. The manufacturer had complete control over how costs were calculated for our product line.
They chose to do it in a way that made the product line unprofitable.
If we had accepted their original contract proposal, we would have received very little compensation for for our time and effort.
Several years later we discovered that the company had also attempted to design around our patents almost immediately. They even filed their own (unsuccessful) patent application less than a year after signing our license agreement.
Lessons learned from this experience:
Design expertise alone was not sufficient. We needed a team with a variety of skills. That team included extremely competent patent and legal assistance.
My team worked for over 2 years without pay before launching our designs into the marketplace. We incurred patent costs alone of over $50,000. The cost of prototype materials also exceeded $50,000.

There was a very high probability that our designs would never be commercially successful. (Over 95% of patents do not result in sellable products.)

Furniture design is highly competitive and can be extremely frustrating when starting off.

Originality is not always appreciated. Your best ideas may be knocked off and copied by others.

Education, experience and skills may get you in the door. Long term success requires a genuine passion for what you are doing.
10 years after the events described above, I put together another team and created another product line.
This time we decided to the do the manufacturing (and retailing) ourselves.
The resulting company, Simplicity Sofas, has been in business since 2007.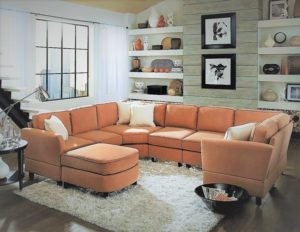 Modular sectional by Simplicity Sofas.
Know someone who might be interested in this post? Please like and share this post with them. If you have questions or comments please leave them below.