Leather furniture has been around for hundreds of years. Until fairly recently, leather seating was built to be extremely durable and comfortable. It was expensive, but built to last a lifetime.
Vinyl sofas first became available in the 1930s but synthetic faux leathers were always far less popular than the real thing.
Building high quality leather sofas requires tremendous skill and lots of time. It can take an experienced upholsterer several days to build a single leather sofa.
Leather furniture design changed dramatically in the 1960s. Natuzzi introduced mass produced budget priced leather sofas. Leather was purchased in huge quantities. They developed simple designs that could be efficiently mass produced by teams of low skilled assemblers in about 30 minutes. Cheap, flimsy frames, covered with real leather, brought costs down to where they were affordable by many more consumers.
Once it was established there was a market for popularly priced leather seating, large furniture retailers searched for even cheaper "leather" sofas and recliners, priced to sell to an even larger customer base. They found the answer in 2007, with a new product called "bonded leather."
Early articles about bonded leather questioned the ethics of marketing this new material as a type of "leather."   Manufacturers strongly resisted the new material and refused to warranty it. Large retailers new they had found a goldmine. Here was a product that looked and felt like real leather at 1/3 the cost of the cheapest leather made from hides.
"Bonded leather" is not an improvement over 100% synthetic faux leathers. Its primary purpose is to fool people into believing they are buying genuine leather furniture at a cheap price.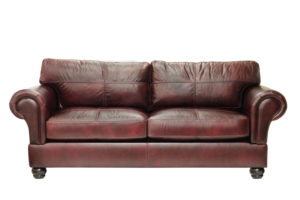 Although there are many different formulations of "bonded" leathers, they are basically polyurethane or vinyl facing materials that are "bonded" (glued) to a backing. This backing consists of anywhere from 10% to 20% "genuine" leather hide scraps that have been chopped into tiny pieces, mixed with adhesives and other chemicals and rolled flat.
This "leather" backing has none of the characteristics that people normally associate with leather furniture. It is rough, not durable and completely unsuitable for any part of the furniture that will be seen or touched.
As a result, it is hidden beneath the polyurethane or vinyl facing where it can remain invisible.
Compressed leather particles are a very poor backing material and there is only one reason to use it as a backing. It gives furniture retailers and salespeople the ability to sell "leather" sofas at much lower prices than they could if they were using real "top grain" leathers made from animal hides.