This is one of the biggest problems for smaller online furniture retailers and is a significant reason why so few succeed.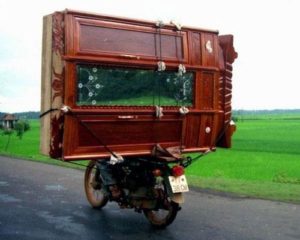 The major online retailers (Wayfair, Amazon, etc.) simply charge off the cost of a return to the vendor. Smaller resellers may not be able to do that.
My company Simplicity Sofas is a manufacturer with 95% of sales made online. These are almost all dropship deliveries direct to residential customers. The average sale is $3500+. Approximately $400 of that cost pays for shipping.
Before starting my company I recognized that this was a significant factor that would have a major impact on the bottom line profitability of the company.
As a result all Simplicity Sofas furniture is designed specifically to address this issue.
When we ship an order to a customer there is a long email that goes out with information and instructions. One of the key parts of this email are the following paragraphs:
IN CASE OF DAMAGE PLEASE DO NOT REFUSE THE SHIPMENT: This is different than other furniture companies. Because of the modular nature of our furniture we can quickly send you a replacement for any part(s) of your furniture that are damaged.
Typically, no matter how bad the box may look there will be damage to only a single part of the furniture (arms, back, base, bottom fabric, leg, cushion.) We can almost always make a new part within 1–2 weeks and ship it to you while you have full use of your furniture. You should be able to install the new part in a couple of minutes. No tools are needed.
If you refuse the shipment it can take 6 weeks or more for the furniture to be returned to us, repaired and sent back to you.
We also need to make our shippers aware of the special nature of our furniture so that they do not automatically return it to us because of a minor problem ( such as a forklift ripping a huge hole in the box.)
I realize that this solution is not something that can be utilized by online retailers handling "conventional" furniture products.
In your position I would probably be looking for a local used furniture retailer or liquidator willing to take the returns for a pre-arranged price.
Know someone who might be interested in this post? Please like and share this post with them. If you have questions or comments please leave them below.