Question:
I've been looking for an affordable, high-quality leather sofa that will last for the rest of my life.

Nobody posts prices because it's all special order. I'm tired of wasting time working with salespeople only to find they don't have anything suitable for less than $8000.

Is it possible to find a high quality, long-lasting leather sofa for under $5000?

Please tell me where to go. I'm ready to buy!
Answer:
Yes, there are high-quality leather sofas available for less than $5000.
Important Note: I do not receive payment or compensation of any kind from any of the brands I write about on my website.
At the $5000 price level, you can find leather sofas with:
High-quality leather
Solid hardwood frames
8 way-hand-tied coil spring foundations
Premium quality Spring Down cushions.
20+ year average lifespans.
Carolina Custom Leather manufactures custom-crafted leather sofas that are built to provide 20+ years of comfort.
CCL sells through a nationwide network of authorized dealerships. You can check with the company for a list of authorized retailers near you.
Most Carolina Custom Leather sofas will cost far more than $5000, especially complex styles with the highest grade leathers.
But CCL's lower priced sofas, with excellent base grade leathers, are built with the same quality standards as the most expensive pieces that sell for twice the price.
Watch for Holiday Sales Specials!
The Carolina Custom Leather Restoration sofa (shown below) is on Sale for $3398 at a Monroe, OH retailer's Memorial Day Sales Event.

Carolina Custom Leather's Hancock Sofa, shown at the top of this article, is Sale priced (in New Orleans) for $2499.
King Hickory  is another brand, selling through authorized retailers, that may have leather sofas with solid hardwood frames and 8-way hand tied foundations under $5000.
Their standard cushions are foam. The optional Spring Down cushions will last twice as long. Get the Spring Down upgrade!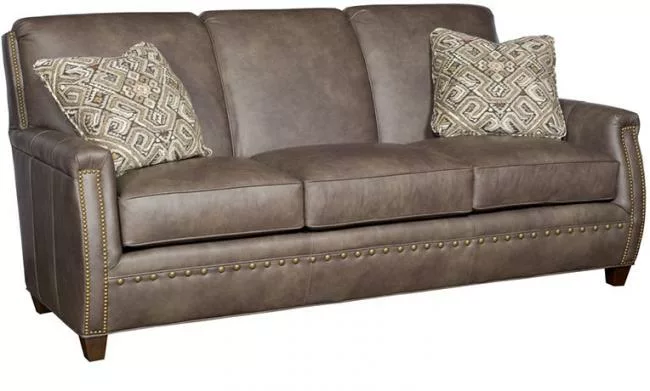 Mantle makes modern style, 8 way hand tied leather sofas in 80″, 90″, 100″, and 110″ sizes.
With an upgrade to a 2.5 density foam or Spring Down cushion, the 100″ sofa should still be under $5000.
With the cushion upgrade, Mantle's sofas should last 20+ years.
Mantle uses a 13 ply hardwood plywood frame. This is stronger than the standard plywood frame used by most furniture manufacturers with 7 plies. Mantle's plywood frame should give you 20+ years of trouble free sturdiness.
Mantle is a Direct-to-Consumer brand, shipping from the factory to your home in 4-6 weeks (longer if you want custom frame modifications.)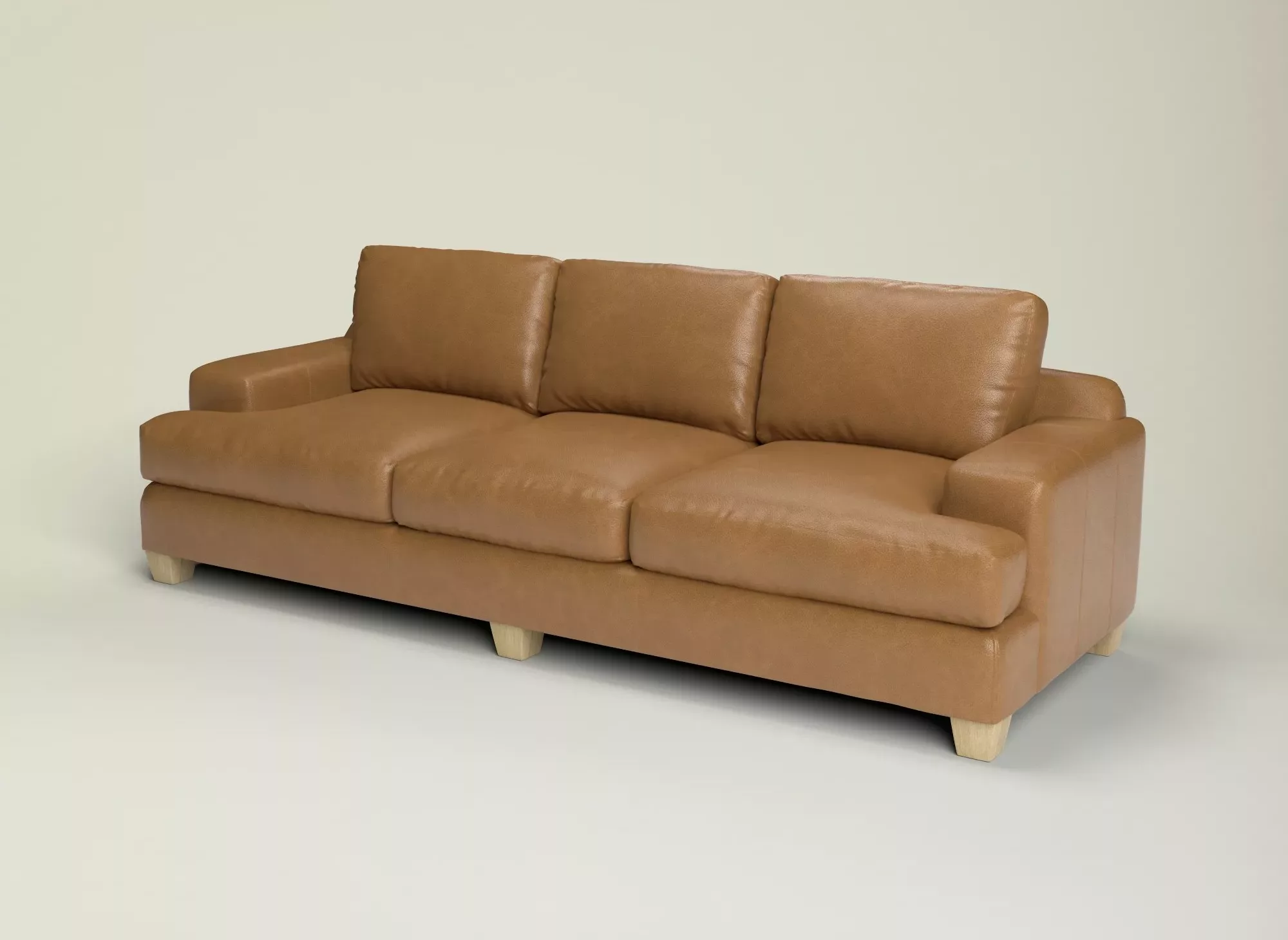 Medley Home is an Eco-friendly California Direct-to-Consumer manufacturer, specializing in modern sofa designs.
Medley Home has multiple sizes for each style. Several are below $5000 in leather.
Medley Home's frames are solid hardwood, but they use sinuous wire foundations instead of 8 way hand tied.
It should still last 20+ years.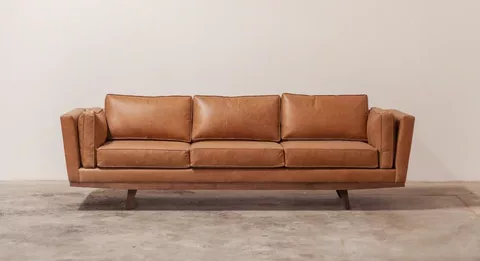 Below the $3000 price level, most leather sofas wear out quickly.
The leather will be fine for 10 – 20+ years.
The foam cushions will be noticeably less comfortable within 5 years.
Hydeline is a Direct-to-Consumer brand, specializing in durable all-leather seating.
The company manufactures and sells both reclining and non-reclining leather sofas, sectionals, loveseats, and chairs.
Reclining and non-reclining sofas are both priced below $3000.
Unlike most brands in this price range, Hydeline leather seating is designed and built to last 10+ years, with little or no loss of comfort.
Features include:
Good quality semi-aniline leather.
Solid hardwood frames.
Sinuous wire foundation and back support.
Durable (but comfortable) cushions with pocketed coil springs, memory foam, 2.25 density foam, goose feathers & down topper.
All reclining and non-reclining sofas are priced below $3000 on the company's website.

A Special Outlet section on the website features in-stock discontinued styles or leathers.

Prices are reduced by hundreds of dollars for discontinued items.

Even more discounts are available during Holiday Sales events.

Hydeline Dillon reclining group

The Dillon 4 pc. grouping shown above is currently on Sale in a Cinnamon Brown leather for $5499, a $1900 savings.

The Dillon Sofa & loveseat 2 pc. grouping is on Sale for $4399, a $1000 savings.
Hydeline features quality characteristics usually found only on much more expensive custom leather brands.
Both stationary and reclining sofas are built to last 10+ years.
Hydeline's construction emphasizes increased durability and functionality.
Frames: Kiln-dried solid hardwood
Leather: Top grain semi-aniline. Soft, with a protective coating.
Semi-aniline hides have only minor corrections. Most of the top-grain pattern is natural (unlike the cheaper top-grain leathers which sand off the entire top layer and replace the grain with an artificial embossing.)
Hydeline's in-stock seating is leather/split-grain match. Split-grain is the bottom part of the hide after the top grain has been removed. 
An upgrade replacing the split-grain leather with top-grain semi-aniline leather is available for an additional $200 charge.
Cushions: Multi-layer Pocketed Coils, 3 Foam layers & goose feathers and down – Removable (but not reversible) – Estimated lifespan: 10+ years.
See photo below. The cushion top layer is goose feathers and down. Next is soft memory foam, followed by a layer of 2.25 density foam. Pocketed coil springs rest on another layer of 2.25 density foam above the sinuous wire foundation. 1.8 density foam is used for the front of the cushions, which have less weight to support.
The photo doesn't show it clearly, but underneath the cushion is a sinuous wire foundation covered by a mesh fabric to distribute weight more evenly. The sinuous wire has side supports, adding extra durability to the frame. Side supports are rarely found on seating in this price range.
Reclining mechanisms: Zero Gravity with motorized headrests. Some (triple power) models also feature powered lumbar support.
Zero gravity mechanisms cost more than other mechanism types, but are supposed to provide special health benefits.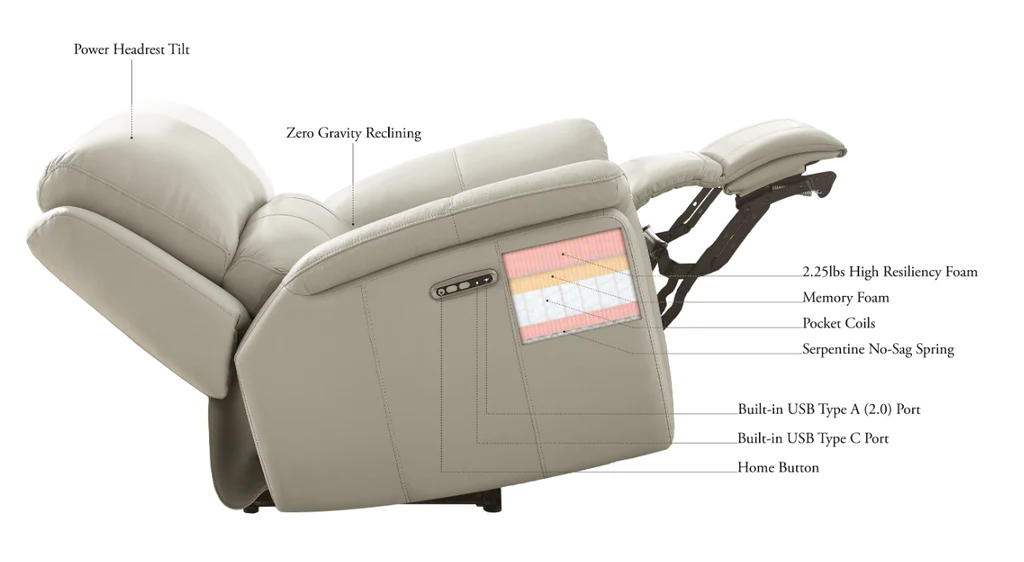 Hydeline is the Direct-to-Consumer Brand of Amax, a large Asian leather seating manufacturer.
Amax sells to major retailers throughout the U.S., including Costco under the Prospera Home brand.
Costco's Prospera Home and Hydeline share similar styles and leathers, and identical construction.
You can try out the Prospera Home seating at Costco to get an idea of what the furniture feels like.
Prospera Home may look and feel similar to other similarly priced Costco leather furniture with foam seat cushions.
But 5 and 10 years down the road, the Prospera Home/Hydeline seating will still feel almost the same as when it was brand new.
The others won't! 
If you like my Insider's Guide To Furniture please encourage your friends and family to check it out.
My 45 years in the furniture industry have provided me with a detailed knowledge of furniture brands, construction, quality & value.
Over the past decade, I have written over 2,000 articles, reviews, and answers, seen by over 2 million viewers.
If any company or individual feels that the information on this website is out-of-date or inaccurate, please let me know and it will be promptly corrected.
Important Note about advertising on this website:

I do not solicit or receive any payment or compensation from the brands reviewed or mentioned on InsidersGuideToFurniture.com.

Despite this, you may see ads on the website. These ads are generated by Ezoic.

Ezoic is a Google platform for website publishers. It is completely automated!

I do not have contact with any of the companies or agencies that choose to advertise on this website through Ezoic.
The photo at the top of this article shows a Carolina Custom Leather's Hancock Sofa.