Question:
Who pays for the furniture on Renovation shows?
Answer:
Renovation shows get the manufacturers (or retailer) to pay for the furniture with promises of advertising exposure that will more than repay any costs incurred.
It doesn't really work out that way in real life.
My company, Simplicity Sofas provided furniture for two ManCave TV shows.
ManCave came to us originally because they needed a very large sectional to fit down a very narrow staircase.
Simplicity Sofas specializes in Furniture for Small Spaces & Tight Places.
For the first show we provided a fifteen seat sectional measuring 17 ft. x 17 ft. that could fit down a 24″ width staircase.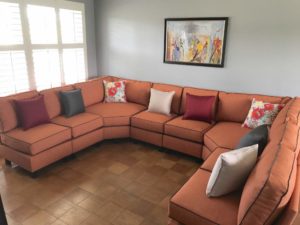 A Simplicity Sofas 8 seat armless sectional is shown in the photo.
It took more than a year for each show to air after the filming.
The second show was taped before the first one aired.
In hindsight, it was a big mistake to participate either time.
Prior to the shows we were told that we would be donating the furniture in return for widespread public exposure on this popular TV show.
In the first case, our furniture was on air for all of 10 seconds and was not identified except in the ending credits.
These end credits scrolled past so quickly that most of the people I was watching with missed it completely.
The second case was worse.
We did get more exposure in the second show. They actually mentioned the name of our company during the few seconds that our couch was on air.
Then came the disaster.
The homeowners had a second couch that they had not wanted to replace for sentimental reasons, even though it was in terrible shape.
One of the hosts bumped against that couch and it literally fell apart.
The back collapsed. The hosts then spent nearly 10 minutes of the show talking about that couch and what a piece of garbage it was.
Since they had just briefly mentioned our couch a short time before, anybody watching probably assumed that the couch that fell apart was ours.
In the 10 years since the shows aired I have not seen any evidence that a single customer (or anyone requesting a free catalog) ever saw us on ManCave.
Know someone who might be interested in this post? Please like and share this post with them. If you have questions or comments please leave them below.
Important Note about advertising on this website:

I do not solicit or accept payment from any of the brands reviewed or mentioned on InsidersGuideToFurniture.com.

Despite this, you may see ads on the website. These ads are generated by Ezoic.

Ezoic is a Google platform for website publishers. It is completely automated!

I do not have contact with any of the companies or agencies that choose to advertise on this website through Ezoic.