ABOUT
The Insider's Guide to Furniture
About the Owner/Author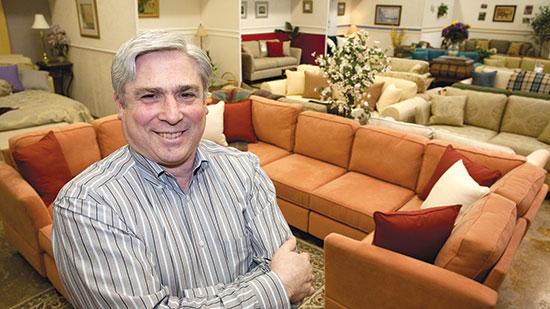 Jeff Frank is a 45-year veteran of the furniture industry. He has worked directly with hundreds of manufacturers, retailers, designers, and suppliers.
Jeff's manufacturing company, Simplicity Sofas, founded in 2007, won the $20,000 Grand Prize in a 2012 nationwide competition for "Most Innovative U.S. Small Business."
In March 2022, Jeff retired from Simplicity Sofas after 15 years to devote full time to the Insider's Guide to Furniture blog.
Over his career, Jeff has been directly involved in all aspects of furniture manufacturing, retailing (both stores and online), and product design.
His origins in the furniture industry date back to 1976, hired out of college as Sales Manager for a 1 person furniture department in a discount department store.
Two years later, one of the Top 50 furniture retail chains in the U.S. hired Jeff as their Mattress and Occasional Furniture buyer. Subsequently, Jeff was promoted to case goods (bedroom and dining room) buyer.
Over an 8-year period, Jeff negotiated and purchased over $200 million of furniture and mattresses from hundreds of large & small furniture manufacturers.
Duties as a buyer included price negotiation, setting selling prices, merchandising, advertising, customer service, and more.
The retail chain Jeff worked for was especially known for buying and selling close-out and overstocked merchandise at deep discounts.
Subsequently, Jeff became a partner in a Sales consulting firm, specializing in selling a wide range of products to the U.S. Government.
Jeff managed the firm's furniture clients, averaging over $15 million in annual government contracts. Clients included Ethan Allen, Flexsteel, and Bassett.
In 1990, Jeff came up with an idea for a new type of furniture to fill a vacant product niche, high-end seating that could be moved through narrow doors and stairways where other high-quality furniture could not go.
IKEA and its competitors sold huge quantities of low end RTA (Ready to Assemble) seating that fit through narrow spaces, but RTA sofas selling for more than $1000 did not exist in 1990.
Working with two partners, Jeff's team licensed 5 patents to a large manufacturing company that already owned 20 well-known furniture brands.
A new brand, Simply Together, was created to make and sell the furniture created by Jeff's design team.
Over a 10-year period, Simply Together sold more than $40 million of furniture.
Beginning in 2005, Jeff put together another design team, which was awarded 2 additional patents. The result was a new brand, Simplicity Sofas, which opened in 2007 (in the midst of the Recession) under Jeff's ownership.
Simplicity Sofas is still in business, making and selling high end Ready to Assemble sofas, sectionals and sleepers in the $2000 – $10,000 price range.
The company was the first Direct-to-Consumer furniture manufacturer selling exclusively online. This began several years before Amazon and Wayfair popularized the concept of selling furniture online.
Jeff sold his ownership in Simplicity Sofas in 2017, although he continued managing the company's sales and marketing for another 5 years before retiring in March 2022.
Over his long career, Jeff acquired a unique overall view of the furniture industry.
This includes a detailed knowledge of furniture construction, design & quality, cost analysis, retail marketing strategies, customer service practices and much more.
Besides running a furniture manufacturing/retailing operation, Jeff has published over 1000 furniture-related articles and reviews, viewed by more than 2 million readers over the past decade.
What is the Insiders Guide to Furniture?
Although the statement is usually true for expensive custom-built home furnishings items, it is completely unreliable when applied to mass produced furniture products.
High-priced mass produced furniture, selling for thousands of dollars, often fails just as soon (or sooner) than cheaper products sold for less than half the cost.
Every year, thousands of shoppers buy expensive furniture that falls apart within just a few years.
The Insider's Guide To Furniture was created to help its readers avoid expensive furniture shopping mistakes.
It provides detailed information and answers to all your questions about furniture and home furnishings.
IGF features over 300 articles on furniture-related topics, including:
Detailed brand & product quality comparisons
Retail advertising & pricing strategies
Manufacturing construction & cost analysis
Confusing & contradictory furniture industry terminology
The articles, answers, and opinions given in this blog are based on my 45 years working with hundreds of furniture manufacturers and retailers.
Thousands of articles are published every year on various furniture topics.
Almost all of them are written from very narrow viewpoints.
For example, interior design professionals create many of the most widely read articles.
The problem is that these professionals usually work exclusively with high-end furniture.
Their descriptions of what to look for from a quality perspective are not always useful to the 90% of shoppers who cannot afford to buy top-of-the-line quality.
Reviews are also written by retail personnel or influencers who are familiar with only a very limited number of brands. They are paid to refer people to specific brands.
Many of these professional reviewers are unaware of how other brands of furniture are made.
Influencers, salespeople and other "experts" never tell you about comparisons with alternative brands that may be just as good or better in quality and value.
As quality has declined, consumers have become more and more concerned about how their furniture is constructed and how long it will last.
Salespeople give very little help. Websites and marketing materials often have no information at all about construction and quality.
Furniture descriptions and specifications are often undecipherable by consumers (and industry professionals) who are not familiar with confusing and contradictory furniture terminology.
I created this Insiders Guide to Furniture to demystify the furniture buying experience and to help shoppers avoid costly mistakes.
Please send me your questions. I respond to most questions within 24 hours.
Jeff Frank
Important Note about advertising on this website:

I do not solicit or accept payment from any of the brands reviewed or mentioned on InsidersGuideToFurniture.com

Despite this, you may see ads on this website. These ads are generated by Ezoic.

Ezoic is a Google platform for website publishers. It is completely automated!

I do not see or communicate with any of the companies or agencies that choose to advertise on this website.