In June 2018 American Reviews, an independent review site dedicated to finding the best American made products, published an article designating its selections for Best American Made Sofas.
The top recommendation for the category of Best American Made Sofa Sectional went to Simplicity Sofas, a small North Carolina furniture manufacturer that sells direct to consumers.
The company offers a uniquely flexible modular sectional design which can be configured into an amazing variety of different sizes, styles and shapes, ranging from very small to huge sectionals of almost unlimited size.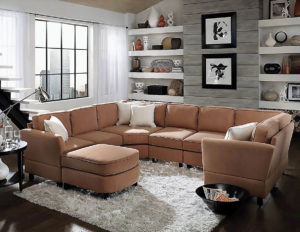 The sectional units are hand-crafted and custom-built with solid oak frames , super-premium 2.5 density Ultracel foam cushions and a selection of 300+ fabrics and leathers, including a large selection of American made high performance "kidproof" fabrics.
The patented modular construction also allows all sectional configurations, including the ones pictured above and below, to fit through narrow doors and stairways where other furniture cannot go.
When the ManCave TV show needed a 15 seat sectional to fit down a 24 inch wide curving staircase (most sofas require at least 32" clearance) they came to Simplicity Sofas.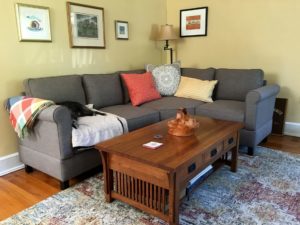 Simplicity Sofas offers several unique features and benefits not usually found in sectional furniture including:
All configurations, regardless of overall size, will fit through doors, staircases and other spaces as small as 15 inches in width.
The sectional is ambidextrous. Either side can be longer than the other and seat units can be switched from one side to the other at any time if needed.
Additional seat units can be added at any time, including years after the original purchase, to increase the size of the sectional.
Sectionals are shipped unassembled. Click here for a video showing a 7 year old girl assembling a Simplicity Sofas sectional seat unit in 1 minute. No tools are needed.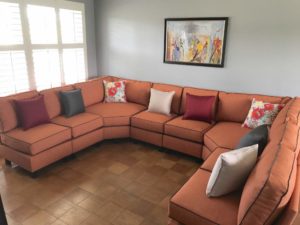 Know someone who might be interested in this post? Please like and share this post with them. If you have questions or comments please leave them below.