This can make a tremendous difference.
How deep is a sofa supposed to be anyway?
Most sofas have overall depths (from the wall to the front of the seat cushions) ranging from 37 inches (94 cm) to 42 inches (107 cm).
Seating is available in depths ranging from 32 inches (81 cm) to 36 inches (91 cm.) but you may have to look hard to find it.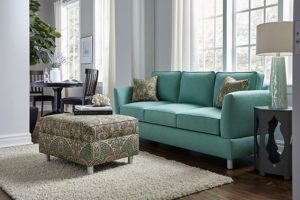 The sofa pictured above from Simplicity Sofas has an overall depth of 32″.
How much of a difference does this actually make?
A sofa measuring 88 inches wide x 40 inches deep takes up 3520 sq. inches of space (24.5 sq. ft.)
A sofa measuring 88 inches wide x 32 inches deep takes up 2816 sq. inches (19.5 sq. ft.)
That is a 25% reduction in floor space taken up by a single sofa.
If you have multiple seating pieces the difference in overall depth becomes even more important.