Who makes the best value leather recliners?
I'm looking for a comfortable powered leather recliner that's affordable and will last forever.

What's the sturdiest, most comfortable power leather recliner I can buy with my $1000 budget?
Answer:
Searching for best value leather recliners?
Finding leather recliners priced from $999 to $1999 is easy.
Affordable leather powered recliners, built to provide 10 to 15+ years of heavy-duty comfort, are rare.
The biggest problem with recliners in this price range is the seat cushions.
High density & High resilience foam cushions wear out faster in reclining furniture than in normal sofas.
Changing positions exerts more pressure on the foam. Since recliner seat cushions are non-removable, they can't be flipped.
1.8 density foam recliner cushions wear out within 3 to 5 years.
If you use the recliner a lot or weigh over 200 lbs., the cushions may wear out even sooner.
Whether you paid $999 or $1999 for your leather recliner, the seat cushions are probably very similar.
And will be noticeably less comfortable within 5 years.
Hydeline's recliner cushions don't have foam cores.
The cushions are 8 inches thick.
At the heart of each cushion is a pocketed coil spring unit.
Pocketed coil springs maintain the seat cushion's shape and firmness for 10 to 15+ years.
Above the firm pocketed coils are layers of 2.25 density and Memory foams.
The top layer is a soft jacket filled with feathers & fiber.
The result is a thick, comfortable cushion built for heavy duty long term (10 to 15+ years) use.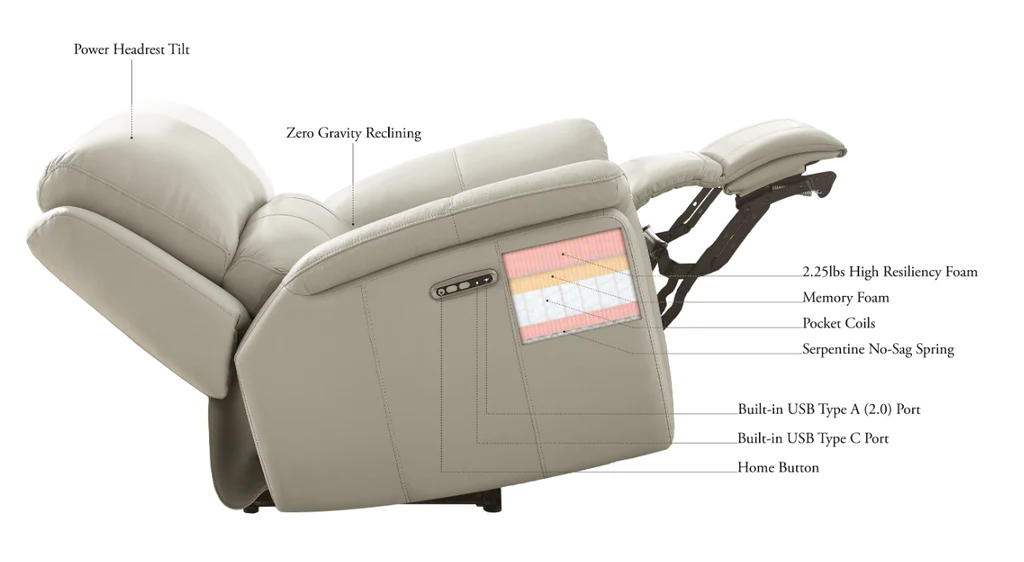 Comparing construction of a typical $1000 leather recliner vs. a Hydeline leather recliner.
Frames
Most $1000 leather recliners have flimsy plywood or engineered wood frames, and will have a weight limit of 250 lbs. or less.
Hydeline's frames are solid hardwood.
The weight limit is 350 lbs.
Mechanisms & motors
Cheap recliners use a basic motor and mechanism, without powered headrests.
Hydeline uses zero gravity mechanisms for most of their recliners.
Zero gravity mechanisms are considerably more expensive, but they are especially recommended for physical problems, such as painful backs or necks.
Most Hydeline models also feature powered headrests.
Leather or Leather Match?
$1000 recliners almost always use "leather match." 
Inexpensive "corrected top grain leather" is used for the seats, backs, & inside arms.
The outside parts are a matching faux leather, usually either vinyl or polyurethane.
Hydeline's recliners are "all-leather."
Seats, backs and inside arms are made with semi-aniline top grain leather.
The outside parts use a less expensive matching "split leather," (This is the bottom grain from the leather hide.)
Seat cushions
Seat cushion quality is the most important single factor for determining the durability and comfort of a recliner.
Almost all $1000 recliner seat cushions are made with 1.8 density foam.
Product descriptions usually describe this as "high density" or "high resilience." foam.
1.8 density foam, when used by average size people, has an average lifespan of 3 to 5 years before the cushions lose their firmness, resiliency, & comfort.
If someone in your family weighs 250 lbs., the cushion's lifespan will be closer to 1 to 2 years before it collapses.
Hydeline's seat cushions are built around a pocketed coil spring unit.
Pocketed coil springs are far more durable than 1.8 density foam, but they are also much firmer and need to be well padded.
Layers of 2.25 density foam and Memory foam are above the pocketed coil springs.
A soft jacket of down, feathers, & polyester fiber is the top layer, just below the leather cover.
The result is a very comfortable seat cushion that will last 10 to 15+ years for most people, even if they weigh up to 250 lbs. 
Price & Value Comparisons:
Leather & leather match recliners cost much more than fabric recliners with identical construction.
The cost of the leather and fabric in a leather match recliner is about $125.
The cost of that same recliner in an inexpensive polyester or faux leather fabric is only $25.
Switching from leather match to fabric brings the recliner's raw material costs down from $275 to $175.

Switching from leather to fabric also decreases labor costs, since fabric can be sewn more quickly by less skilled workers.

Identical recliners made in fabric can be sold for $200 – $300 less than leather match.
Hydeline is a Direct to Consumer leather recliner manufacturer.
The brand has a nice selection of semi-aniline leather recliners in the $1499 to $1999 price range.

Hydeline also makes leather reclining sofas in the $2799 to $2999 price range.
These recliners and reclining sofas include:
Kiln-dried solid hardwood frames
9 inch thick pocketed coil cushions with an average lifespan of 15+ years.
Zero gravity mechanisms (a step above standard powered mechanisms.)
350 lb. weight limit.
Powered headrests
Hydeline's Premium Outlet is a
If you go to Amazon, you'll find hundreds of leather recliners priced below $1000.
Some have flimsy frames.
Some have cheap mechanisms or motors.
Some recliners have weight limits of only 220 or 250 lbs.
The majority of low-price and mid-range recliners are made with 1.8 density foam seats.
Shifting positions in a recliner puts pressure on the seats. More pressure than on an ordinary sofa.
As a result, those "high density" foam recliner seats have an average lifespan of only 3 – 5 years.
When the foam loses its resilience (the ability to bounce back) it becomes less comfortable.
Recliner seats in this price range are usually not removable.
Replacing worn out foam can cost almost as much as a new recliner.
A cushion's total lifespan will depend on how much you weigh and how often you use the recliner.
A 250 lb. person can wear out a cheap foam seat cushion in only 1 or 2 years.
Some mid-range recliner brands are now using 2.0 density foam.
2.0 density foam cushions should hold up for 1 – 2 years longer.
*Hydeline offers a Special 5% discount to Insiders Guide to Furniiture readers.
Use Coupon Code IGF5X or Order Directly from  Hydeline Special Discount Link.

Items already marked On Sale are not eligible for the 5% discount.
The remaining best value leather recliner brands are mid-range, mass-produced products.
I think the only 4 that still use solid wood are Motioncraft, Hancock & Moore, Smith Brothers & HYdeline.
The others use plywood.
The frames should outlast many other parts of the furniture.
Most reclining furniture currently being made has non-removable cushions.
The foam in these non-removable cushions is usually 1.8 or 2.0 density.
The few manufacturers who still make recliners with removable cushions usually offer cushion upgrades.
Spending the extra money to get the best, longest lasting cushion available is an excellent investment.
2.5 density foam or Spring Down cushions can last more than twice as long.
Springdown cushions and 9 inch thick pocketed coil cushions should last 15 years for most people.
2.5 density foam cores should last 10+ years before needing replacement.
Avoid Downblend cushions which have a foam core topped with down/feathers (and sometimes polyester fiber.)
Those have a softer feel, but won't last as long.
The standard 1.8 density foam cushions found on most mid-priced mass produced reclining furniture has an average lifespan of 3 – 5 years.
If the seat cushions are not removable, it is very expensive to replace the worn-out foam. Few people choose to pay that cost.
One leather company stands out as a superb value.
Hydeline USA is a Direct-to-Consumer brand.
The same reclining furniture can be found in Costco under the Prospera Home brand.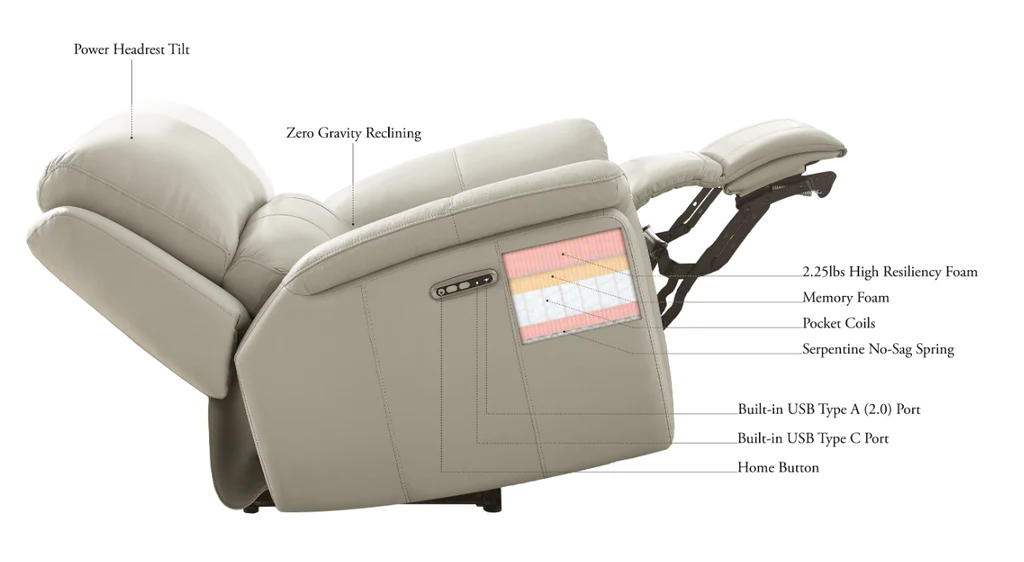 Hydeline makes the best value leather recliners.
The brand sells leather seating only.
Fabric is not available.
Hydeline's value is based on my expectation that its furniture will last far longer than similarly priced competitors.
Hydeline's furniture features a unique pocketed coil spring/foam hybrid cushion construction.
These hybrid cushions should last several years longer than 1.8 or 2.0 density foam cushions.
Hydeline's leather, frame and cushions are built to last 10 – 15+ years.
Frame:
Hydeline is solid hardwood and hardwood plywood.
Foundation:
Sinuous wire foundation.
Mechanisms:
Cushions:
Hydeline's coil spring/foam hybrid cushions have two foam layers above the fabric wrapped pocketed coil springs.
The top foam layer is 2.25 density .
The second foam layer is memory foam. Memory foam is denser and more resilient than polyurethane foams. (It's also more expensive.)
Next come the fabric wrapped pocketed coil springs with another layer of foam underneath.
Leather:
Hydeline uses semi-aniline top-grain leather with leather-match.
The seats, backs and inside arms are made with semi-aniline top grain leather.
Outside arms and backs use a matching split (bottom grain) leather.
All-top-grain-leather is available as a Special Order for a $200 up charge
Best value leather recliners.
Know someone who might be interested in this post? Please like and share this post with them. If you have questions or comments please leave them below.