I was a buyer for a major furniture retail chain many years ago.
The standard practice was to price each individual piece very high. The complete set was then priced at the normal markup.
This allowed the set price to be shown as being a substantial discount as compared with purchasing the separate pieces.
This was also the same procedure used for pricing bedroom furniture and anything else that could be sold as a group.
Individual pieces from a grouping that were "left over" after all the complete sets were sold, were generally placed in the "outlet" room and marked down substantially.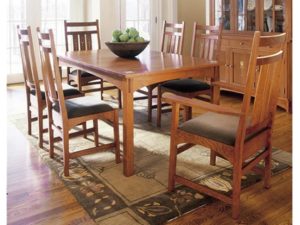 Stickley Dining Room Set
Know someone who might be interested in this post? Please like and share this post with them. If you have questions or comments please leave them below.