The lifespan of your couch will be determined by the first major component that wears out.
That makes cushion construction the single most important factor in determining the lifespan of your couch.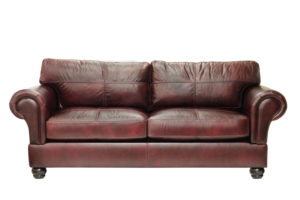 Ashton-Mid-Size-Leather-Sofa by Simplicity Sofas shown above
A furniture industry survey recently indicated that most consumers expect their new couches to last only 3–5 years.
That estimate is probably pretty accurate. The reason for this short lifespan, however, is very surprising to most consumers.
Uneducated consumers concerned about the durability of their furniture often ask first about frame/foundation construction and fabrics.
In reality many "cheap" frames and inexpensive fabrics will last far longer than 5 years.
The foam cushions will wear out long before the frame, foundation or fabric.
1.8 density polyurethane foam is the standard for low and mid-priced upholstered furniture.

For average size people and average use, 1.8 density cushions will begin to lose their shape and comfort within 1 year.
They will be worn out and need replacement in 3-5 years.
For those who are larger than average, the cushions may wear out even sooner.

Upgrading to 2.0 density foam will increase lifespan by about a year.
Upgrading to a 2.5 density foam will more than double the expected lifespan of the cushions (and the sofa.)
The lifespan of your couch is primarily dependent on the density and thickness of the foam used in the seat cushions.
Higher densities (2.4 – 2.8) can be found on more expensive residential furniture.

Cushions made with foam cores that are at least 5″ thick with these higher densities can last 10 years or more.
Good quality spring down cushions can also last 10 years or more.

Furniture designed for heavy commercial or institutional use may use foam with densities of 3.0 or higher.
The higher the foam density, the more the cushion will cost.
A foam cushion's "firmness" has very little effect on the expected lifespan.
Since most consumers equate "firmness" with durability, cheap foams are often made "extra firm."
With a low density foam, however, that "extra firm" feeling will not last long.
Variations in firmness usually do not affect cost. HR (High Resilience) foam is more expensive than non-HR foams.
Cushions are almost always the first part of a sofa or couch that will wear out.
Unfortunately, most manufacturers and retailers make it very difficult to replace worn out or damaged cushions.
Cushion replacement generally requires working with a professional custom upholsterer and can be expensive.
Warranties do not cover cushions that wear out.
The big bold print at the top of the warranty that guarantees the cushions for 3 years or 7 years or limited lifetime is worthless.
Further down in the warranty will be smaller print that excludes all problems caused by either "normal wear" or "abuse."

This language will appear in all manufacturer, retailer and extended warranties.
Virtually every sign that your cushions are wearing out will be excluded in all of your warranties.

Know someone who might be interested in this post? Please like and share this post with them. If you have questions or comments please leave them below.