Question:
Is it really possible to buy good quality fabrics at 50% off or better?
Answer:
The surprising answer is Yes!
My background includes 15 years as the owner of a furniture manufacturing company.
I have purchased thousands of yards of fabrics from dozens of sources.
I have no association or relationship with any company selling fabrics.
Do you really "get what you pay for" when buying fabrics? 
In many (or most) cases, the answer is "No!"
For example, low-cost polyester and microfiber fabrics are often more durable and easier to clean than expensive fabrics costing far more.
A surprisingly high percentage of a fabric's cost is determined by factors that have nothing to do with quality or durability.
One of the biggest of these cost factors is whether the fabric has been discontinued.
Thousands of discontinued fabrics are available for 50% – 90% off their original prices.
Fabric mills generate thousands of different patterns and colors each year.
Most never become big sellers.
Even the best eventually slow down and wind up as closeouts.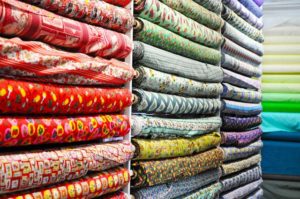 Of course, not everyone pays full price for current fabric designs.
Here is a real life example of how fabric pricing works:
This is based on an actual fabric I used to buy for my upholstered furniture manufacturing company.
The fabric was available in a dozen different colors.
2 of those colors sold well for me; 6 others were OK. 4 colors were very poor sellers.
The retail price of this fabric to the general public was $80 per yard.
But, the vast majority of purchasers paid far less.
Professional decorators and interior designers received a 50% off discount – $40 per yard.
Manufacturers (like me) who could buy full 50 yard rolls paid $15 per yard.
Larger manufacturers and wholesalers who purchased thousands of yards paid even less.
Even at deeply discounted prices, fabric is highly profitable.
New fabric introductions do not always catch on with retailers, wholesalers, and manufacturers.
Even when a new fabric is a big success, only a few colors will usually be big winners.
Every fabric is eventually discontinued.
This includes both winners and losers.
Remaining fabric stocks at the mills and manufacturers become closeouts.
Closeout fabrics are first offered to manufacturers and wholesalers at reduced prices.
Often, these discounted fabrics don't sell and are then sold off in bulk at further discounts.
Closeout fabrics originate from two primary sources.
Mills do not have space to store slow-selling discontinued fabrics.
They need to clear space as quickly as possible to make room for new fabric introductions.
Most mills have pre-arranged deals with large closeout wholesalers (or large discount retailers) who purchase truckload quantities.
Partial rolls (less than 50 yards) may be sold for as little as 50 cents per yard regardless of the initial selling price.
Full rolls of closed out high-volume fabrics are often sold for $1 – $2 per yard.
Expensive fabrics, made in limited quantities, may be closed out at higher prices.
These higher priced "designer" fabrics still sell at steep discounts (50% or more) from the original wholesale pricing.
Each mill clears out thousands of yards of excess fabric each year.
Manufacturers are another source of closeout fabrics.
Retailers are constantly changing fabric selections for furniture in their showrooms and websites.
When retailers change fabrics, manufacturers are often stuck with unsold inventory.
Left-over fabrics, that have been discontinued by retailers, get sold to close-out buyers, even if the fabric is still being made by the mill.
The $80/yd. fabric referenced at the beginning of this article was eventually discontinued by the mill.
When the fabric was discontinued, the mill still had a few thousand yards remaining.
First, they offered the remaining stock to their customers who had previously purchased it for 20% off the wholesale price.
Next, they offered the fabric to previous customers and others who had not previously purchased the fabric for 50% off wholesale.
I bought 1000 yards of my best-selling colors at 50% off the OEM price of $15y/d. that I had been paying previously.
One year later, sales of that fabric had slowed for me to the point I no longer wanted it in my inventory.
I still had two full rolls and 4 partial rolls – a total of 180 yards.
I sold the remaining full rolls for $1.25/yd. and the partial rolls for $0.75/yd. to a closeout fabric buyer.
The small quantities I sold will probably end up being shipped overseas and sold in a container mixed with hundreds of other fabrics, all sold at the same price.
Meanwhile, large discount fabric stores, and online retailers may have purchased that same fabric for $1 – $2 per yard in larger quantities.
They may begin by offering the fabric to the public at a cost of $20/yd.
If it doesn't sell, they will continue lowering the price until it is finally gone.
Even at 90% off the original $80 retail price ($8/yd.) the discount fabric retailer is making a substantial profit margin.
 Discontinued specialty fabrics are made in smaller quantities.
These may be sold to closeout purchasers for prices that are higher than $2 per yard, but there will still be a very steep discount.
Regardless of the original price, closeout fabrics are a commodity that needs to be cleared out and disposed of rapidly.
Online fabric discounters also need to clear warehouse racks to make room for constantly arriving new fabrics.
If you like my Insider's Guide To Furniture please encourage your friends and family to check it out.

My 45 years in the furniture industry have provided me with a detailed knowledge of furniture brands, construction, quality & value.

Over the past decade, I have written over 2,000 articles, reviews, and answers, seen by over 2 million viewers.

If any company or individual feels that the information on this website is out-of-date or inaccurate, please let me know and it will be promptly corrected.

Important Note about advertising on this website:

I do not solicit or accept payment from any of the brands reviewed or mentioned on InsidersGuideToFurniture.com.

Despite this, you may see ads on the website. These ads are generated by Ezoic.

Ezoic is a Google platform for website publishers. It is completely automated!

I do not have contact with any of the companies or agencies that choose to advertise on this website through Ezoic.