Small custom upholstery shops still continue the tradition of top quality upholstered furniture craftsmanship.
Thousands of small custom sofa makers are spread throughout the USA.
Many of these small custom upholstery shops do not advertise or have online websites.
They sell primarily through interior designers.
Experienced interior designers often have special relationships with skilled local furniture makers.
Top ranked craftspeople prefer to work with professionals who know what they are doing.
A craftsperson's biggest headache is customers who demand changes midway through the construction process.
Changes require many additional hours of labor (and other costs) for which the upholsterer rarely receives full reimbursement.
Individual customers may choose to work directly with an individual craftsperson.
But they need to have a clear idea of what they want and what they are getting.
Custom upholsterers will make anything the customer asks for.
This includes sofas that could have been made more comfortable or durable, with minor modifications.
Higher prices may be charged to new customers or old customers who were not pleasant to work with on previous orders.
Accepted standards for larger high-quality sofa manufacturers have declined over the past 20 years.
20 years ago, upholstered furniture was considered high-end only if it had the following characteristics:
Solid wood frames, built to last 50 years.
Constructed with 5/4 inch thick hardwood lumber.
Fastened with screws, glue, staples, and double dowels.
Frames built this way are far heavier than those built with plywood or engineered woods.
8-way hand-tied foundations.
8-way hand tied foundations won't last any longer than drop-in coil foundations.
The difference in comfort is minimal.
The cost is hundreds of dollars more than any other seat suspension system.
8-way hand-tied foundations are made only by highly paid expert craftspeople.
Genuine 8-way hand-tied foundations are found only in high-quality couches, sofas and sectionals.
Cushions constructed to last 15+ years.
Most seat cushions sold today for large, mass produced brands have an average lifespan of 5 years.
Higher quality manufacturers offer optional cushion upgrades that will last twice or three times as long (and are more comfortable.)
"High-end" couch brands sold today often have more lenient quality standards.
Many venerable brands have switched from solid hardwood to plywood (or even engineered wood) frames.
The cost of 5/4 inch thick solid hardwood frames that last 50+ years has skyrocketed over the past decade.
Currently, the cost of top of the line 5/4″ solid hardwood frames is over $300.
4/4″ solid hardwood frames that will last 20+ years can cost less than $150.
High-quality 7/8 inch thick plywood frames with 11 or 13 plies will also have a lifespan of 20+ years with a cost closer to $100.
8 way hand-tied foundations are far more expensive than all alternative foundation systems. 
Drop-in coil springs and high-quality Pirelli webbing both last just as long at less than half the cost.
8-way hand-tied foundations are more comfortable when combined with low-resiliency cushion fillings, such as down and feathers.
Down and feather cushions are a very small percentage of total cushion sales.
Most seat cushions sold today are made with highly resilient thick foam or coil spring construction.
Both foam and coil spring seat cushions make it difficult to feel the foundation beneath the seat.
Modern styles have passed more traditional styles in popularity.
Many modern styles do not have enough clearance below the seat to fit a genuine 8-way hand-tied foundation.
Over the past 15 years, high-end sofa brands have expanded into reclining sofas & sofa sleepers.
Reclining sofas and sofa sleepers have substantially shorter lifespans than non-reclining sofas, even when made by high-quality manufacturers.,
Motion furniture is the fastest growing segment of the furniture industry.
Most of the high end brands have expanded into reclining and/or sleeper products.
The mechanisms required for motion seating are not designed to last 20+ years.
There are a limited number of reclining and sleeper mechanism manufacturers and models.
Many mechanisms used in high end furniture are identical to those used in lower-cost products selling for less than half the price.
The largest supplier of reclining and sleeper mechanisms is Leggett & Platt.
The photo shown below is a very popular (and inexpensive) sleeper mechanism made by Leggett & Platt.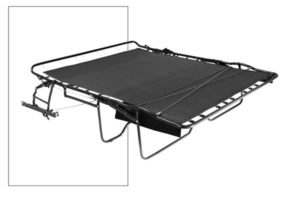 Leggett & Platt mechanisms similar to the one shown above can be found in both cheap and high-end sleepers. 
Two of these are shown below.
The first is a Hancock & Moore sleeper sofa selling for over $10,000.
The second is an Ashley sofa sleeper selling for $799.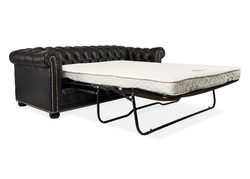 Shown above: Hancock & Moore Kent Chesterfield Leather Sleep Sofa with Leggett & Platt mechanism offered on Sale for $10,633 at Walter E. Smithe.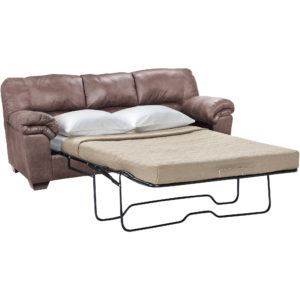 Shown above: Ashley Redmond Sleep Sofa with Leggett & Platt mechanism offered on Sale for $799 at Slumberland.
The $799 Ashley sleep sofa has an estimated lifespan of about 5 years.
The seat cushions will probably wear out prior to the sleeper mechanism.
Hancock & Moore leather sofas are heirloom quality, built to last 50 years and more.
The $10,000 H&M sleeper shown below is not built to last 50 years or even 20 years.
The H&M sleeper has several features that severely limit its long-term durability.
The low cost sleeper mechanism has an estimated lifespan of about 10 years.
Sleeper mechanism warranties are usually 1 – 3 years. They are difficult and expensive to replace.
The estimated lifespan could be longer if the sleeper part of the furniture is not used very often.
The estimated lifespan could be shorter if the furniture is used frequently for sleeping or used by larger than average individuals.
Hancock & Moore builds its sofas with extremely high-quality (and expensive) solid hardwood frames for its stationary sofas.
The sleeper mechanism shown here is designed to be attached to a plywood open box frame.
The plywood box construction is standard for sofa sleepers, but it is not the same quality that has established Hancock & Moore's top quality reputation.
H&M's stationary sofas are constructed with very expensive 8-way hand-tied foundations.
H&M's sleeper foundation is only the mattress and mechanism, far cheaper than an 8-way hand-tied foundation..
The mattress and mechanism are far less comfortable than 8-way hand tied and far less expensive to make.
Reclining furniture has similar quality compromises.
Reclining sofa frames support heavy mechanisms, but are weaker than frames supporting stationary sofas.
Reclining mechanisms are backed by 3 – 5 year limited warranties.
High-quality sofa frames and foundations are usually covered by lifetime warranties.
Well-made sofas & sectionals are available for those who can afford it.
Hundreds of high-end American sofa manufacturers have gone out of business over the past 30 years.
Small and mid-size furniture factories were the hardest hit.
Smaller furniture retailers, the primary customers for the smaller factories, were also decimated.
Thousands of highly skilled upholsterers, sewers, and frame makers lost their jobs.
Some laid-off skilled furniture craftspeople now work in (or own) small custom upholstery shops.
Many more experienced furniture workers now drive trucks, work in stores or perform other jobs unrelated to their furniture skills.