I was recently shopping for a sofa in Raymour and Flanigan.
I hadn't been considering a sleeper and dislike the fold-out models, but I came across a couch with a storage chaise and a pop-up sleeper that just seemed too good a value to pass up.

Raymour & Flanigan's Brynn 2 pc. sofa & storage chaise with pop-up sleeper was priced at $999 and on sale for $949. That seems like a really good deal for a sofa with so many functions.

I sat on it. It felt firm, but I like firm cushions. The salesperson told me firm cushions last longer.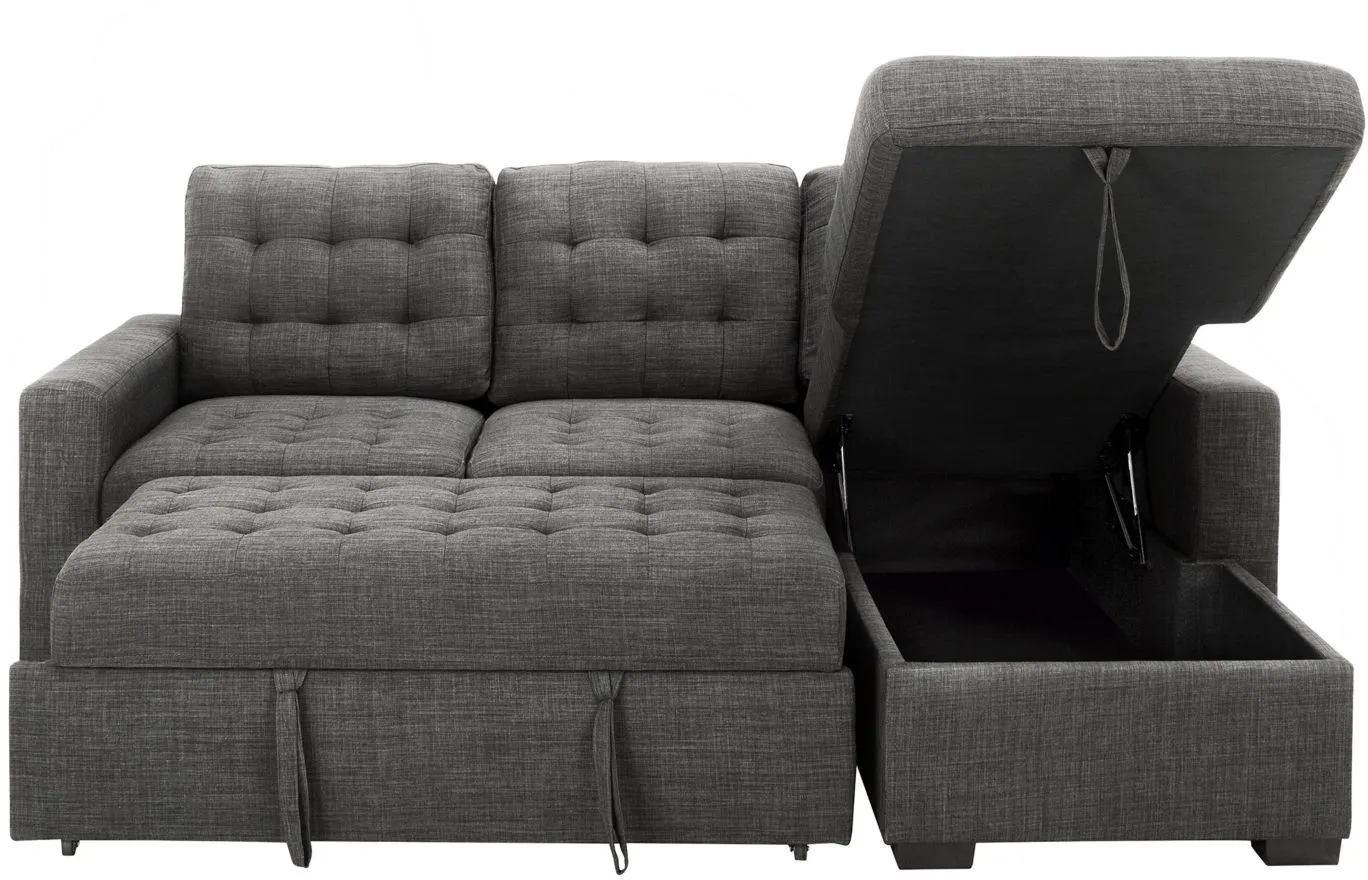 I bought the sofa/chaise/sleeper. It's being delivered tomorrow, but I'm having second thoughts.

Is it really the great value the salesperson says it is?
Answer:
I strongly dislike the idiom, "You get what you pay for," when evaluating furniture.
It's common for shoppers to spend thousands of dollars on seating that will need to be replaced within 3 to 5 years, while less expensive pieces may last twice as long.
In this case, you are literally "getting what you paid for," a Sleeper Sectional worth $949.

Within one year, there is a good chance you will consider this the most uncomfortable furniture you have ever owned.
Ignore the salesperson's comment that "firm sofas last longer."
It simply isn't true! Firmness has no effect on foam durability or lifespan.
Foam density is the most important factor in determining how long a foam cushion will last.
For more information on this topic, see my blog article, What is the Difference Between Foam Density & Firmness?
A cost analysis of the Raymour and Flanigan Bellanest Brynn Sleeper Sectional.
I was a buyer for a Top 50 furniture store chain many years ago. More recently, I owned an upholstery factory for 15 years.

The estimated costs listed here are based on my knowledge of both retail and manufacturing costs.
This is a detailed analysis showing the estimated costs of all materials, components, labor, and operational costs needed to make this furniture.
The purpose is to show the cost of individual parts, labor, and operational costs needed to make this furniture.
It also indicates the level of quality built into this particular piece of furniture.
The Bellanest Brynn 3 seat sleeper sofa + chaise is sold by Raymour & Flanigan for $999.
The reader who sent in this question saw this item advertised On Sale for $949.
The selling price indicates that Raymour & Flanigan purchased this item for approximately $450 (including shipping costs.)
Cost Breakdown
Fabric
100% Polyester fabric
Durable, stain-resistant, and inexpensive fabric. Estimated cost is about $2.50 per yard. According to the product description, cushions and back pillows are attached (not reversible.)
That reduces the amount of fabric needed since it is upholstered to only one side. The disadvantage of attached cushions is that they can't be flipped or replaced.
This total piece requires about 12 yards of fabric – Est. fabric cost – $30
Frame
Acacia wood, furniture-grade wood and pine frame materials.
Frame joints are reinforced with corner blocks, heavy-duty metal fasteners, screws and glue.
Acacia is actually a good strong wood to use for furniture frames. It is harder and heavier than many other hardwoods, and is commonly used for furniture.
Pine is not a good wood. It's soft and warps easily. It is also far less expensive than Acacia. Hopefully, the Pine is not being used in load-bearing locations.
Overall, this is a better quality frame than many others found in this price range. Est. cost – $35.
Foundation
8-Gauge, sinuous spring and nylon webbing seat support. 
This is an inexpensive, but durable type of seat support. Est. cost – $25.
Cushions
Foam -1.6 Density, foam cushions.
These are substandard cushions. 1.8 density foam is considered the minimum specification for acceptable seat cushions.
In the US, 1.8 density foam for the cushions used here costs around $20 per seat.
This sleeper sectional has 2 seats plus a chaise (which is equivalent to 1.5 seats) plus a mattress, which is equivalent to another 1.5 seats (5 seats altogether.)
The average lifespan for 1.6 density foam cushions is about 3 years for average size people, with average use. But it will begin to get uncomfortable long before that time.
If anyone in your household weighs 250 lbs., the seat cushions can be completely worn out (flattened) within a few months.
6 seats @ $10 per seat – Est. Cost – $50
Fiber – Polyester (Dacron) fiber is used for wrapping cushions and padding the sofa frame.
I am assuming no foam is being used to pad the frame. Foam would be more expensive.
Est. polyester fiber cost – $5
Hardware and Miscellaneous Parts
Removable legs – 4 Legs needed @ $2 per leg. Est. cost – $8.
Casters included – 4 casters needed @ $2.50 each. Est. cost – $10.
Hardware for the RTA assembly, chaise hinges, connectors, and pull-out bed – Est. cost – $30
Miscellaneous hardware, buttons for tufting, thread, staples, screws, nails, glue, and other shop materials –Est. cost – $30.
Shipping
Shipping 
The cost of shipping a sofa this size (in flat boxes) from Asia is at least  $30. The cost of transportation from the Port to Raymour & Flanigan's warehouse is at least $50.
Shipping costs are constantly changing. The actual cost may be higher. This is a very conservative estimate for shipping costs and can be much higher. Est. cost – $80.
Boxes and packaging materials
3 boxes are needed to package this sectional grouping for efficient transport.
Packaging materials (plastic wrap, foam padding, corrugated cardboard corner guards are all needed.)
Boxes & Packaging materials – Est. cost – $30.
Labor
Labor costs in the U.S. are calculated at 20 – 30% of the selling price.
The estimated costs here are calculated at 10%.
Labor – Est. cost – $45.
Sales, General, & Administrative Expenses.
The total listed here are less than half what it would be in a U.S. factory
S,G & A – Est. cost – $30.
The total estimated costs, using very conservative estimates, amounts to $408.

That leaves $42 for the manufacturer's profit.
Conclusion: This sectional sleeper is a good value.
Neither the manufacturer nor the retailer is making an excessive profit or paying too much for parts, labor, or overhead expenses.
On the other hand, considering the cost of this furniture and the selling price, there's not much quality, durability, or comfort built into this sectional sleeper.
Just because it's a good value, does not mean you're going to enjoy it.
If you appreciate the information contained in this article, please let me know in a comment on this article.

Also, please tell your friends, family, & co-workers about the InsidersGuideToFurniture.com