Are your sofas made using non toxic materials, such as solid wood, no voc's, no flame retardants, organic and natural fabrics and cushion fillings/inserts such as latex foam or down?
Simplicity Sofas frames are solid oak from locally grown select grade lumber.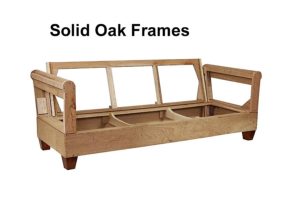 We do not use any VOCs or Flame Retardents in our furniture.
Our Category 3 fabrics are all natural cottons, linen/cotton blends and 100% hemp fabrics.
The great majority of our fabrics are synthetics. All category 2 fabrics are heavy duty, highly stain resistant synthetics.
Categories 4 and 5 are American made high performance synthetic fabrics. These are all heavy-duty fabrics with built-in permanent stain-prevention technology.
Back cushions are filled with synthetic conjugated polyester fibers enclosed in a down-proof ticking.
The standard seat cushions have 2.5 density polyurethane Ultracel foam. Although most of this foam is oil-based, about 20% is derived from Soybeans.
Spring down cushions have fabric wrapped steel spring coils surrounded by a border of 2.5 density polyurethane foam. The top and bottom of the cushion consists of jackets filled with down and feathers.
Theoretically it is possible for us to substitute latex foam or feathers/down in our cushions. However it increases the cost substantially, and decreases the lifespan of the cushions.
Also, cushions made with feathers/down must be constantly "fluffed" up each time you get up from the seat. Most people find this extremely annoying after a while.
Also, sofas made with 100% feathers/down cushions are usually designed to use thinner cushions (typically about 4″ thick.)
Our furniture is designed for 8 1/2″ thick cushions. This requires over twice as much feathers/down filling as you would find in the (already extremely expensive) feather/down cushions typically found with high end sofas.
Feather/down cushions are not resilient. Sitting on one means that you will sink all the way down to the seat decking (and feel the foundation underneath.)
This requires the use of an 8 way hand tied seat foundation. That is an additional $600 option for our sofas.
With our normal cushions the 8 way hand tied foundation is not needed because the high density foam or spring down cushions compress only halfway to the seat deck.
Most of the latex foams currently sold contain a percentage of synthetic latex. (This is not always disclosed.) It is rare (and extremely expensive) to find 100% natural latex used in sofa cushions.
Know someone who might be interested in this post? Please like and share this post with them. If you have questions or comments please leave them below.