There are no official standards regarding sectional sofas.
In general the term "sectional" can apply to any upholstered seating that features two or more interconnected seat units. There are huge variations in size, features, styles etc.
For example if you google "small sectionals" and then chart the sizes of the products that are listed under that description, there will be very little difference in most cases than if you had simply googled "sectionals" or even "large sectionals."
Some furniture retailers describe the furniture shown below as a "sectional" while others would designate it as a "sofa and chaise" reserving the term "sectional" to describe only seating with a corner piece.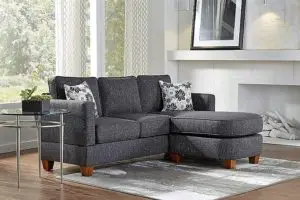 Brandon Sofa with Chaise by Simplicity Sofas shown above measures 78″ x 32″d x 66″d (including chaise piece.)
Another common sectional configuration consists of equal length left and right sections.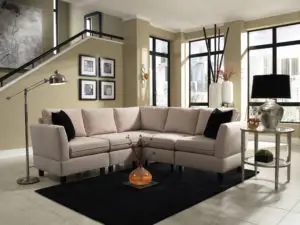 [The 5 seat sectional by Simplicity Sofas shown above measures 83″ x 83″ with a total depth of 32″. This is possibly the smallest 5 seat sectional currently available.]
Typically the most common sizes for a 5 seat sectional configuration with equal sides is 95″ x 95″ or 98″ x 98″ with depths of 37″ – 40″.
Of course there are many other possible configurations and sizes. For example: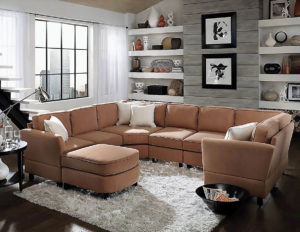 The Simplicity Sofas sectional shown above consists of 7 individual seat units plus a bumper ottoman. As shown the dimensions are 95″ x 118″ x 59″.
Additional arm, armless, corner and chaise units can be added on indefinitely to create a sectional as large as needed in any direction. [This sectional is also engineered to fit through narrow doorways as small as 15 inches (38 cm. in width.]
For example the ManCave TV purchased a similar Simplicity Sofas 15 seat sectional that measured 17 ft. x 17 ft. (5.2 x 5.2 meters.) The sectional fit down a 24″ (60 cm.) width stairway.
The sectional shown above is modular in nature with each seat being an individual unit. This makes it possible to make each side as long or short as needed with virtually no limitation on overall length.
It is far more common for sectionals to have 2 seat or 3 seat units that are joined together to form a sectional.
It is less expensive to make furniture with multiple seats in a single unit than to have each seat as an individual unit; however the two different length sides cannot be reversed and the overall length cannot be extended without limitation.