What is the best quality sofa for long term durability?
I just threw away a sofa I bought 5 years ago and paid over $2000 for.

I should have thrown it away two years ago.

Recently I read somewhere that Simplicity Sofas makes sofas that last forever – for the same $2000 I paid for a piece of junk 5 years ago.

How is that possible? Or is this just another case of false advertising?
Answer:
Simplicity Sofas furniture really is designed to last forever.
Sofas and sectionals are custom built, one piece at a time, with top quality materials. Additionally, the workmanship is superb.
Designs are simple, but the quality of both materials and workmanship is better than many brands priced far higher.
Important Note – Simplicity Sofas' quality and value are outstanding, but this company has very serious customer service issues.
Simplicity Sofas is a North Carolina Direct-To-Consumer manufacturer.
The company has sold its furniture exclusively through its SimplicitySofas.com website since 2007.
Prices start under $2000 for a sofa.
Leather prices start above $3000.
A Special 10% discount is available to Insider's Guide to Furniture blog readers.
Simplicity Sofas' patented modular design won the $20,000 grand prize in a nationwide competition for Most Innovative American Small Business.
During the Pandemic, extensive order backlogs exceeded 2 years at times. The company was not accepting leather orders.

The order backlog has now been cleared up. Orders for leather are once again being accepted.

Custom orders are now being built and shipped within 4 – 6 weeks for in-stock fabrics.

Leather orders are being built and shipped in 8 – 12 weeks.
What makes
Simplicity Sofas

furniture last longer than other brands priced far higher?

The concept is simple, but the execution is not.
Simplicity Sofas begins with the best quality, longest lasting materials available.
Frames are solid oak.
Simplicity Sofas is one of the last furniture manufacturers still using solid oak frames for all sofas & sectionals.
The company has made its own frames since 2017.
Since frames are a critical part of overall durability, great care is taken to maximize sturdiness & stability.

For example, the grain pattern of each individual oak panel runs in the direction that provides the greatest tensile strength.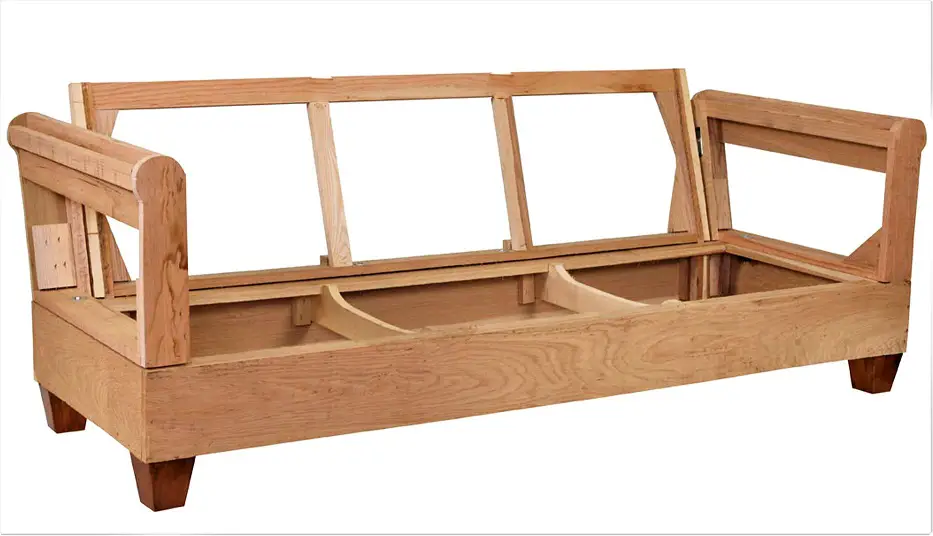 Standard cushions are 2.5 density Ultracel foam.
Cushion upgrades include Memory foam and Spring down constructions.
Memory foam cushions substitute a 2″ thick memory gel foam pad for the dacron polyester wrap in the standard cushions, simultaneously softening and strengthening the cushion.
Spring down cushions (shown below) uses top quality fabric covered Marshall coil spring units.
A down & feather jacket is above and below the springs and foam.
The foam border surrounding the fabric covered coil springs is 2.5 density, overall a major upgrade from the 1.8 density foam found on most top quality Spring Down cushions.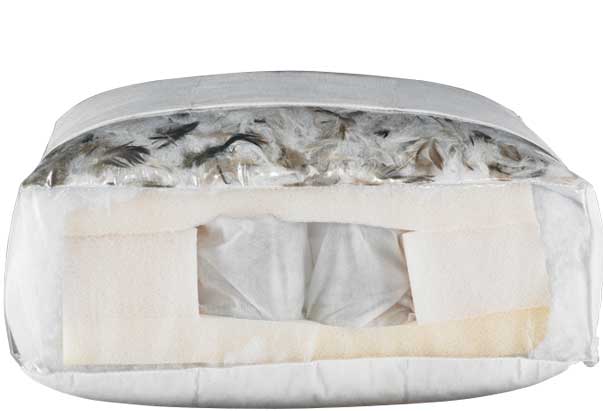 Foundations are high quality elasticized webbing.
No foundation has ever failed since the company first launched in 2007.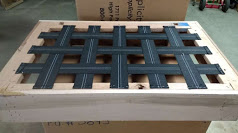 Simplicity Sofas has received a 10 rating for both quality & value in 64 Best Sofa & Sectional Reviews.
Explaining the Simplicity Sofas patented modular design concept.
Hundreds of different furniture pieces can be created using a small number of interchangeable, replaceable common component parts.
24 interchangeable components (5 arms, 7 backs, 7 bases, 3 cushions, 2 legs) can be combined to make hundreds of different sofa, loveseat, chair and sectional combinations.
The photos below show how this small number of common parts is used to create hundreds of different furniture designs.
The first picture shown below is a green modern style Lorelei full size sofa with a flared arm and cylindrical metal legs.
Lorelei green sofa with metal legs by Simplicity Sofas
The green sofa shown above is assembled from 7 different interchangeable, replaceable component parts including:
1) Lorelei style left arm
2) Lorelei style right arm
3) Full-size (80″) back
4) Full-size (80″) foundation/base
5) Back cushions
6) Seat cushions
7) Legs
The sofa is shipped unassembled. Assembly takes less than 30 minutes. No tools are needed.
All furniture can be assembled, dis-assembled, & reassembled dozens of times with no loss of strength, durability, or comfort.
Lorelei blue sofa with tapered oak legs by Simplicity Sofas
The simplest change can alter the appearance of this furniture.
For example:
The blue Lorelei sofa shown above substituted tapered oak legs for the cylindrical metal leg shown above.
This one small change has changed the couch from contemporary to transitional styling. (Not a particularly impressive change.)
But see what happens when only two other component parts are substituted.
The next photo shows a Simplicity Ashton full size sofa.
Of the 7 original component parts used for the Lorelei sofa above, 3 parts have changed:
The right and left Lorelei style arms (shown above) have been replaced by Ashton style arms. (See photo below.)
Two of the back cushions (which are curved to fit over the wide arms) have been changed.
The full-size foundation/base, full-size back, seat cushions and legs are all identical to the Lorelei sofas shown above.
Ashton three seat sofa with skirt by Simplicity Sofas
Changing 3 interchangeable component parts and adding an optional skirt has:
Changed the style from contemporary/transitional to thoroughly traditional.
Increased the sofa length from 80″ to 88″.
Adding a few new interchangeable component parts results in a highly versatile modular sectional.
Lorelei 8 seat sectional by Simplicity Sofas
The Lorelei style arms on this sectional are exactly the same as in the green and blue sofas pictured above.
The cushions used on the arm and armless seats are identical with those used on both the Lorelei and Ashton sofas shown above.
The sofa back and base component parts have been replaced by shorter sectional base and back components.
There are three new pieces.
Black legs have replaced the oak legs.
The wedge corner piece uses an additional 4 component parts that were not used for the sofas.
The bumper ottoman uses an additional 2 component parts.
Using modular components offers other design advantages.
The sectional is ambidextrous. Armless pieces can be moved around so that either the left or right can be the longer side.
Sectionals can have an unlimited number of seats.
Additional seats can be added at any time.
Styling can be inexpensively modified by substituting different legs or alternative arms.
Sustainable, renewable furniture requires component parts that can be quickly & easily replaced in the home.
Because all styles and sizes are part of a single unitized design, no parts are ever discontinued or unavailable.
Fabrics are a special case and are addressed below.
Simplicity Sofas' modular furniture system is designed for repeated assembly and dis-assembly.
Hand tightened fastening hardware allows the furniture to be quickly assembled, dis-assembled and re-assembled dozens of times with no loss of strength or durability.
Individual arms, backs, bases and legs are securely attached, but easily removable for transporting or replacement.
In mid-range seating, cushions are replaced more frequently than any other sofa part.
Simplicity Sofas starts with the highest quality cushions.
2.5 density foam and Spring Down cushions have a 15 – 20+ year lifespan for most people.
Cushion covers and cores are designed for easy removal and replacement without professional assistance.
Extra-large, heavy duty zippers go all the way across the cushion back and partway up the sides.
Zippers are hidden inside a sewn pocket. This is another example of high-end quality not normally found on furniture in this price range.
It encased cushion cores in a fabric ticking beneath the fabric or leather cushion cover.
Worn or damaged fabrics can be quickly and easily replaced for individual parts or entire pieces.
Individual replacement parts can be upholstered at the factory and shipped to the customer.
Damaged or worn parts do not need to be returned.
They can continue to be used until the replacement arrives and then discarded.
When fabrics are discontinued or not available, the entire piece can be recovered in a new fabric, which fits over the old fabric.
Tailored, fitted slipcovers are available for all Simplicity Sofas furniture.
Slipcovers are designed to fit over the original upholstery.
Worn out, stained or damaged fabrics can be completely covered over so that the furniture looks brand new again.
Furniture lifespan can be extended by alternating two completely different looks (with and without slipcover.)
Below is one more sofa look.
The leather sofa shown is made using the same back, base and cushion components as the other sofas pictured in this article.
Only the arms and legs are different.
Megan leather sofa by Simplicity Sofas
Important Note about advertising on this website:
I do not solicit or accept payment from any of the brands reviewed or mentioned on InsidersGuideToFurniture.com.

Despite this, you may see ads on the website. These ads are generated by Ezoic.

Ezoic is a Google platform for website publishers. It is completely automated!
I do not have contact with any of the companies or agencies that choose to advertise on this website through Ezoic.
Disclosure: I founded Simplicity Sofas in 2007 and retired in March, 2022. I do not own any part of Simplicity Sofas and do not receive any payment or compensation from the company.