Question:
I am looking for a high-quality recliner with a manual mechanism that will last a long time. I am not concerned about the cost – only the quality.

In the past, I have purchased power units over manual. I am tall and have long legs and I have had trouble finding a manual recliner that I can push into the proper position and have it stay in that position.

It seems the weight of my long legs pulls the footrest down. With a power recliner, it stays exactly where I put it.

I would prefer to avoid a power unit to get more longevity out of the recliner.

Will the higher quality (more expensive) manual recliners have a better mechanism that will allow me to place the pushback in any position and have it stay there?

I have been gravitating towards Smith Brother and MotionCraft.  I have also come across Best Home furnishing, but I am not sure if they are built to the same quality as Smith and Motioncraft.

Your thoughts would be appreciated.
Answer:
We usually find manual style recliners with infinite positioning only on modern style manual recliners.
Most traditional/transitional style manual recliners have a fixed number of positions that the chair can be placed in.
Best Home Furnishings is a large mass producer of reclining furniture. They are in the same quality category as Flexsteel or Ashley, a big step down from MotionCraft and Smith Brothers.
Taylor King and Century make high quality traditional/transitional style manual recliners similar in quality to MotionCraft.
LaZBoy is slightly better (and more expensive) than Flexsteel and Best Home Furnishings, but lower in price (and quality) than MotionCraft, Taylor King and Century.
LaZBoy has manual recliners and makes "big man" sizes.
One of the biggest advantages offered by powered chairs is that they offer infinite positioning.
The back and leg angle (and sometimes the headrest) can be stopped precisely where it is most comfortable.
Manual recliners with infinite positions are usually found only in more modern styles.
Stressless is the best known example of this.
I personally prefer Himolla, a German brand which is similar in price to Stressless.
Stressless manual recliners usually have ottomans rather than attached foot rests. It is possible that this may be more comfortable for someone who is unusually tall.
Fjords is another modern brand with manual infinite positions.
Fjords is styled to mimic Stressless (with ottomans instead of attached footrests), but priced about 30% less.
American Leather's Comfort Collection also uses a manual mechanism.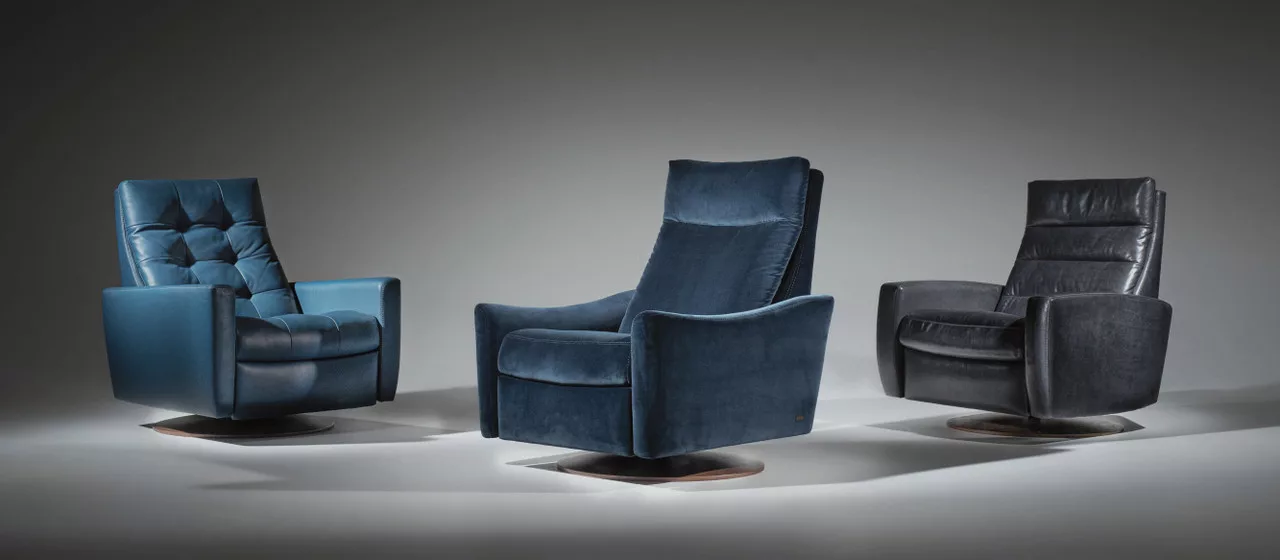 American Leather Comfort Air Chairs are approximately $1800 in fabric or $2500 in leather, but their swivel rocker recliners are the most comfortable I have ever tried.
American Leather strictly controls retail pricing. In the past they have allowed their authorized dealers to offer discounts only once each year – around Father's Day (June 18 this year.)
If you like my Insider's Guide To Furniture please encourage your friends and family to check it out.

Unlike other furniture review sites, I do not solicit or accept payment from any of the brands reviewed or mentioned on my website.
My 45 years in the furniture industry have provided me with a detailed knowledge of furniture brands, construction, quality & value.
Over the past decade, I have written over 2,000 articles, reviews, and answers, seen by over 2 million viewers.
If any company or individual feels that the information on this website is out-of-date or inaccurate, please let me know and it will be promptly corrected.
Important Note about advertising on this website:
I do not solicit or accept payment from any of the brands reviewed or mentioned on InsidersGuideToFurniture.com.

Despite this, you may see ads on the website. These ads are generated by Ezoic.

Ezoic is a Google platform for website publishers. It is completely automated!

I do not have contact with any of the companies or agencies that choose to advertise on this website through Ezoic.