Bonded leather furniture is upholstered furniture made with a "bonded leather" fabric.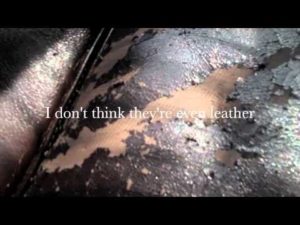 This is not the same as top grain or full grain leathers made from animal hides.
Bonded leather combines the worst characteristics of genuine top grain leathers and synthetic faux leathers such as polyurethane or polyvinyl chloride (vinyl.)
Bonded leathers often are touted by salespeople as containing 10% – 20% "genuine" leather.
They imply that combining genuine leather with synthetic faux leathers improves the material. It does not!
The "genuine" leather content comes from leftover scraps from cut up hides that are chopped up into tiny granules, mixed with adhesives and other chemicals and then rolled flat.
The problem is that bonding ground up leather particles does not improve the fabric. It makes it weaker and susceptible to "peeling."
This highly processed "genuine" leather is then used for the backing of the bonded leather.

You cannot see, touch or sit on any of the "genuine leather" in this product.
Everything you see and touch is synthetic faux leathers.

Ground up leather is not a good backing material.

The only reason for using leather scraps as a backing is to fool people into thinking they are buying "real" leather furniture at greatly discounted prices
100% polyurethane faux leather fabrics with a normal woven backing are a superior alternative to bonded leather. They are durable, stain resistant and do not peel.

Do not buy bonded leather furniture!

This is especially true for reclining furniture.
Frequent movement and rubbing on reclining furniture wears out the facing more quickly.
When the facing wears out, it begins to peel.

If you have any doubts take a look at this NBC video and article

This is an interview with the CEO of a major (and highly reputable) furniture retail chain who is asked about bonded leather.
The best quote from the article is when the CEO is asked if customers are to blame for the many complaints of peeling bonded leather, the CEO replies, "I'm not saying they did something wrong, what I'm saying is that it's delicate."
Important note also brought up in this interview — Extended warranties that customers think are protecting them for "everything" do not.

The customer whose complaint initiated this article stated that he "paid extra for an extended warranty" but was told that "the warranty does not cover peeling leather."

No retailer's warranty, manufacturer's warranty or extended warranty will cover damage from peeling bonded leathers.
Know someone who might be interested in this post? Please like and share this post with them. If you have questions or comments please leave them below.
The good news is that after a decade with thousands of complaints about bonded leathers, fabric mills have finally started to make new synthetic faux leathers that mimic the look and feel of bonded leathers at similar costs.
New composite faux leathers combine polyurethane, polyester and sometimes vinyl. These are less expensive than 100% polyurethane faux leathers and closer to real leathers than the old polyester leather-like fabrics.
Several of the largest furniture manufacturers and retailers are trying out many different versions of these composite materials as a substitute for bonded leather.  Although there is no long-term data about durability, there is an excellent chance they will hold up far longer than the bonded leathers.
Prior to the introduction of bonded leathers, furniture purchasers were turned off by the thought of buying "vinyl" sofas or reclining furniture. They wanted real leather but many couldn't afford it. Furniture retailers realized that a material with "some leather content" would be easier to sell to customers looking for lower cost seating than 100% synthetic materials.
The thought was completely correct. Salespeople pitched bonded leathers in a way that made most of their customers think it was a lower cost version of "genuine" leather. The successful marketing collapsed after about 10 years as a large segment of the furniture buying public became aware of thousands of bonded leather complaints, spread largely by social media.
At this point, 100% synthetic leather substitutes have become far more acceptable as technology improved the look and feel to make them more leather like. Hopefully, bonded leather will soon be gone forever.