We are considering the Crate and Barrel Gather sectional sofa with bench seats.
The website doesn't have any information. The salesperson does not seem to know much about the sectional.

Do you have any thoughts on this sectional sofa?

Does Crate and Barrel have any other sectionals that you recommend?
Answer
Crate and Barrel is a retailer.
Their seating is made by several different manufacturers. There's no way to know which manufacturer is making which model.
The Gather is one of two Crate and Barrel sectional collections that should have a 10+ year lifespan.
Peyton is the other C&B collection with a similar construction.
What makes these two collections different (and longer lasting) than other Crate and Barrel collections is the superior cushion construction.
Both the Gather and Peyton Collections have cushions made with coil spring cores.

These coil spring cushions should last more than twice as long as the foam core cushions found in all other Crate and Barrel seating.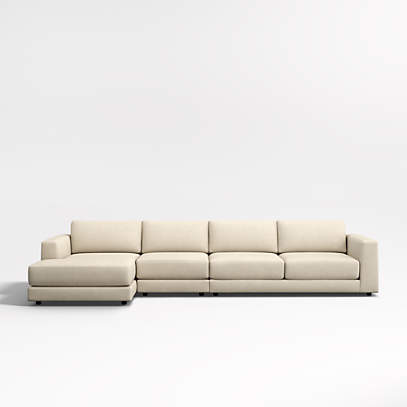 The Crate and Barrel website has quite a lot of information about the Gather and Peyton sectionals.
But it isn't easy for shoppers (or salespeople) to interpret.
The Crate and Barrel website description of the Gather sectional is printed below in black italicized  bold print. 
The comments in 

GREEN

 are my detailed explanations of what the Crate and Barrel descriptions actually mean.
Frame is benchmade with FSC ®-certified engineered hardwood that's kiln-dried to prevent warping. 
This is the 3rd best method of frame construction. It is cheaper and less durable than solid hardwood or plywood, but superior to frames made from particleboard. 
Although this is a cheap frame construction, it should hold up for at least 10 years.
The FSC certification for the wood indicates that this frame is made in the USA. That is better quality than many frames sourced in Asia.
The term "Benchmade" is mis-applied. The term is supposed to indicate the frames are handmade by skilled craftspeople. That is not the case here.
Sinuous wire foundation. 
The sinuous wire foundation in the Gather sectional is poorer quality than many of their similarly priced competitors.
There are large gaps between the individual sinuous wires. There are no edge supports.
Despite these flaws, the foundation should last at least 10 years without problems, unless you have unusually heavy people sitting on the furniture or kids who like to jump on it.
The Crate and Barrel Gather & Peyton's innerspring cushions are a great feature.
They should double the expected lifespan of your sectional compared to standard 1.8 or 2.0 density foam cushions.
Seat cushions are innerspring wrapped in polyfoam with fiber encased in downproof ticking. 
This is superior to the 1.8 density foam core cushions that are the furniture industry standard.
Over the past 15 years, the vast majority of cushions sold on mass produced upholstery used 4 – 6 inch thick 1.8 density foam cores. These 1.8 density cushions had an average lifespan of 3 – 5 years before losing their shape, resilience (ability to bounce back), and comfort.
The cushions in the Gather and Peyton sectionals are "innerspring wrapped in foam with fiber encased in down proof ticking." This construction should give your cushions a lifespan of 8 – 10+ years.
For more information on innerspring cushion construction, check out my article, IKEA Sofas – All the Experts are Wrong. 
Back cushions are full-blown fiber encased in downproof ticking. 
This is the least expensive way to make back cushions. Many brands in this price range have channels sewn into their back cushions to keep the blown fiber from clumping up and making the cushions lopsided.
You may find the back cushions losing their shapes within a year or two. Fortunately, it is easy and inexpensive to add additional polyester filling to the back cushions if this bothers you.
The Crate and Barrel Gather & Peyton sectionals should give you 10+ years of comfortable seating.
Although the frame and foundation are less than optimal for seating in this price range, they should still hold up for 10+ years.
The Gather sectional is available in two different depths.
There have been complaints about the comfort of the standard 38″ depth.
The deeper 43″ version does not have those same complaints.
The Peyton is available in only one depth.
There do not seem to be any serious complaints about the Peyton comfort.
---
If you like my Insider's Guide To Furniture, please encourage your friends and family to check it out.
My 45 years in the furniture industry have provided me with a detailed knowledge of furniture brands, construction, quality & value.
Over the past decade, I have written over 2,000 articles, reviews, and answers, seen by more than 2 million viewers.
If any company or individual feels that the information on this website is out-of-date or inaccurate, please let me know and it will be promptly corrected.
Important Note about advertising on this website:
I do not solicit or accept payment from any of the brands reviewed or mentioned on InsidersGuideToFurniture.com.

Despite this, you may see ads on the website. These ads are generated by Ezoic.

Ezoic is a Google platform for website publishers. It is completely automated!

I do not have contact with any of the companies or agencies that choose to advertise on this website through Ezoic.