The question you should be asking is not why furniture warranties (both online and off) are typically for 1 year. The correct question is whether those 1 year warranties actually cover much of anything at all.

Most consumers assume that furniture warranties are supposed to protect consumers. That may be true of car warranties, but state and local regulations are far less protective of furniture purchasers.
The primary purpose of a furniture warranty is to protect the retailer and manufacturer — not you (the consumer.)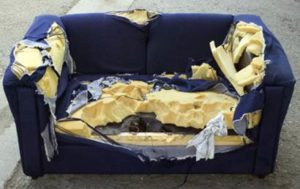 Car warranties are honored by any dealership in the country selling that brand.
Furniture warranties are honored only by the retailer you purchased from. The manufacturer will do nothing to help unless you first go through your local retailer.
Car warranties typically cover all product defects or workmanship for a specific period of time or number of miles. There are no exclusions for specific parts such as tires, bumpers, engines, seats, etc although there may be different time periods specified.
Furniture warranties may seem, at first glance, to cover everything for a specified amount of time.
In reality, however, the warranty document will have numerous exclusions which cover most parts of the furniture that are likely to have a problem.
For example:
• Cushions are almost always excluded from warranty protection.
This may not seem obvious at first because there will be a prominent paragraph near the top of the warranty stating that cushions are warrantied for a specific period. This is typically 1 – 3 years.
A more careful reading of the entire document, however, will reveal that the cushions are not covered if there is either "customer abuse" (problems caused through accidents) or defects resulting from "normal wear and tear." (This includes cushions losing their shape or resilience through normal use.)
These two exclusions cover virtually everything that can possibly go wrong with your cushions.
• Fabrics are also almost always excluded from warranty protection through the same restrictions as shown above for cushions.
For example there have been thousands of complaints about "peeling" bonded leather fabrics, sometimes occurring less than a year after purchase. There are hundreds of lawsuits against retailers who have refused to cover this major defect.
• Frames and foundations have far fewer problems than cushions and fabrics, but defects are also more difficult to prove.
When a frame or foundation defect is acknowledged after the first year, there is often a requirement for the customer to pay for transportation of the sofa to and from the manufacturer's factory.
Since most consumers do not qualify for the 80% – 90% freight discounts from list prices that major shippers have, large furniture items can easily cost many hundreds of dollars each way and take several weeks (or months.) Sometimes the customer is also charged for hourly labor costs to repair the furniture.
The result is that the cost (and inconvenience) of having the furniture repaired under the manufacturer's warranty is more than many (or most) consumers are willing to bear.
Most wood furniture (bedroom, dining room etc.) defects will occur during the initial shipping from the factory to the retailer or from the retailer to the customer.
If these defects are not pointed out and documented while the delivery people are still in your home, you may have great difficulty getting the warranty provisions honored.
If you pick up the furniture yourself, watch for fine print that specifies the retailer has no responsibility for damages once you have removed it from their building, even if the furniture was picked up in unopened cartons.
Warranty claims must first be made through the retailer. The manufacturer will not do anything unless the retailer has first approved.
Retailers will sometimes agree to make repairs. Demands for replacement will meet far more resistance, even in cases where the furniture is clearly unusable.
This resistance to honor warranty claims may begin with unanswered phone calls or emails. Frequently customers will simply give up on a complaint rather than spend the time and effort required to get a satisfactory response.
Any warranty repairs or replacements for your furniture may take extensive periods of time. Although auto dealers may loan a car to you while yours is being repaired, there are no "loaner" pieces available for furniture customers.
Read your sales and warranty documents carefully to determine who is responsible if damage occurs to your furniture during shipping.
If the retailer does not accept responsibility for damage incurred during shipping rethink your purchase.
A high percentage of furniture damage occurs during shipping. Filing damage claims against shipping firms is a long and frustrating process. It can take several months and rarely results in full compensation.
Bedding warranties are virtually useless. Almost anything that can go wrong with a mattress or foundation will be dismissed as "normal wear and tear." Major defects like broken springs that might be covered are extremely rare.
Extended Protection Plans
Furniture salespeople may make a strenuous effort to sell you an extended warranty. These plans are typically pitched as though they offer protection if anything happens to your furniture within the plan's time frame.
Extended warranties are never covered by the manufacturer and usually not by the retailer either. They are basically third party insurance contracts from financial companies.
These "insurance" companies may or may not be financially secure. There are many cases of extended warranty companies that have gone out of business, leaving their customers with no protection.
These firms generally subcontract furniture repair services to low bidding 3rd party repair services who may have bad reputations or be inconveniently located. They have no relationship or agreement with the furniture manufacturer.
Extended protection plans may have the same (or more) exclusions than the original retailer's warranty. They may disqualify the customer from being covered by the manufacturer's warranty.
Extended warranty plans generally end up costing anywhere from $100 to 6% of the total cost of furniture. They are extremely lucrative to both the store and the salesperson, who receives a very high commission for selling these plans.