Prior to the 1950s building codes that specified the minimum width for doorways were almost non-existent in the U.S.
Federal regulations, such as the American Disabilities Act, may mandate building code requirements for public use buildings, but privately owned residential homes are primarily guided by local building codes.
Some local code standards, such as 36″ wide doorways, are now widespread, but they are not universal.
Older homes, built prior to the introduction of the local codes, are usually exempt.
Small scale furniture is far more common in Europe and Asia than in the U.S.
Older buildings and crowded living conditions make large furniture impractical for the majority of the populations.
Conditions in the U.S. are different.
Over the past few decades, as wider doorways in new construction became more common, the size of American furniture began to grow.
This problem was particularly acute for upholstered furniture.
Most upholstered furniture currently sold in the U.S. is scaled to fit through 32″ width doorways.
Upholstered furniture, designed and built prior to 1950, was generally smaller in scale. Furniture built in the 19th and 18th centuries was even smaller.
Beginning in the 1970s it seemed almost as though there was a competition among furniture manufacturers to see who could produce the largest, bulkiest piece of furniture for American consumers.
This trend lasted for about 30 years. Eventually manufacturers realized that furniture sales would be severely restricted if an item could not fit through a 32″ doorway.
Retailers also began to realize there were still a lot of people living in older homes with doorways smaller than 32″.
These homeowners needed smaller alternatives that could fit through their narrower doors and stairways.
The solution may seem obvious, but there was a problem.
The furniture buying public had become aware that the larger scale seating was usually more comfortable than the older, smaller-scale styles.
The rapidly increasing popularity of oversized reclining furniture contributed to the widespread public perception that "larger" was equivalent to "more comfortable."
Over the past 20 years furniture manufacturers and retailers have realized that there is a real need for smaller scale seating.
Filling this void, however, is not as simple as it may appear.
The "small scale" niche furniture market (in the U.S.) was large enough to attract the attention of major manufacturers, but not big enough to compel major design changes to their products.
Most of the new "apartment size" seating that has been introduced simply features reduced lengths.
Sofas and couches measuring over 90″ in length became relatively rare. Three seat sofa lengths from 78″ – 85″ became the new standard.
A new category of two seat "apartment size" sofas that were smaller than the three seat models but larger than love seats began to appear.
Unfortunately this trend towards "smaller scale" seating ignored one important fact.
Length is not always the determining factor for whether a couch will fit through a narrow door or stairway.
Depth and height are also critical considerations.
Modifying a sofa from 90″ in length to 80″ is a simple design and engineering change.
Reducing overall depth is far more complex.
Maintaining seating comfort while reducing seat depth requires additional adjustments to seat height, back and seat pitch and even the type of cushions used.
Very few manufacturers produce upholstered furniture specifically designed to fit through narrow doorways.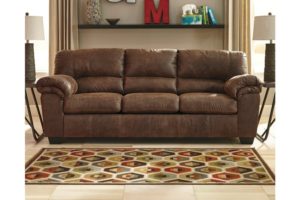 The Ashley Bladen sofa shown above is 90″w x 36″d x 38″h.
The seat depth is 22″. The minimum width of doorway required for delivery is 32.″
This is standard for most sofas currently sold in the U.S.
Simplicity Sofas is a U.S. manufacturer that specializes in sofas, sleepers and sectionals that fit through narrow doors and stairways.
The Simplicity Sofas Ashton sofa shown below is 88″w x 32″d x 35″h.
The seat depth is 21″. The minimum width of doorway for delivery is 15″ (fifteen inches.)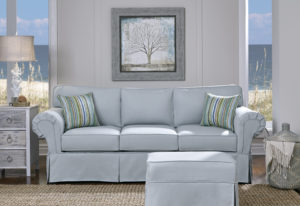 The Simplicity Sofas sectional shown below measures 96″ x 120″ x 59″ and also fits through 15″ width doors and stairways.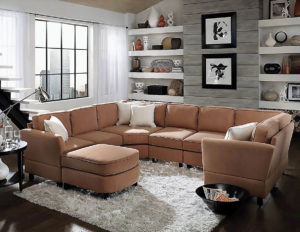 Know someone who might be interested in this post? Please like and share this post with them. If you have questions or comments please leave them below.