5 and 4 cushion sofas are rarely seen unless custom-built.
Check out my article, Standard Sofa Sizes, for more information.
Most seating with 4 or 5 seats is a sectional.
The minimum width for a comfortable seat cushion is 22″ (most are wider.)
When you include arms, that means that a 4 seat sofa will be at least 98″ in length.
A 5 seat sofa will be at least 120″ in length.
98″ sofas will not fit through many doors and stairways.
120″ sofas are extremely difficult to deliver and will not fit into many homes.
Usually, when people want upholstered furniture with 4 or 5 seats, they purchase sectionals, which are built in smaller sections and can bend around corners.
4 and 5 seat sectionals are both very popular.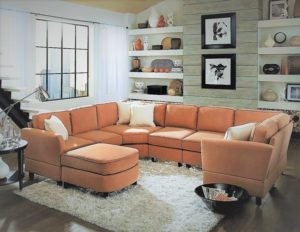 Photo is 7 seat sectional and bumper ottoman by Simplicity Sofas
Know someone who might be interested in this post? Please like and share this post with them. If you have questions or comments please leave them below.