What is your opinion of Apt2B sofas and sectionals?
Are they good quality and value?

They claim to be made in Los Angeles, but I had trouble locating specific information on their build details.
Answer:
Apt2B sells both imported seating & custom-built seating made in the USA.
Apt2B's imported frames use only a limited amount of hardwood.
Most of the frame is either engineered wood products or softwood.
The USA made frames are solid hardwood.
Apt2B's Imported cushions are 1.8 density foam.
This is the same type of cushion most of their competitors will also have.
1.8 density foam cushions in mid-range quality furniture have an average lifespan of 3 – 5 years.
If anyone in your family weighs close to 250 lbs., the estimated cushion lifespan will be closer to 1 – 2 years.
Apt2B's USA made cushions are 2.0 density foam.
2.0 density foam cushions have an average 6 – 8 year lifespan.
For individuals weighing close to 250 lbs., the estimated lifespan is closer to 2 – 3 years.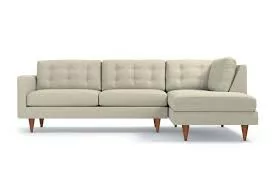 Apt2B's custom built seating is made for them in the Los Angeles factory of DreamSofa.
The basic construction for Apt2B & DreamSofa is very similar.
Both have solid hardwood frames and sinuous wire foundations.
Apt2B uses the term "No-sag springs" instead of sinuous wire, but it's the same thing.
DreamSofa has far more custom options available.
The most important of these custom options is the cushions.
Apt2B's cushions are 2.0 density foam.
Although 2.0 density foam lasts longer than the standard 1.8 density foam, the cushions will wear out long before any other part of the sofa.
DreamSofa offers 4 different cushion options, including 2.0 density foam.
I highly recommend to my readers that they spend an extra $200 to get the Plush Spring Down cushion option.
The Plush Spring Down cushions should last 15 – 20+ years for most people. 
If anyone in your family weighs 250 lbs., the Plush Spring Down should be the only option.
High quality spring down cushions should be able to support 250 lbs. for 10+ years.
The Plush Spring Down cushion option is not yet shown on the DreamSofa website, but if you call DreamSofa and tell them you want the Plush cushion.They'll let you know how to add it to your order.
DreamSofa's website shows multiple sizes for each sofa, sectional, and sleeper sold.
Their custom manufacturing can also modify lengths, widths, depths, and heights to custom specifications upon request.
Apt2B sells only what is shown on their website.
Apt2B's styles and fabrics are not available on the DreamSofa website, and DreamSofa's styles and fabrics are not available through Apt2B.

Since the two brands feature different styles and fabrics, there is no way to directly compare pricing.
I suspect that DreamSofa's pricing is slightly better than Apt2B's USA made custom-built seating, but I have no way to confirm that.
Apt2B's brand is better known throughout most of the USA with its emphasis on Direct to Consumer online sales.
DreamSofa has concentrated more on sales to west coast commercial accounts and interior design professionals.
They've only recently started looking at Direct to Consumer sales to the rest of the country.
Some Apt2B sofas and sectionals are also available as sleepers.
DreamSofa has a huge selection of sleeper sofas & sectionals.
DreamSofa's sleepers are available for every style and are available in multiple sizes.