This blog article is outdated.
All ratings and comments are based on Jeff Frank's personal opinion and available information.
The brands are listed from the highest to the lowest quality (in my opinion.)
The first 9 manufacturers on this list produce higher quality (and higher priced) reclining furniture than the brands rated #10 through 18.
No payments or other considerations have been solicited from any of the manufacturing companies on this list.
The 9 Best Reclining Sofa Manufacturers in the USA
These American furniture manufacturers make custom-built products – at a significantly higher cost.
The top 9 companies listed build furniture that is stronger, better tailored & far more durable than the lower-priced, mass-produced products.
In my opinion, this is the best made, most comfortable reclining furniture available at any price.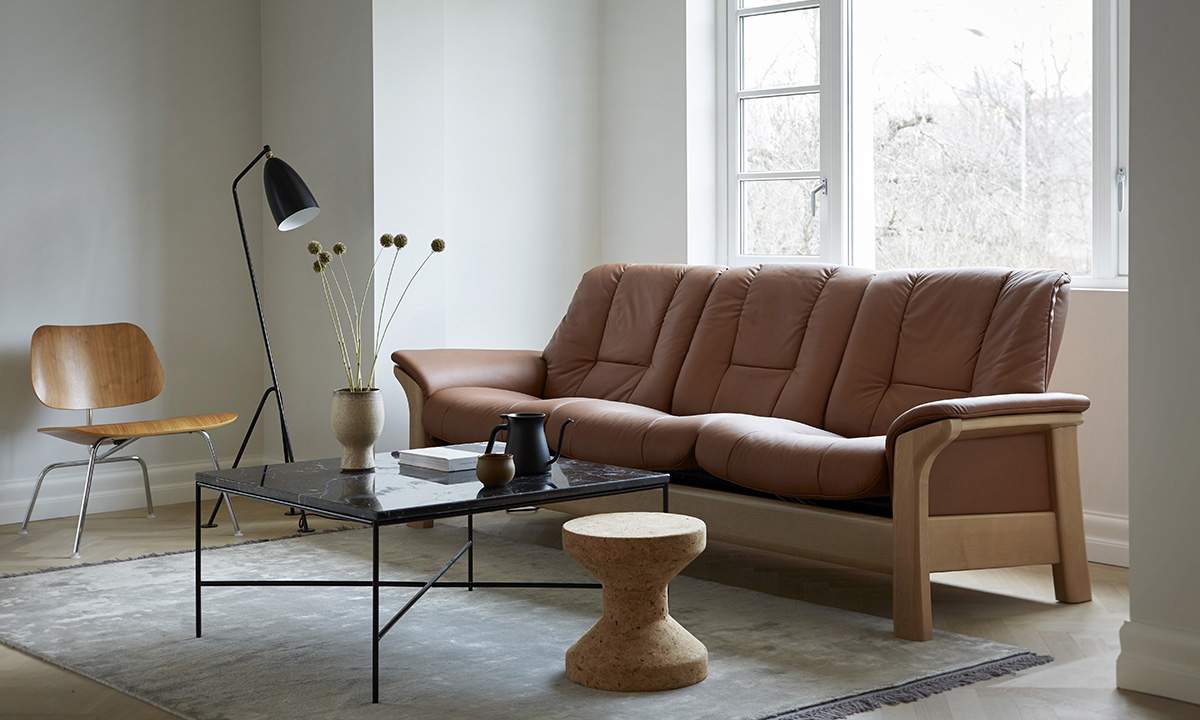 Ekornes Stressless is a Norwegian company. It makes this Made in America listing because of its 200,000 sq. ft. manufacturing plant in Morganton, NC.
Many Ekornes reclining sofas are available with power mechanisms, but my favorites are the manual systems.
The manual seats move effortlessly with no handles or controls, automatically adjusting to your body's most comfortable position.
Shopping for Ekornes Stressless reclining furniture can be stressful.
They have more than one website. Not all products are shown.
Some styles or options may be restricted and cannot be ordered through some dealers.
Prices can vary widely from one dealership to another.
Ekornes is a leather specialist.
The top leather grade can substantially increase pricing.
The lower grade leathers are still very high quality. They are durable and soft, superior to many of the leathers offered by larger, better known brands.
Fabrics are available for those who do not want leather.
H&M is one of the top quality upholstered furniture manufacturers in the U.S.
Leather is their specialty, but they also have a selection of high-quality fabrics.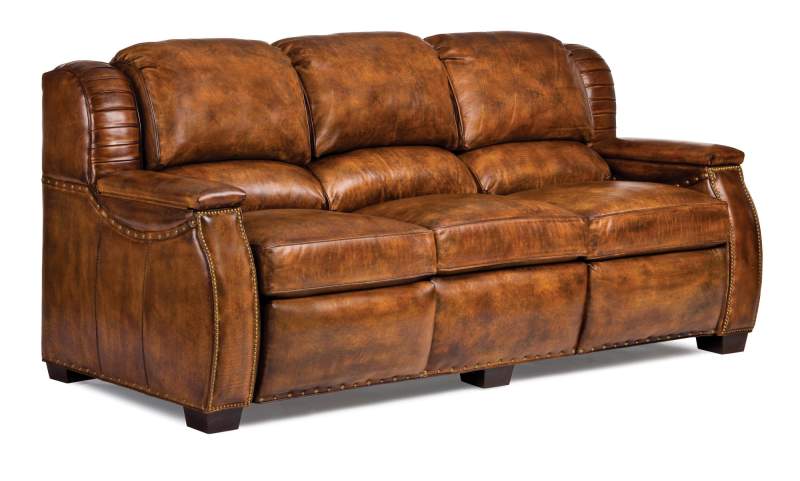 Styles are traditional to transitional. Product lines include recliners, reclining sofas, reclining sectionals & home theater.
Hancock & Moore's Your Way recliner line uses a mechanism with four buttons plus a "home" button in the middle. It returns the seat to its normal position.
This not only brings up the footrest and the tilt on the back function, but also lets you activate a separate headrest motor to tilt your head more upright when reclined.
There is also a USB port to charge your phone, laptop, etc at the bottom of the switch.
Although H&M is known for heirloom quality hand-crafted furniture, it is important to note that their reclining furniture cannot be expected to have the same durability as their stationary seating.
MotionCraft, a division of Sherrill Furniture, has been building custom reclining furniture for over 40 years.
The company offers a large variety of arm styles, sizes, configurations and custom options. Everything is available in over 1000 fabrics & 100 leathers.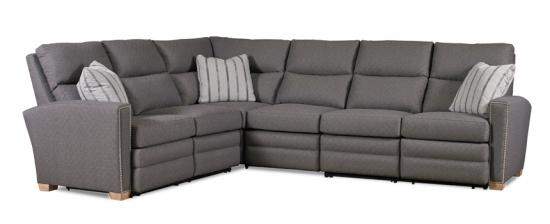 This is handcrafted furniture, built by experienced, skilled artisans.
The detailed tailoring goes beyond what is possible for most other motion furniture manufacturers.
Most reclining furniture is designed for efficient mass production, emphasizing simple tailoring techniques such as "sock-on" (pre-sewn) covers requiring minimal time or skill to upholster.
MotionCraft pays attention to the type of details typically found only in high quality stationary seating. Pleats are perfect. Brass nail heads and button tufting are meticulously attached one at a time by hand.
They even take the time and effort on details that cannot be seen.
This includes things like hand-trimming frames to make sure mechanisms work smoothly and wrapping exposed frame parts in cotton fiber to reduce abrasion and extend the life of the furniture.
American Leather was founded in 1990 on a completely different principle and philosophy than the other manufacturers in my Top 9.
The company's production is highly automated for mass customization using state-of-the-art technology.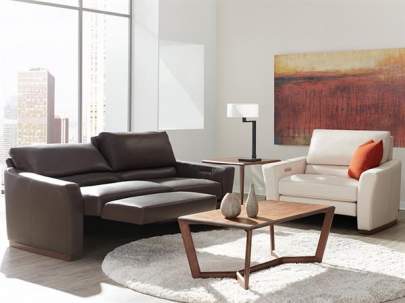 The company is constantly developing new designs and technology. It is one of only a few brands making its own power mechanisms.
Fabrics, leathers and frames are all cut on automated computerized machinery.
Video cameras and lasers are used to minimize waste and maximize efficiency.
The goal is to produce top-quality seating in 30 days or less.
As indicated by the name of the company, American Leather specializes in leather furniture but has an extensive fabric offering as well.
A very wide range of leathers is available to furniture makers.
American Leather claims to use only the top 10% of hides available worldwide.
There can be a substantial price difference between top and bottom quality genuine leathers.
For example, a cheap Chinese corrected leather may be purchased by a manufacturer for as little as $2 per square foot while a better quality European natural leather can cost 4 or 5 times as much.
Assuming an average sofa requires 200 sq. ft. of leather, the difference in cost (to the manufacturer before any profit markups) can be more than $1000.
The "Best" quality leathers can add several thousand dollars to that price.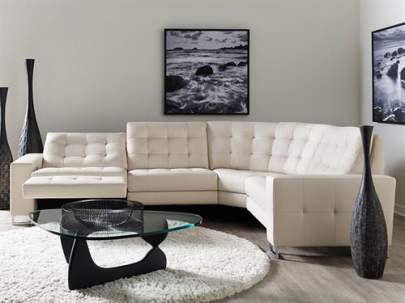 For lower-cost seating from American Leather, there is a wide variety of fabrics ranging from microfibers to high-performance Crypton and Sunbrella fabrics.
These fabrics have great durability and high stain resistance but cost substantially less than high-quality leathers.
Cushions are described as "high-density" and " multi-dimensional" foam combined with down and feathers.
That is a very general description, but this is a company that places a priority on superior comfort and durability.
American Leather is one of the founding members of the Sustainable Furniture Council.
This group emphasizes environmentally friendly and sustainable "green" materials and production practices.
Bradington Young offers an extensive collection of well-built traditional and classically styled reclining sofas and sectionals.
The company specializes in top grain leathers but also offers fabric options.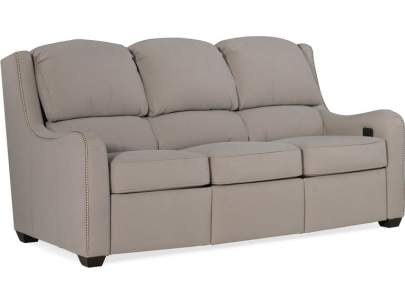 Details and finish are not quite up to the standards of Hancock & Moore, but prices are lower.
The overall quality is still excellent.
Bradington Young is a division of Hooker Furniture.
Hooker offers a similarly styled line of its own lower-priced (lower quality) reclining sofas and sectionals.
Hooker is not reviewed here as its furniture is manufactured in China.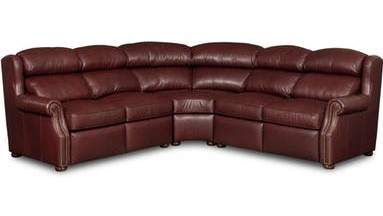 Bassett makes two different quality levels of reclining furniture. Only the Benchmade Motion line belongs in the top 9 of this review.
Bassett's Club Level reclining furniture is mass-produced and is favorably comparable to other large mass-produced brands listed below.
The Bassett Benchmade Motion collection is excellent quality furniture, but you need to upgrade from the standard 1.8 density foam cushions.
1.8 density foam cushions will feel the firmest when new but will be noticeably softer one year later and maybe uncomfortably soft after 3 – 5 years.
At that point, the foam cushion cores will need to be replaced.
The spring-down cushion option is very comfortable and should hold up for 10 – 15 years.
After 10+ years, high-quality spring-down cushions will still feel almost the same as when they were brand new.
All models currently offered are high leg designs with removable cushions.
This is an environmentally conscious company with a wide range of reclining products and pricing.
Upgrading from a basic manual reclining sofa in a Grade 1 leather to a fully accessorized version of that same model can result in a significant cost increase.
The same model sofa in a Grade 6 leather with all options, including triple power (headrest, footrest, lumbar) can add $2000 or more to the retail price.
The vast assortment of leathers is sourced primarily from Europe.
According to a company spokesperson, Omnia does not use Chinese leathers.
According to Omnia, both the starting price model and the top of the line have the same frame, foam, springs, mechs, and 100% top grain leather.
Frames are solid kiln-dried hardwood.
Another significant quality factor is the 2.0 density foam and the extra thickness of Omnia's removable seat cushions.
Omnia's seat cushions are also available in a firm seat core option at the same price. (You should not expect the extra firm cushions to last any longer than the standard firmness.)
Omnia's removable seat cushions should maintain their comfort significantly longer than "tight" non-removable seat cushions made with thinner 1.8 density foam.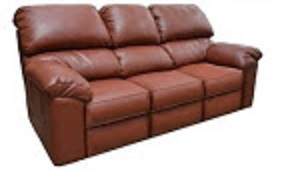 Omnia's removable seat cushions are a distinct quality upgrade compared with the non-removable seat cushions found in the vast majority of mid-priced mass-produced reclining sofas.
All Omnia furniture is made to order in the style and upholstery options that you select.
Reclining seating is typically shipped in 8-10 weeks. [Note – That ship time was pre-covid.]
Custom furniture from all manufacturers may take up to a full year until supply chain problems are fixed.
Omnia has an unusually strong warranty for this category of furniture.
This includes a lifetime warranty on the hardwood frames.
There is a five-year warranty on leather against the transfer of color, peeling, tearing, or becoming hard.
Cushions have a three-year warranty.
Recliner motors have a two-year warranty.
Omnia is manufactured in California, a state with the strictest environmental regulations in the nation.
As a result, Omnia is especially sensitive to ensuring that its products are "green" and sustainable.
The company is a founding member of the Sustainable Furnishings Council.
This 90-year-old furniture manufacturer is located in the heart of Indiana's Amish community and prides itself on building furniture the old-fashioned way, one piece at a time.
Everything the company makes is custom built.
Frames are solid maple, reinforced with double dowels, screws, glue, corner blocks, and metal brackets. The company builds its own frames.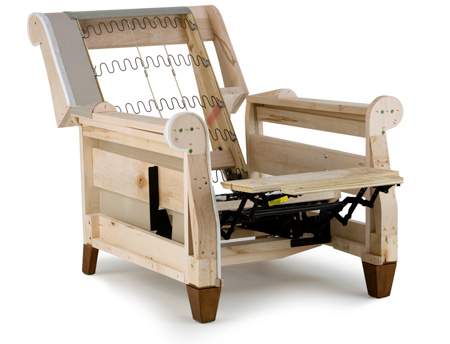 The company designs its own exclusive arm support system to reduce the arm wobble that is commonly found in reclining furniture.
Seat cushions are removable and reversible, with coil spring construction. No-sag springs are used to support the back.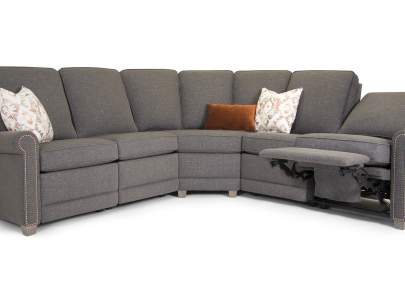 Smith Brothers uses a modular bracketing system for their sofas.
Armless sides have exposed connector brackets. All configurations must have an arm at both the left and right ends..
9) Comfort Design, Asheboro, NC
Comfort Design is owned by Klaussner, a large North Carolina manufacturer.
Klaussner also makes lower cost (and lower quality) reclining furniture under its own brand name. Those are reviewed lower down in this article.
Comfort Design reclining sofas are custom-built one piece at a time.
The company offers a limited number of reclining chairs and sofas.
Cushions are a strength of this company.
They offer multiple high-quality removable cushion options and use long-lasting 2.5 density foam.
Frames are made from kiln-dried Russian birch. [Note – With the Russian embargo, they may have changed their lumber.]
The 9 American manufacturers listed above are higher quality than the next nine brands.
There are significant differences in overall quality between these companies and the remaining manufacturers on this list.
There will also be a substantial price difference.
The top 9 brands listed have retained most of the quality standards developed over many decades.
That is not the case with the remaining 9 brands.
I have seen hundreds of complaints from furniture shoppers whose previous recliner had lasted 15 or 20 years, while a more recent purchase of the same brand resulted in reclining furniture that fell apart within 5 years or less.
Quality standards for large reclining furniture mass producers have declined significantly since 2010.
2010 was the year bonded leather was first introduced. It revolutionized the reclining furniture industry in good ways and bad.
Prior to 2010, most of the reclining furniture sold was reclining chairs in real leather.
Very few shoppers wanted recliners in cheap vinyls or other faux leathers.
Bonded leather changed that. Salespeople sold it as though it was "real leather" or "partially real leather," with the implication that it was almost the same as the real stuff.
This brought the cost of "leather" reclining furniture down by hundreds of dollars.
For the first time, reclining furniture, including larger pieces such as sofas and reclining sectionals, was affordable for most furniture shoppers.
Reclining furniture quickly became the fastest-growing category in the furniture industry.
It took a few years before furniture companies began realizing that the bonded leather recliners they were selling had a very short lifespan.
Thousands of bonded leather reclining pieces began peeling, often within 3 years or fewer.
By that time, sales of bonded leather reclining furniture were so high that even an avalanche of complaints couldn't stop it.
The industry-wide solution was to add a clause to warranties stating that the furniture companies were not responsible for any bonded leather problems that occurred after the first year.
 Most reclining sofas and sectionals still weren't cheap, even with bonded leather.
Keeping prices low was a major priority for the big retailers (and the brands they purchased from.
Cutthroat competition broke out among both retailers and large reclining furniture manufacturers to reduce prices.
This led to a series of design innovations that reduced costs lower and lower.
The fact that this cost-cutting resulted in reclining furniture products with a lifespan of 3 – 5 years (or less) was not a problem (for the retailers and manufacturers.)
Sales actually increased when customers returned to buy a new set of reclining furniture.
Customer complaints were handled by inserting exclusionary clauses into warranties.
Financial liability for failing products was relatively low for most problems that occurred after the first year.
The result has been a major price differential between the better-quality custom reclining furniture brands and the mass-produced brands.
The significant price differential is from a combination of quality, design, and economic factors:
 Traditional and classical designs were originally created at a time when furniture builders liked to show off their skill and expertise. Cost was a secondary consideration.
Today's mass-produced reclining furniture designs prioritize cost over everything else. Cost reduction measures include:
Reduction of production costs by making large quantities of identical items. A single model may have sales of over 100,000 units.
Mass production requires designs that are simple to make by low-cost workers with minimal skills.
Fabric covers are pre-sewn to reduce the time and skill needed to upholster the furniture.
Material costs are minimized. Fabric is one of the biggest costs.
The use of tight (non-removable/non-replaceable) seat and back cushions can save 20% of the fabric cost.
High-quality leathers can add hundreds (or thousands) of dollars more.
The cost reduction factors listed above combined to restrict design options for popularly priced reclining furniture.
One result is very similar-looking generic designs produced by multiple manufacturers at the most popular (lowest) price points.
The Rest of the American Reclining Manufacturers
The remaining listings are large American manufacturers who make low or mid-priced mass-produced reclining furniture.
Reclining furniture in this price range is limited in its styling. Most styles that sell well have a generic look and feel.
Mass-produced reclining furniture often looks alike to shoppers for two reasons:
A large percentage of the recliner mechanisms, used by most brands, are made by Leggett & Platt. They offer a surprisingly limited selection. The fancy bells & whistles options are made by a small number of other suppliers.
Styles are largely dictated by engineering the product to be made at the lowest possible cost.
The result is the pub back look with the saddlebag arm pads and non-removable cushions.
Popularly priced reclining furniture has a high percentage of customer problems and complaints.
Problems and complaints are far more likely than for similarly priced non-reclining upholstered seating.
Problems and complaints are far more likely than for more expensive custom-built reclining furniture (such as the Top 9 brands listed in this review.)
Larger reclining pieces (reclining sofas & sectionals) are far more likely to cause problems and complaints than smaller pieces (reclining chairs.)
Reclining sofas are very heavy.
Frames are not as strong as frames used for similarly priced non-reclining upholstery (including those made by the same manufacturer.)
Transportation from the factory to the store, from the store to the home or even just moving the furniture around in a room, is more likely to result in mechanism or frame problems.
Seat cushion foam can lose its resilience after only a few years.
"Tight" seat and back cushions, used in most mid-priced reclining furniture, cannot be removed or replaced, and are prohibitively expensive to fix.
Cushions (both loose and tight) will not be covered under your warranty.
Furniture customers rely on their warranties to protect them against common problems.
All manufacturers and retailers offer warranties on their furniture.
These warranties are primarily designed for the protection of the manufacturers and retailers – not the consumer.
This is important because popularly priced reclining furniture tends to have a lot more problems and complaints than any other furniture category, especially for the larger pieces.
The big bold statements at the top of the warranty seem to offer broad coverage against most problems.
For example, it might declare that your cushions are protected by a 5-year warranty.
Nobody will point out the fine print farther down the document stating that "normal wear" which includes sagging and foam compression, is not covered.
Lower-priced reclining furniture brands are heavy users of bonded leather-type fabrics.
Bonded leather furniture has a high chance of peeling or becoming discolored after a short time period.
The warranty will have an exclusionary clause, buried deep in the document, excluding responsibility for bonded leather problems.
Both manufacturers and retailers issue warranties. 
This does not strengthen your protection.
It gives the manufacturer and retailer an opportunity to shift responsibility to the other party, making it more difficult to receive warranty service.
Extended warranties relieve both the manufacturer and retailer of all warranty responsibilities.
For more information about warranties, check out my blog article: Furniture Warranties: Tricks, Traps & Warnings.
[Important Note – Before purchasing furniture (or any high ticket consumer product,) I strongly advise that you go to Google and search for "Reviews and complaints" for the brands you are considering.]
In my opinion, Barcalounger is slightly better quality than the biggest recliner brands.
Barcalounger was one of the first major furniture manufacturers to make and sell reclining furniture back in the 1940s.
Throughout the 1970s, the company had a reputation as the top quality brand for reclining furniture.
The reputation still lingers, although the company today is much different.
The current Barcalounger factory dates from 2011.
Its products have no relationship to those made by the old Barcalounger company.
La-Z-Boy's founders introduced the first modern reclining chair in 1929.
Since that time, the company has grown into a 1.5 billion business with over 11,000 employees and 5 regional manufacturing plants located around the U.S.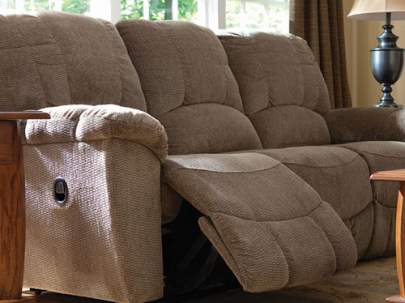 La-Z-Boy offers over 200 different reclining designs, available in over 1000 fabrics and leathers.
 It offers a wide variety of mechanical and power mechanisms. It is one of the few companies to make its own reclining mechanisms.
Styles range from modern to traditional.
Many of the parts used in this furniture, including the frames, are manufactured domestically, however, a significant number of components and fabrics are purchased overseas.
In addition to manufacturing this furniture, La-Z-Boy has an extensive network of La-Z-Boy Home Furnishings and Décor stores.
The company also has hundreds of La-Z-Boy galleries in larger furniture stores. Most of these offer in-home design assistance.
Most of La-Z-Boy's reclining furniture is made with "tight" seat and back cushions that are not removable or reversible.
If the tight seats begin to "sag" and become uncomfortable, replacement or repair is very expensive. The warranty will not apply since this is considered "normal" wear.
Avoid La-Z-Boy's Renew faux leather fabric. Although the company does not call this fabric "bonded leather," it is partially made with recycled leather particles and is subject to peeling after a few years – just like other bonded leathers.
12) Franklin, Houston, MS
Although not as well known as some of the other recliner brands, Franklin Furniture is one of the largest privately owned furniture manufacturers in the U.S.
Franklin has been making recliners in Mississippi for over 40 years.
The company employs over 1300 workers. Its facilities total over 1 million square feet.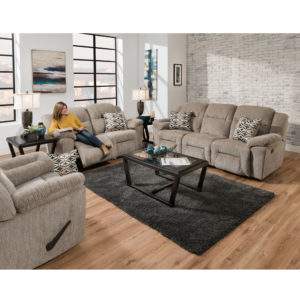 This is a company that specializes in reclining furniture, although it also makes a few stationary sofas.
As a reclining specialist, the company offers a wide variety of custom options.
These options include heat and massage mechanisms, infinite reclining positions, and an iPod docking station controlled from a touchpad command center.
You can also find models with lifts, extra storage, hidden tables, and cup holders.
Franklin is a vertically integrated manufacturer, making nearly all of its own parts, including manual and power mechanisms.
Genuine leather is not available as an option.
This is a family-owned and operated business, over 50 years old with over 1 million square ft. and nearly 1000 employees. The company has been making recliners since 1989.
The specialty of this company is fast special orders – shipped within one week after the purchase with a selection of over 1000 different fabrics.
[Note – the Covid crisis and supply chain problems have seriously interfered with Best's ability to produce special orders quickly.]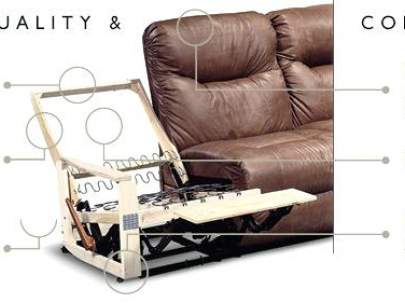 This emphasis on special orders distinguishes the company from better-known brand names that either discourage special orders or take much longer.
Best makes nearly 200 different recliners and over 60 different reclining sofas and sectionals.
The company still uses solid hardwood frames that are dowelled, corner blocked, glued, and screwed.
Most of the other manufacturers in this category have switched to plywood or engineered wood frames.
Flexsteel is an American brand that has been producing mid-range upholstered seating for over 100 years.
Actually, the company should not be on this list at all.
All of its reclining furniture is now made outside the USA.
The Southhaven series is made in Mexico and represents the starting grade. The Latitudes series has been made in China.
Over the past few years, heavy tariffs imposed on Chinese-made furniture products have resulted in production shifts to other Asian locations.
Vietnam, Malaysia and other Asian sources have increased their production as China has declined.
Changing tariffs and transportation difficulties caused by Covid are forcing many manufacturers to move their Asian factories from one country to another.
Flexsteel still makes stationary furniture in the USA.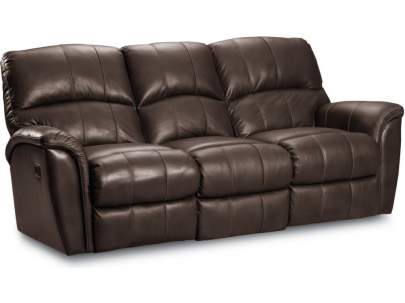 Retail salespeople rarely mention that Flexsteel reclining furniture is made overseas unless specifically asked.
Flexsteel has a long tradition of paying more attention than most comparably priced furniture manufacturers to the internal quality of its furniture.
That tradition is being eroded, especially in its reclining furniture.
The blue steel flat spring foundation that gave the company its name over 100 years ago is still ubiquitous in Flexsteel seating.
It is the primary basis of Flexsteel's claim to superior quality and will be mentioned by every salesperson.
It is almost certainly the strongest, most durable spring foundation ever made.
 The blue steel flat spring should last at least 50 years. Some are still functional after 100 years.
The problem is that the blue steel spring will out-live every other part of their reclining furniture (by far.)
All of Flexsteel's reclining furniture is made with "tight" seat and back cushions that are not removable or reversible.
Genuine and faux leathers are a substantial percentage of Flexsteel's overall sales.
Avoid Flexsteel's Nuvo faux leather fabric. Although the company does not call this fabric a "bonded leather," it is partially made with recycled leather particles and is subject to peeling after a few years – just like other bonded leathers.
[Historical factoid – I was representing Flexsteel to the U.S. government in the 1980s, when they were sued by Drexel-Heritage over the award of a government contract.

Drexel's argument was that the contract specified "8-way hand-tied" foundations, which was superior to Flexsteel's blue steel flat spring.

Flexsteel won the lawsuit (and the contract) by "proving" that the blue steel spring was "as good or better than" 8-way hand-tied springs.]
Southern Motion™ specializes exclusively in reclining furniture.
It has nearly 1500 employees in 5 Mississippi facilities.
The company offers a wide assortment of chairs, sofas & sectionals.
These are available with a dozen different mechanisms and a wide variety of options, including power headrests and electronic accessories.
Southern Motion was founded in 1996 and has grown into a leading supplier to the national furniture retailers, offering a line that includes all categories of motion furniture.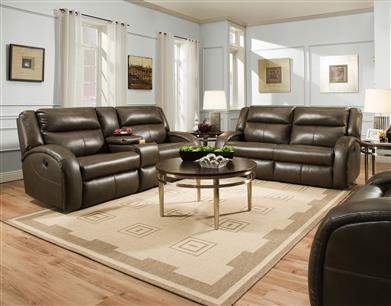 Southern Comfort's SoCozi, line features heated massaging and other high-end options.
From a quality and durability view, Southern Comfort faces the same challenges as the other mid-priced competitors.
Price is the #1 criteria for the best-selling models,
Southern Comfort offers a wide variety of upgraded designs with special features & options at higher prices.
Catnapper is the brand name for recliners made by Jackson Furniture Industries.
The company has over 1500 employees and 1 million sq. ft. of manufacturing space in 6 different facilities, located in Tennessee, Mississippi, Texas, and Florida.
This company offers the usual variety of features and options.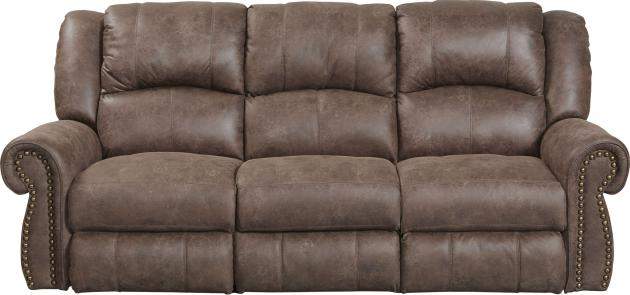 Jackson also offers a "Comfort Coil" cushion on most of its models.
In general, I consider a seat cushion with coil springs to be an upgrade over the standard foam cushions.
But there seem to be a substantial number of negative reviews posted, specifically relating to Jackson's coil spring seat cushion construction and comfort.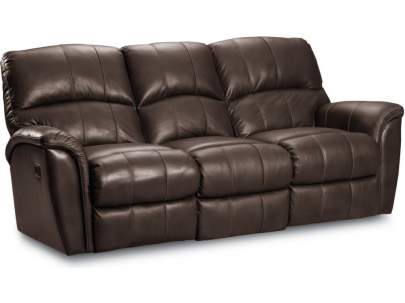 Lane is one of the best-known brands in the furniture industry with a history that goes back over 100 years.
Unfortunately, this is not the same company. Ownership has changed three times since 1996.
It is currently owned (since 2017) by United Furniture, a large furniture manufacturer whose primary focus has been on lower-priced upholstery.
The website makes Lane reclining furniture sound innovative and well made.
It may be. I have not seen this version of Lane personally.
I would strongly advise anyone who is interested in Lane recliners to Google "Lane Furniture Reviews and Complaints."
I checked out Lane's reviews and complaints and was not reassured by what I saw.
Klaussner's reclining furniture is mass-produced using low-cost materials and inexpensive labor.
Klaussner has the same problems as most of its large competitors, including non-removable cushions that wear out within a few years
In addition, there seems to be an unusually high number of complaints about frame failures.
This is a problem commonly found with cheap imported reclining sofas but is not as common with U.S.-made furniture.
[Note – This may be linked to a change from plywood to engineered wood frames. Over the past two years (Pandemic & supply chain crisis) the price of plywood tripled. Some manufacturers switched to engineered woods. They were easier to obtain (and much cheaper.]
General Information about Recliner Construction
Recliners typically have a frame, metal activating mechanism (manual or power), padding (foam and/or fiber), and upholstery fabric.
Frames are usually made from wood. This may be solid hardwood, plywood, or fiberboard.
The frames are then reinforced with metal bars (part of the reclining mechanism) and often with steel or wood corner supports as well.
Recliner frames receive far more stress than the frames on stationary (non-motion) sofas and chairs.
Joints and connections are more vulnerable than on stationary seating, due to the extra weight and movement.
Before purchasing reclining furniture, sit in it and see if you feel any looseness or misalignment in the motion. Grasp the arms and see if you can detect any wobble, or if they feel as solid as a stationary piece.
More Leather Information
Genuine leather is made from animal hides and is available in a huge variety of textures, qualities, and price ranges.
[Note – When buying small leather accessories, including belts, wallets, etc., the term "genuine leather" does not mean "real leather made from hides." Instead, it is synonymous with what the furniture industry calls "bonded leather."]
The difference in cost between a sofa made with inexpensive "protected" leather and a top-quality "natural" leather can be several thousand dollars.
Mid-range quality leathers cover all price points in-between.
Counterintuitively, the least expensive real leathers are the best protected against daily hazards such as stains, fading, minor scratches, etc.
The most expensive "natural" leathers are the least protected and require a lot of care and regular cleaning & maintenance.
Properly maintained, high-quality natural leather can last 50 years or more. If maintenance is ignored, that same leather may crack, fade or become discolored by dirt or stains.
The least expensive hides often come from China.
These lower grade hides are often marred by numerous visible flaws which may include insect bites, scratches, brands and other unsightly blemishes.
These low-grade hides are sanded down to remove all unsightly flaws. This removes the strongest part of the hide.
The sanded hides are dyed and then engraved with a printed texture and pattern that simulates the look and feel of more expensive leathers.
The engraved finish then gets a protective clear polyurethane coating that prevents damage from minor scratches and other common hazards.
Mid-quality leathers have fewer natural flaws. The natural top grain is not sanded away, although small parts of the hide with major flaws may be sanded and dyed to match the natural grain.
Hides that are not sanded produce leather that is more durable (and usually softer) than the cheaper protected leathers.
A thin, clear protective polyurethane coating is applied to most mid-range top grain leathers.
This protective coating will not be as thick as those used for protected leathers and will not protect as well against minor scratches.
The highest quality leathers have no protective coating.
Cheaper protected leathers offer more protection against sunlight, dirt, and minor scratches, but they are stiffer and do not improve with age.
Top-grain and full-grain leathers that retain their natural grain will improve with age if properly maintained and cleaned.
For a more thorough education on leather, I suggest that you check out Everything You Need to Know Before Buying Leather Furniture.
Faux leather — These are fabrics, usually polyurethane (PU) or polyvinyl chloride (vinyl) that mimic the look and feel of leather.
Recently, composite faux leathers that combine polyester and polyurethane have started replacing bonded leather in several major furniture retailers.
Polyurethanes – This type of faux leather more closely resembles the soft, luxurious feel of high-quality genuine leathers than the older vinyls.
They are available in a huge assortment of colors and textures and are extremely durable and stain-resistant.
Vinyls are becoming less popular for residential furniture, although they are still used extensively for heavy-duty commercial use.
Thinner, low-cost vinyls are still used in some applications, especially leather-match.
Leather match – This is a combination of genuine leather on the parts of the furniture where you sit and touch and a matching vinyl or polyurethane (or bonded leather) on the parts of the sofa, such as the outside arms and backs that are not generally touched.
In order to get the best possible match, this type of furniture generally uses the least expensive protected leathers (which have been sanded, dyed and engraved. The leather is then matched to a vinyl that has an identical color and artificial grain pattern.
Leather match reduces the amount of genuine leather used in a sofa by about 50%.
This can reduce the retail price of the sofa by $200 or more.)
WARNING! AVOID ALL BONDED LEATHERS!
There are thousands of customer complaints about "leather" sofas that have "peeled" or become badly scratched over a short period. These are all "bonded leather" fabrics.
Although there are many types of "bonded" or "bi-cast" leather products, I am generally lumping them all into a definition of any fabric that contains any amount of re-constituted leather scrap particles.
Generally, these products are touted as containing 10% – 20% "real" leather. What is never mentioned in marketing materials is that this "real leather" consists of left-over hide scraps that have been chopped into tiny pieces, mixed with adhesives and other chemicals, and then used as a backing to a thin layer of vinyl or polyurethane.
Processed leather scraps are a terrible backing material and because they are thicker than normal backings, many companies use only a very thin vinyl or polyurethane face material.
The only reason for bonded leather-type fabrics is to fool uneducated consumers into thinking that they are buying "real" leather furniture at greatly discounted prices.
Some of the major brands have their own proprietary faux leathers which contain re-constituted leather particles, but which they claim are different from other "bonded leathers."
Flexsteel's Nuvo Leather and La-Z-Boy's Re-new Leather are examples of this. Both of these products have received hundreds of complaints for the same type of problems as other bonded leathers.
Information about American reclining furniture manufacturers not currently included on this list is welcome.
This list will be updated as additional information becomes available. Please send information, corrections or updates to simplyjefff@gmail.com.
Know someone who might be interested in this post? Please like and share this post with them. If you have questions or comments please leave them below.