Question:
I paid over $2000 for my reclining sofa. It is only 5 years old and already falling apart. 

The leather is peeling and the foam in the seat cushions is broken down.  

It looked and felt so wonderful when we first bought it, but it really hasn't been very comfortable over the past couple of years.

I really need a new sofa, but I'm afraid to make the same mistakes all over again. Can you help?
Answer:
Reclining sofas and sectionals have the highest rate of problems and complaints of any single furniture category.
Bonded leather used to be one of the biggest problems associated with low and mid-range reclining furniture.
The peeling leather you have experienced indicates your sofa is made with bonded leather.
Recently, many furniture companies have started moving away from bonded leathers to alternative synthetic leathers that look and feel almost identical but last far longer.
"Leather Match" is a combination of corrected top grain leather on the seats, inside backs, and inside arms, combined with a matching vinyl or other synthetic faux leather on the outside parts.
To make 100% synthetic leathers more appealing to today's shoppers, the furniture industry has started promoting the term "Vegan leather" in place of less appetizing descriptions such as "faux leather" or "synthetic leather" or "vinyl."
Bonded leather was first introduced in 2010.
Prior to that time, 100% synthetic leathers were extremely unpopular with shoppers. Less than 5% of reclining furniture was sold in vinyl or other faux leather materials.
The vast majority of reclining furniture was sold with "real" leather prior to 2010.
Very few large reclining sofas or sectionals were sold.
Large reclining pieces, made with real leather, were simply too expensive for most people .
Bonded leather allowed retailers to advertise and sell "affordable" leather reclining furniture for the first time.
The fact that there was 10 – 20% "real leather" in bonded leather fabrics was enough to overcome consumer resistance to synthetic leathers.
Salespeople neglected to inform their customers that all of the "real leather" in bonded leather was in the backing of the material where it could not be seen or felt.
In 2010, the furniture industry was just beginning to recover from the big Recession.
Over a  4 year period, beginning in 2007, 40% of U.S. furniture manufacturers and 20% of U.S. furniture retailers closed their doors.
Large furniture retailers and manufacturers quickly saw the potential of cheap leather reclining furniture.
Reclining furniture quickly became the fastest growing segment of the furniture industry.
It took a few years before furniture companies started receiving thousands and thousands of complaints from their customers about peeling bonded leather.
By then, it was too big to stop.
Today, after hundreds of thousands of bonded leather complaints, consumers are finally accepting 100% synthetic faux leathers as a substitute for bonded leather.
These 100% synthetic faux leathers look and feel very similar to the bonded leathers, except they don't peel.
The many different types of synthetic and real leathers are explained in my blog article, Buyer's Guide to Good (and Bad) Leather Furniture.
The lifespan of  low and midprice reclining seating is limited by the quality of the seat cushion foam.
Foam cushions feel great when brand new.
One year later, they can be noticeably less firm and less comfortable.
The lower the foam density, the more rapidly the cushion will flatten out, losing its shape, firmness and comfort.
The standard 1.8 density foam, found in most reclining furniture, has an average lifespan of 3 – 5 years.
At that point, the foam has lost enough of its firmness and resiliency (the ability to bounce back) so that the seats may sag and feel uncomfortable.
Higher density foams retain their firmness and comfort far longer. For example, a 2.5 density foam cushion may still feel brand new after 10 years of use by an average size person.
Most reclining furniture is currently made with seats that are not removable.
Replacing worn out foam in these seats is prohibitively expensive.
If the furniture is used frequently or by larger than average individuals, the foam can compress and become uncomfortable even faster.
A 1.8 density foam cushion, used frequently by an individual weighing 250 lbs., may become completely worn out and uncomfortable within 1 year.
Cushion warranties may claim to cover any defects for 3 years or 5 years or even a lifetime.
But cushions that wear out after the first year are almost never covered, despite the bold print guaranty at the top of the warranty.
Exclusionary clauses, buried deep down in the small print of the warranty document, exclude coverage for almost anything that is likely to cause your cushions to wear out.
Check out my blog article, What is the Best Furniture Warranty to Protect My Reclining Furniture?
Some reclining brands have switched to 2.0 density foam. That should extend the seat cushion lifespan by about 1 year compared with 1.8 density cushions.
Foam is not the only factor limiting the expected lifespan of reclining sofas and sectionals.
Reclining Mechanisms have limited lifespans.
High-quality custom upholstery brands build sofas that will have a 20+ year lifespan, if properly cared for.
Reclining sofas and sectionals, made by those same high quality brands, may last less than half as long.
It is possible to pay several thousand dollars for reclining furniture with mechanisms that fail within 5 – 10 years.
It is strongly advised to use Surge protectors for power recliners to prevent premature failure.
Power reclining mechanism technology has improved rapidly over the past 15 years.
But those improvements are frequently for additional comfort features. Extended durability has been a lesser priority.
Complex power mechanisms with multiple motors and comfort features, combined with budget priced mass produced reclining sofas increases the probability of a motor or mechanism failure.
When your power recliner mechanism fails, there is no guarantee you will be able to have it repaired or replaced.
Although the better brands will try to help you, finding replacement parts for 5 to 10-year-old power reclining mechanisms can be extremely difficult, especially when the motors and mechanisms have been imported.
What are the advantages of purchasing high-quality reclining furniture?
The amount of use you can get from low or mid-range reclining sofas is usually limited by the foam seat cushions.
The seat cushion foam will begin to wear out from the first day you use the furniture.
Eventually, depending on how the furniture is used, and the size of the people using it, the foam will become so uncomfortable you will want to replace the furniture.
That time period can be as short as 3 – 5 years, usually before the mechanisms fail.
Damage to mechanisms is often caused during shipment or when trying to move the heavy furniture around in the room.
Power mechanisms are heavier and more prone to damage during shipment (and when being moved around in your home.)
It may be possible to repair or replace non-functioning motors power mechanisms.
It also may not be possible, especially when the parts were imported and the recliner is more than 5 years old.
All ratings and comments listed below are based on my personal opinion and available information.
In October 2022, I spent a week at the International Home Furnishings Market in High Point, NC.
I visited dozens of manufacturers' showrooms, including 15 of the 18 brands reviewed here.
Product designs, raw materials used and construction methods are constantly changing. It is not possible to keep up with all of these changes.
If any individual or company believes that something I have written is inaccurate or outdated, please notify me so that I can make immediate corrections.
The reclining sofa brands listed below are ranked by quality.
H&M is one of the top quality upholstered furniture manufacturers in the U.S.
Leather is their specialty, but they also have a selection of high-quality fabrics.
75% of their sales are leather. 25% is fabric.
H&M sells both manual and powered recliners.
It has dropped the manual option for its reclining sofas and sectionals.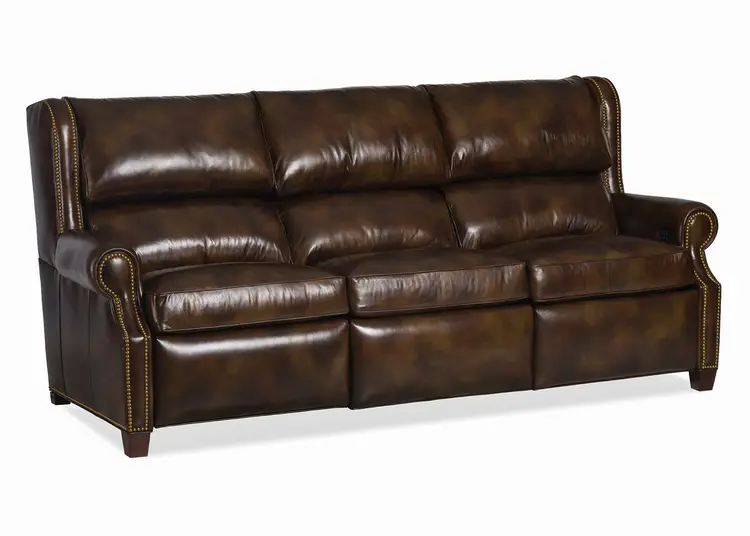 Styles are traditional to transitional. Product lines include recliners, reclining sofas, reclining sectionals & home theater.
Standard cushions may be 2.55 density Qualux foam or Spring Down.
Although H&M is known for heirloom quality hand-crafted furniture, their reclining furniture (and sleeper sofas) will not have the same durability as the brand's stationary sofas and sectionals.
MotionCraft, a division of Sherrill Furniture, has been building custom reclining furniture for over 40 years.
The company offers a large variety of arm styles, sizes, configurations and custom options. Everything is available in over 1000 fabrics & 100 leathers.

This is handcrafted furniture, built by experienced, skilled artisans.
The detailed tailoring goes beyond what is possible for most other motion furniture manufacturers.
Most reclining furniture is designed for efficient mass production.
MotionCraft's expert craftspeople still hand-craft one piece at a time.
American Leather was founded in 1990.
Although the company specializes in top quality leather, 35% of reclining furniture sales are fabric.
Hundreds of different fabrics are also available.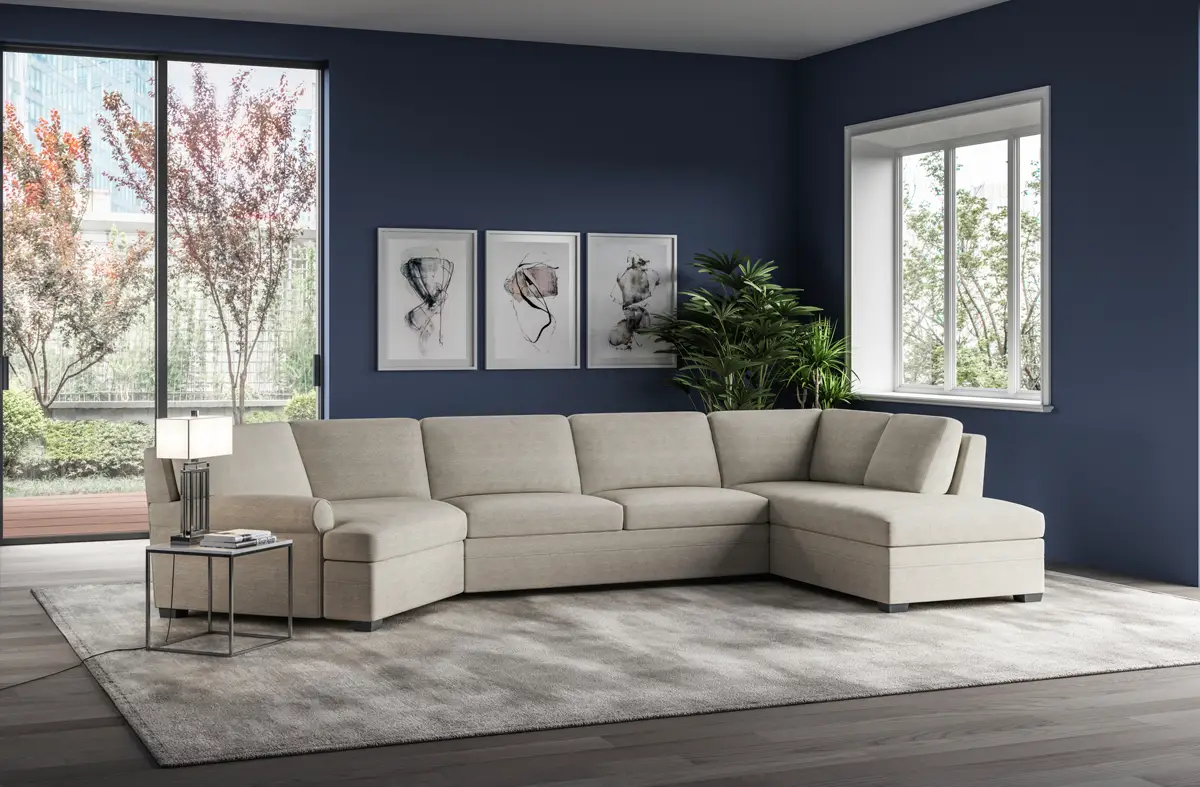 Hudson sectional by American Leather
Production is highly automated, using state-of-the-art technology.
Fully customized furniture can be shipped within 30 – 45 days.
The company designs its own mechanisms, but does not actually produce them in-house.
Check out the American Leather factory video tour.
All reclining sofa and sectional mechanisms are motorized.
No manual mechanisms are available except for the Comfort Air Collection reclining chairs.
The Comfort Air Collection has no visible mechanism.
The chairs recline and adjust themselves to your body effortlessly and automatically.
They do not have (or need) a footrest.
American Leather's Comfort Air chair line is amazingly comfortable.
Personally, I found these chairs to be the most comfortable reclining furniture I have ever sat upon.
Prices are steep – around $3500 in fabric and $5000 in leather.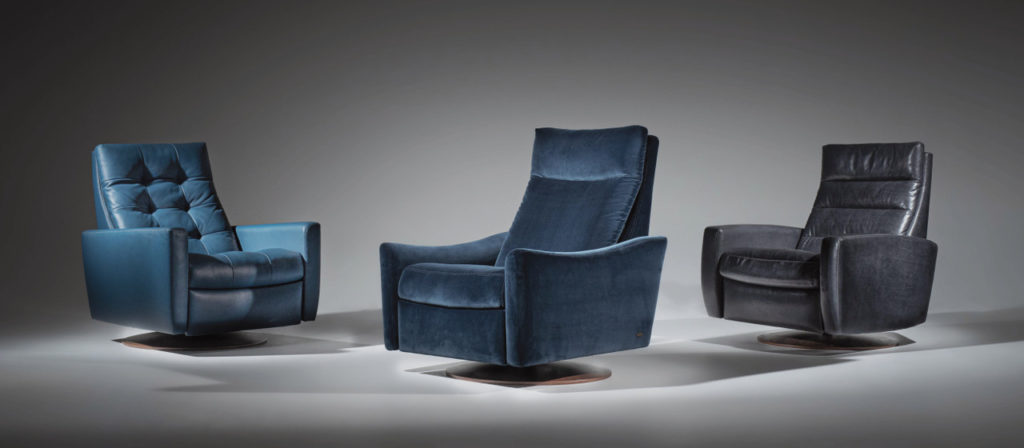 American Leather is the only American manufacturer to offer Reclining sectionals with a Sleeper option.
Taylor King, a top quality leather specialist, currently offers only 3 different reclining sofas and 2 reclining sectionals.
There is a larger selection of recliner chairs.
Although the company is a leather specialist, they also offer an extensive line of fabrics.
All Taylor King reclining furniture uses a heavy-duty reclining motorized mechanism made by Ultra-Mek in North Carolina.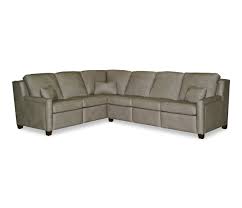 Bradington Young offers an extensive collection of well-built traditional and classically styled reclining sofas and sectionals.
The company specializes in top grain leathers but also offers fabric options.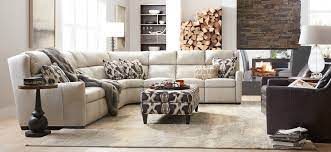 Details and finish are not quite up to the standards of Hancock & Moore or Taylor King, but prices are lower.
The overall quality is still excellent.
Bradington Young is a division of Hooker Furniture.
Hooker offers a similarly styled line of imported, lower-priced reclining sofas and sectionals.
Hooker is not reviewed here as its furniture is manufactured in Asia.
Stressless has a 200,000 sq. ft. factory in Morganton, NC.
Two years ago, I rated Ekornes Stressless as the #1 brand for reclining furniture.
That is no longer the case.
In my opinion, their older manual reclining pieces are still outstanding.
But the newer motorized reclining furniture, introduced over the past 3 years, has generated numerous consumer complaints.
These complaints involve both quality and comfort.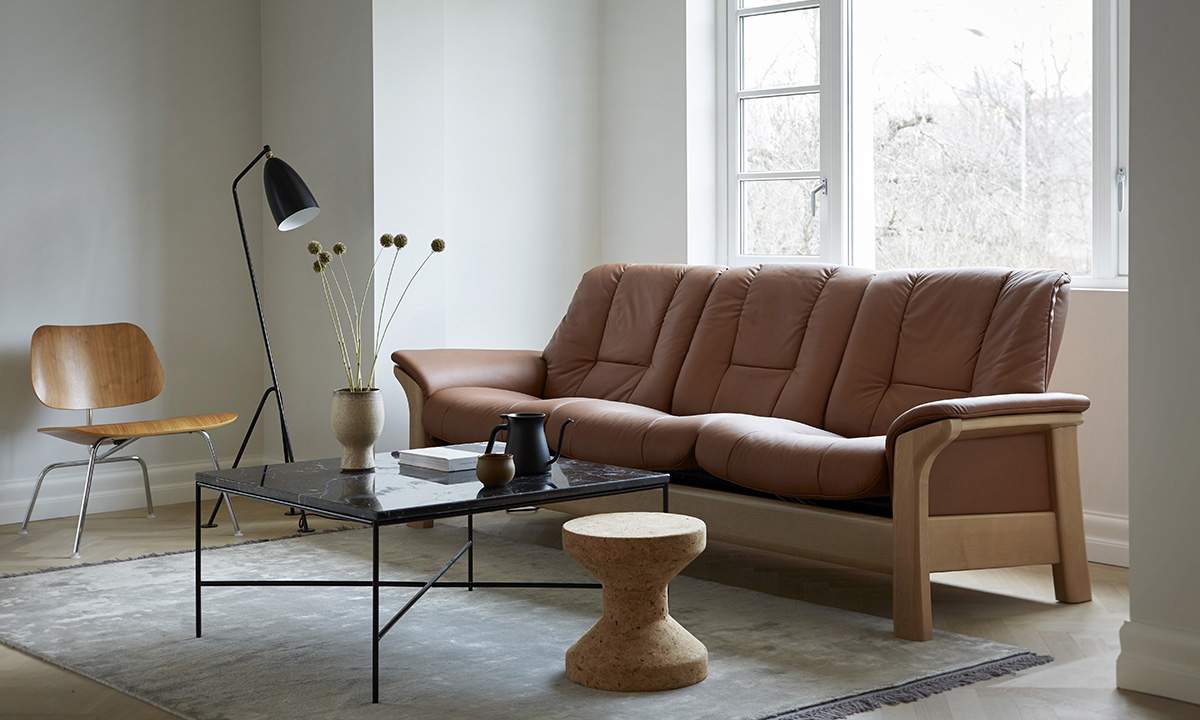 Ekornes Stressless was a Norwegian company.
In 2008, it was sold to a Chinese company.
Apparently, this was not a smooth transition.
The Chinese company took on a huge debt load to make the purchase at the same time that the Chinese economy was slowing down
Ekornes Stressless had an 80 year old tradition for engineering excellence.
They introduced new models slowly, being very careful to make sure there were no product defects.
The Chinese company that purchased Ekornes needed to expand sales rapidly.
To do this, they quickly introduced numerous new motorized models.
Apparently, these new motorized products have not been up to the old Ekornes Stressless quality standards.
For a more complete story about the Ekornes Stressless transition from a Norwegian to a Chinese company, check out my blog article, Update to Stressless Reclining Review.
6a) Himolla, Made in Germany
Himolla has been made in Germany for over 70 years. It is not Made in America, but has a major USA distribution network.
The reason I have included Himolla is because of my disappointment with recent Stressless power models.
I consider Himolla to be a superior replacement for Stressless at comparable prices.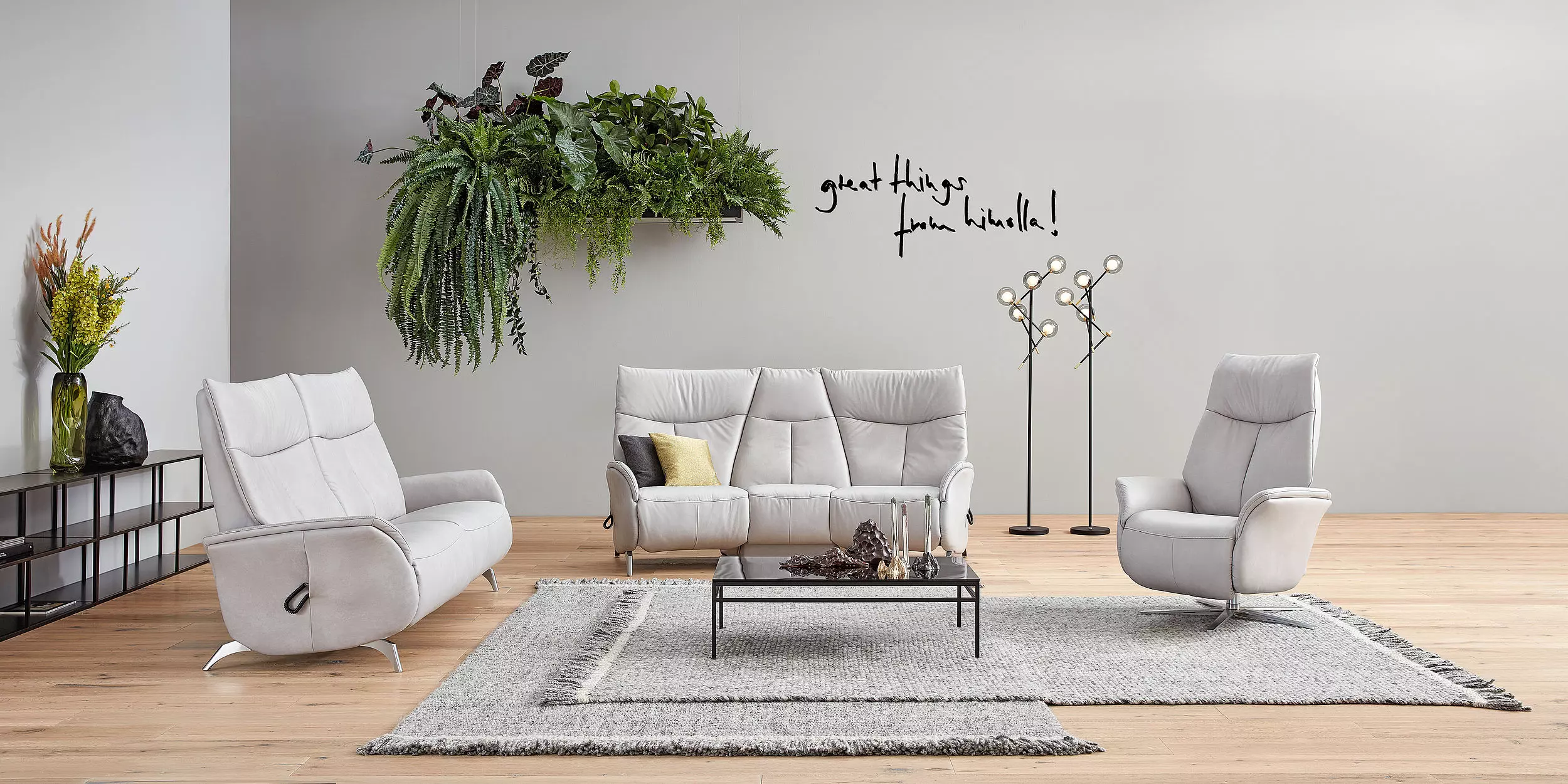 Most Himolla reclining styles are available in both manual and power versions. Both have outstanding reputations for quality.
Himolla was the Winner of the 2022 German Brand Award "Excellent Brands – Product Brand of the Year"
6b) Fjords, Norwegian brand made in Thailand
This is an interesting, fast-growing alternative brand for those who like the Stressless style, but have limited budgets.
The company has been around for 70 years, almost as long as Stressless.
Even though Fjords is not an American manufacturer, they are an interesting and fast-growing brand.
Fjords is priced about 30% lower than Stressless for comparable items.
Each Fjords sofa is available in 2 sizes (high or low back.)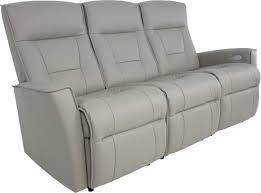 98% of sales are leather. Fabric is only 2%, but is available.
80% of Fjords reclining chairs and sofas are motorized, but the company has very few negative reviews.
Fjords seems to have avoided the quality problems that have upset so many Stressless customers over the past couple of years.
Bassett makes three different quality levels of reclining furniture.
Club Level reclining furniture is mass produced in Thailand. No custom options are available. This is inexpensive, generic reclining furniture.
Bassett also has two different lines of custom-built reclining furniture, both made in the same Newton, NC factory.
One of these custom lines is also named "Club Level." (I checked three times to make sure it really had the same name as the cheap imported line.)
The other custom line is called "BenchMade."
The difference between these two different custom lines is that:
Club Level has the standard traditional/transitional recliner look with the front coming down close to floor level. Seats are not removable.
BenchMade uses a different mechanism for a high leg style that looks similar to stationary sofas. Seats are removable.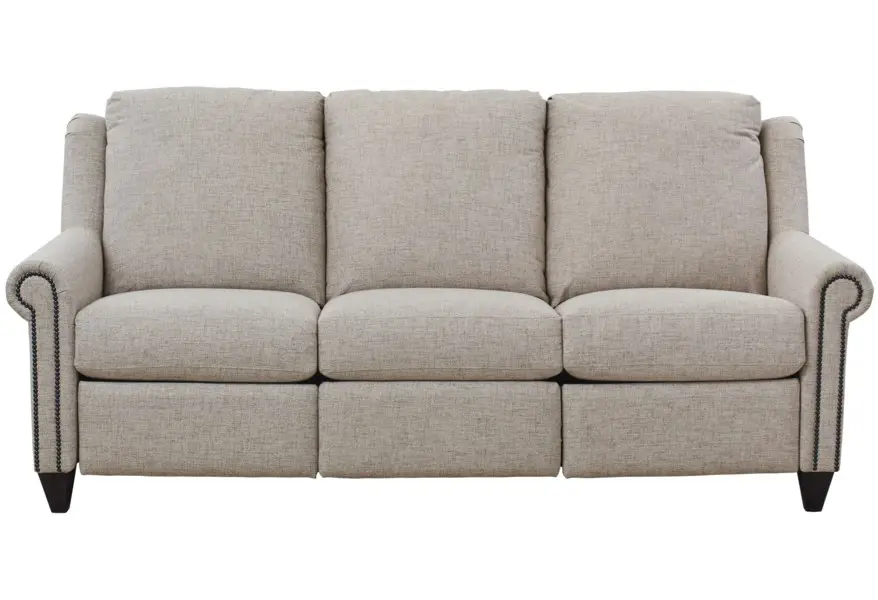 The BenchMade high leg reclining sofas and sectionals have removable seat cushions.
The Club Level custom reclining furniture does not have removable seat cushions.
Bassett Custom Upholstery Video
This is an environmentally conscious company with a wide range of reclining products and pricing.
Upgrading from a basic manual reclining sofa in a Grade 1 leather to a fully accessorized, upgraded leather version of that same model can result in a significant cost increase.
The same model sofa in a Grade 6 leather with all options, including triple power (headrest, footrest, lumbar) can add $2000 or more to the retail price.
The vast assortment of leathers is sourced primarily from Europe.
According to a company spokesperson, Omnia does not use Chinese leathers.
According to Omnia, both the starting price model and the top of the line have the same frame, 2.0 density foam, springs, mechs, and 100% top grain leather.
According to the website, frames are solid kiln-dried hardwood.
According to the factory expert I spoke with at the October 2022 furniture market, the frames are 7/8″ plywood.
It really doesn't matter. In either case, the frame should outlast the cushions and mechanisms.
Omnia's seat cushions are also available in a firm seat core option at the same price. (You should not expect the extra firm cushions to last any longer than the standard firmness.)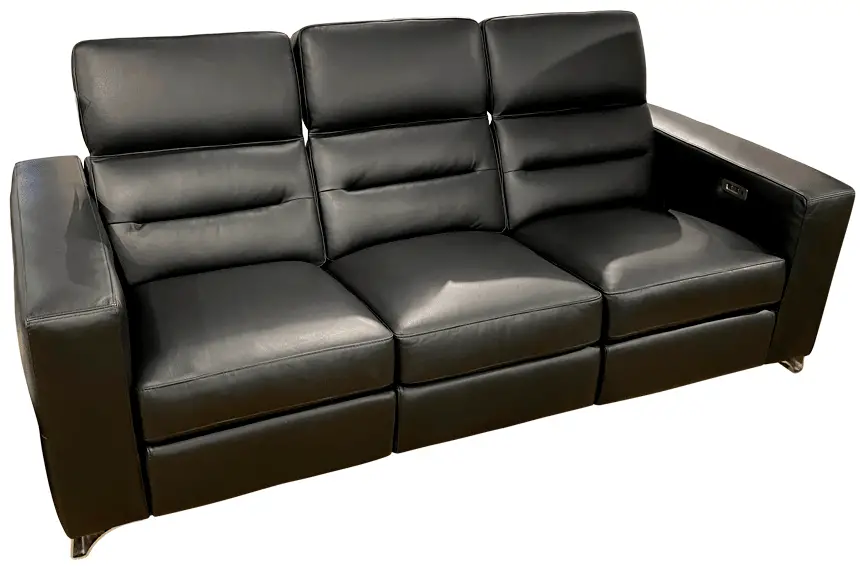 Omnia has an unusually strong warranty for this category of furniture.
This includes:
Lifetime warranty on the hardwood frames.
5 year warranty on leather against the transfer of color, peeling, tearing, or becoming hard.
3  year warranty on cushions.
2 year warranty on Recliner motors.
Omnia is manufactured in California, a state with the strictest environmental regulations in the nation.
As a result, Omnia is especially sensitive to ensuring that its products are "green" and sustainable.
The company is a founding member of the Sustainable Furnishings Council.
Omnia Leather reclining sectional Youtube video
La-Z-Boy's founders introduced the first modern reclining chair in 1929.
Since that time, the company has grown into a $1.5 billion business with over 11,000 employees and3 regional manufacturing plants located in Dayton, Tennessee, Siloam Springs, Arkansas, and Neosho, Missouri
Since 2019, La-Z-Boy has closed 2 of its U.S. factories, while expanding its facilities in Mexico.
The best article on this topic can be found at Where Are La-Z-Boy Recliners are Made.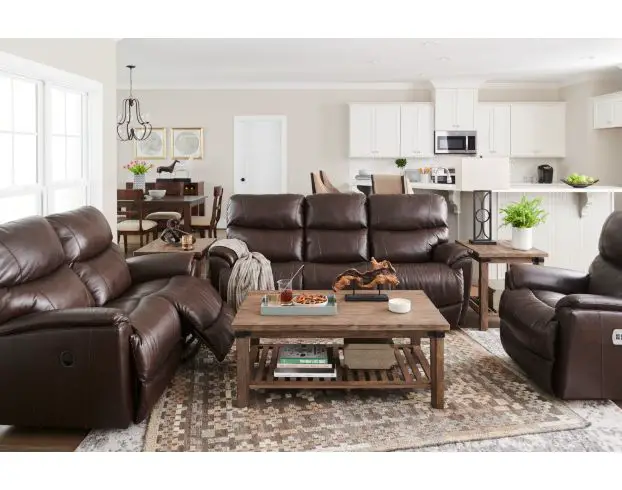 La-Z-Boy has an unusually broad product selection at a wide range of prices.
La-Z-Boy offers over 200 different reclining designs, available in over 1000 fabrics and leathers.
 It offers a wide variety of mechanical and power mechanisms, and is one of the few companies to make its own reclining mechanisms.
Styles range from modern to traditional.
Many of the parts used in this furniture, including the frames, are manufactured domestically, however, a significant number of components and fabrics are purchased overseas.
La-Z-Boy's manual reclining sofas are not all the same quality.
Some are far more durable than others.
La-Z-Boy makes reclining furniture in both the U.S. and in Mexico.
It can be difficult to tell which models are made where.
Unless the description specifically states that the furniture is made in the U.S., it is probably safe to assume it was made in Mexico.
LaZBoy's Mexican-made manual reclining sofas start around $1300. Like other reclining sofas with 1.8 density foam and non-removable cushions, they have an estimated 3 – 5 year lifespan before the cushions will wear out.
What differentiates better quality, long-lasting La-Z-Boys from the cheaper models is the seat cushions.
La-Z-Boy has seat cushion upgrade options featuring 2.5 density foam layers.
The upgraded cushions should last twice as long as the standard 1.8 density foam.
In the cushion upgrade option article, the ILD number describes the firmness of the cushion. An ILD of 36 is considered medium firm.
A lower number, such as the 27 available on some of the options, is softer.
The ILD firmness number does not affect durability. Firmer foam does not last any longer than softer foam with the same density.
The more important number is the foam density.
Most recliner seats are made with 1.8 density foam. La-Z-Boy's optional upgrade adds a layer of 2.5 density.
This costs $450 per sofa but will double the expected lifespan of the cushions, but is well worth the extra cost.
The 2.5 density foam upgrade is just an added layer. If the entire cushion was 2.5 density foam, it would triple the lifespan of the cushions.

"High Resiliency" is another factor that determines foam durability.
This is a manufacturing process that adds durability to foam.
The HR process isn't expensive, adding only about $1 per cushion to the price of the foam. This can add a year or two to the cushions' lifespan.
Most polyurethane foam made in the U.S. for cushions is HR.
Many of the cheap imported foams are not.
La-Z-Boy has an extensive network of La-Z-Boy Home Furnishings and Décor stores.
The company also has hundreds of La-Z-Boy galleries in larger furniture stores. Most of these offer in-home design assistance.
Most of La-Z-Boy's reclining furniture is made with "tight" seat and back cushions that are not removable or reversible.
If the tight seats begin to "sag" and become uncomfortable, replacement or repair is very expensive.
The warranty will not apply since this is considered "normal" wear.
Avoid La-Z-Boy's Bonded leather fabrics.
This includes the company's Renew recycled leather fabrics.
La-Z-Boy provides a detailed description of its leathers and "alternative" leathers.
Faux leather is described as, "recycled leather that the tannery did not use because they were shaved away from the original hide grain."
This is incorrect! The term "faux leather" is typically used to describe any synthetic leather material, including recycled leathers.
Also, "recycled leather" is not made from "shaved" pieces of leather hides.
It is made from the small pieces of complete hides that were left over after being cut up from larger pieces.
The small left-over pieces are chopped up into small granules and mixed with adhesives.
The granulated "recycled leather" is then used as the backing for recycled and bonded leather materials.
The facing of the material is 100% synthetic.
This is the opposite of what the LaZBoy article says.
10) Elran Furniture, Montreal, Canada
Technically, this is a Made in (North) America brand.
Elran makes a good quality product at a competitive price.
Cushions use 2.0 density foam.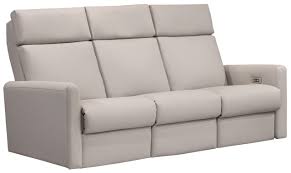 Customer reviews are generally positive. There seem to be fewer complaints than many of their U.S. and Asian competitors get for similarly priced products.
50% of sales are Italian top grain leather. 50% are fabric.
Retail pricing is generally around $2500 for a fabric reclining sofa and $5000 in leather.
Elran videos can be found at this link.
11) England Furniture, New Tazwell, TN.
England Furniture is a LaZBoy company.
Where LaZBoy makes mostly recliners, England primarily makes custom stationary furniture, but it also makes reclining pieces.
Reclining sofas and chairs make up 25% of England Furniture's total sales.
They feature both manual and motorized mechanisms. Interestingly, they do not buy their mechanisms from LaZBoy.
80% of England's reclining furniture is non-custom. Fabric kits are sewn in Asia and matched up with the frames in Tennessee.
What I find intriguing about England's reclining line up is that they seem to make a serious effort to make their products just a little bit better than their competitors.
In addition to offering the standard sinuous wire foundation, they also have an optional upgrade that combines sinuous wire with added coil springs that appear to add additional flexibility to the seat support.
I have not seen that before, and am not sure how much benefit it adds, but I find it interesting.
The standard cushions are 1.8 density foam, but they also offer an upgrade that combines foam and coil springs.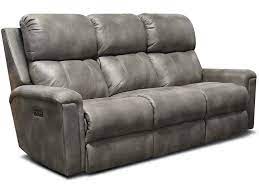 My biggest concern with this product is that the plywood frames are not glued. 
The plywood they are using (7/8″ thick with 11 plies) is actually better than what most of their competitors use.
They claim that the plywood locks together tightly so that no glue is needed, but I am not convinced.
The frame may not fall apart, but leaving out the glue traditionally leads to squeaking and twisting frames.
The primary reason why companies do not glue their furniture is to save time and money. The cost of glue and the labor needed to apply the glue is about $5 per sofa at the factory level.
12)

Franklin

, Houston, MS
Although not as well known as some of the other recliner brands, Franklin Furniture is one of the largest privately owned furniture manufacturers in the U.S.
Franklin has been making recliners in Mississippi for over 40 years.
The company employs over 1300 workers. Its facilities total over 1 million square feet.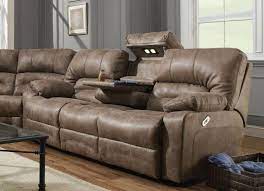 This is a company that specializes in reclining furniture, although it also makes a few stationary sofas.
As a reclining specialist, the company offers a wide variety of custom options.
These options include heat and massage mechanisms, infinite reclining positions, and an iPod docking station controlled from a touchpad command center.
You can also find models with lifts, extra storage, hidden tables, and cup holders.
Franklin is a vertically integrated manufacturer, making nearly all of its own parts, including manual and power mechanisms.
Genuine leather is not available as an option.
This is a family-owned and operated business, over 50 years old with over 1 million square ft. and nearly 1000 employees. The company has been making recliners since 1989.
The specialty of this company is fast special orders – shipped within one week after the purchase with a selection of over 1000 different fabrics.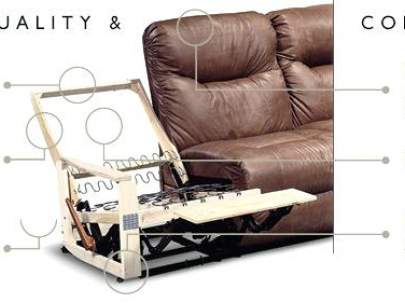 This emphasis on special orders distinguishes the company from better-known brand names that either discourage special orders or take much longer.
Best makes nearly 200 different recliners and over 60 different reclining sofas and sectionals.
The company still uses solid hardwood frames that are doweled, corner blocked, glued, and screwed.
Most of the other manufacturers in this category have switched to plywood or engineered wood frames.
Catnapper is the brand name for recliners made by Jackson Furniture Industries.
The company has over 1500 employees and 1 million sq. ft. of manufacturing space in 6 different facilities, located in Tennessee, Mississippi, Texas, and Florida.
This company offers a wide range of features and options.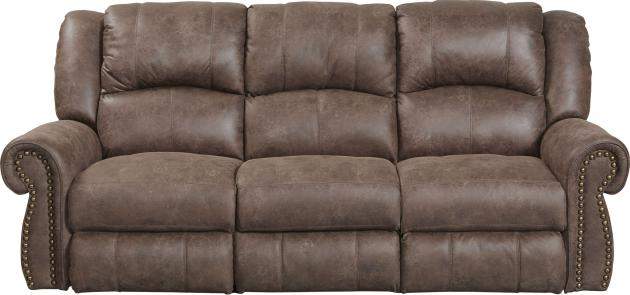 One of Catnapper's best features is the "Comfort Coil" cushions, available on most of its models.
I consider coil spring seat cushions to be an upgrade over the standard 1.8 density foam.
Very few of Catnapper's low and mid-priced competitors have offered coil spring seat construction, probably because of the extra cost.
Several years ago, I was seeing a significant number of complaints about Catnapper's coil spring seats, but those complaints have mostly disappeared in recent years.
Catnapper offers both power and manual reclining mechanisms.
Most people currently purchase powered reclining furniture. That percentage is growing.
Many brands no longer sell manual mechanisms.
Manual mechanisms usually last longer than power mechanisms.
When manual mechanisms break down, it is usually possible to get replacement parts, even after 10 years.
When power mechanisms break down, replacement parts are frequently unavailable after 5 years.
Jackson Catnapper has a large number of negative reviews.
Although they have fewer complaints than many of their competitors about seat cushions, they have a high percentage of complaints about frames and mechanisms.
Worst of all, as of 2023, it appears they are still offering bonded leather as a fabric option.
Bonded leather

is possibly the single largest source of complaints in the entire furniture industry since it was first introduced in 2010.
Since that time there have been well over 100,000 complaints about "peeling" bonded leather. (I know of individual retail chains that have registered over 1000 bonded leather complaints in a single year.) If you are interested in why retailers accepted this huge problem for so long, check out my article, Why Do Furniture Companies Sell Bonded Leather After Knowing That It Peels?
Many of Jackson Catnapper's competitors began switching to 100% synthetic composite faux leathers made of polyester and polyurethane. The new composite faux leathers are indistinguishable from bonded leather in look and feel – and they don't peel!
You can check out some of the most recent customer reviews at:
Better Business Bureau reviews
Southern Motion™ specializes exclusively in reclining furniture.
It had nearly 1500 employees in 5 Mississippi facilities, but has had some recent difficulties and laid off about 1/3 of their workforce.
The company offers a wide assortment of reclining chairs, sofas & sectionals.
These are available with a dozen different mechanisms and a wide variety of options, including power headrests and electronic accessories.
Southern Motion was founded in 1996 and has grown into a leading supplier to the national furniture retailers, offering a line that includes all categories of motion furniture.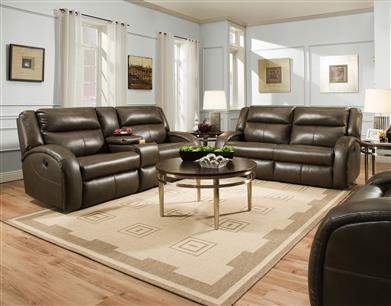 Southern Comfort's SoCozi, line features heated massaging and other high-end options.
From a quality and durability view, Southern Comfort faces the same challenges as the other mid-priced competitors.
Price is the #1 criteria for the best-selling models,
Southern Comfort offers a wide variety of upgraded designs with special features & options at higher prices.
The company seems to get a higher than average number of consumer complaints.
Flexsteel is an American brand that has been producing mid-range upholstered seating for over 100 years.
Actually, the company should not be included in this review at all.
All of its reclining furniture is now made outside the USA.
The Southhaven series is made in Mexico and represents the starting grade.
The Latitudes collection was originally made in China, but is now being produced in Vietnam.
Flexsteel still makes some custom stationary furniture in the USA.
But the large majority of their sales come from imported products.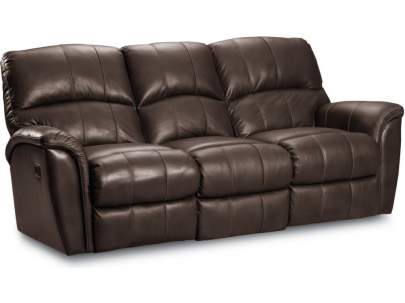 Retail salespeople rarely mention that Flexsteel reclining furniture is made overseas unless specifically asked.
Flexsteel had a long tradition of paying more attention than most comparably priced furniture manufacturers to the internal quality of its furniture.
That tradition is being eroded, especially in its reclining furniture.
The blue steel flat spring foundation that gave the company its name over 100 years ago is still ubiquitous in Flexsteel seating.
It is the primary basis of Flexsteel's claim to superior quality and will be mentioned by every salesperson.
It is almost certainly the strongest, most durable spring foundation ever made.
 The blue steel flat spring should last at least 50 years. Some are still functional after 100 years.
The problem is that the blue steel spring will out-live every other part of their reclining furniture (by far.)
All of Flexsteel's reclining furniture is made with "tight" seat and back cushions that are not removable or reversible.
[Historical factoid – I was representing Flexsteel to the U.S. government in the 1980s, when they were sued by Drexel-Heritage over the award of a government contract.

Drexel's argument was that the contract specified "8-way hand-tied" foundations, which they claimed was superior to Flexsteel's blue steel flat spring.

Flexsteel won the lawsuit (and the contract) by "proving" that the blue steel spring was "as good or better than" 8-way hand-tied springs.]
Ashley Furniture is the largest furniture company in the world.
The brand has manufacturing plants all over the world, including several in the U.S.
Ashley also owns (and franchises) a huge network of Ashley Home retail stores.
On top of that, Ashley's furniture is sold through other large and small furniture retailers worldwide.
Obviously, Ashley is doing something right.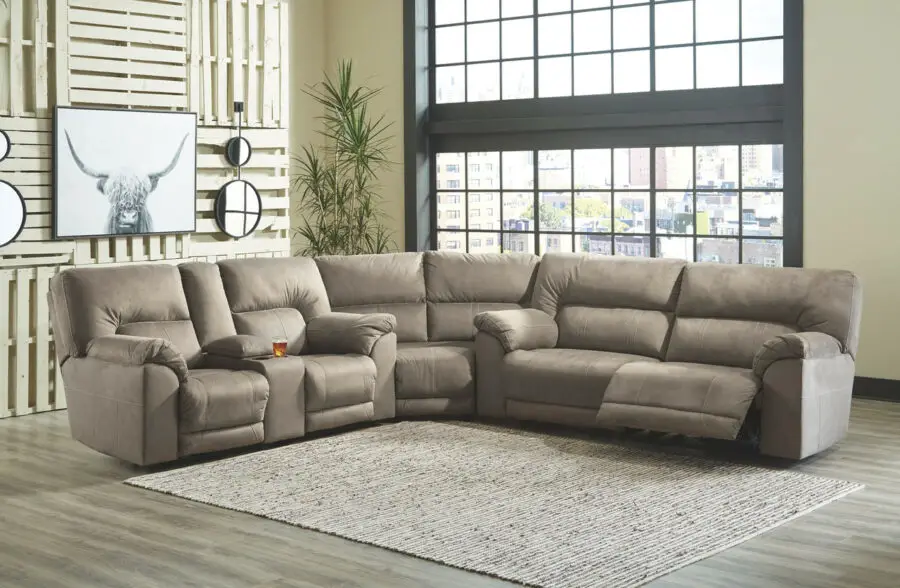 Over the past 40 years, Ashley has entered virtually every furniture category in the low and middle price ranges.
Ashley pioneered the big, puffy modern "casual" look for reclining furniture.
That casual style has been copied by so many competitor brands that it has become virtually generic.
Inside the furniture industry, this type of style used to be known as "Furniture by the pound."
The idea is to give the customer the illusion that they are getting the most furniture possible for each dollar spent.
One big advantage of this modern "casual" style is that it can be manufactured very quickly by low-skilled workers.
Another advantage is that it reduces costs by utilzing low-cost materials and components.
These are hidden away inside the furniture, in places shoppers cannot see or feel when the furniture is brand new in the showroom.
Much of the "puffy" look that makes reclining sofas and sectionals look so big and plush is created using very low cost polyester fiber in the arm pads and backs.
Foam is one of the most expensive materials used in low and mid-range quality upholstered seating.
The puffy casual styling, featuring tight (non-removable) seat cushions, substantially reduces the amount of foam required.
Money is also saved by using 1.8 density foam for the seat cushions.
All polyurethane foams are not equal in quality (or cost.).
A 1.8 density foam produced in Asia will be cheaper, but can break down faster, than a premium quality American made 1.8 density foam.
But even American made 1.8 density seat cushions can lose their resiliency (ability to bounce back) and comfort within 3 – 5 years (or sooner for above average size individuals.)
Increasing foam density to 2.5 would more than double seat cushion lifespan.
But it would cost an additional $10 per seat at the manufacturing level.
That translates to a $50 – $100 increase in the retail price of a 3 seat sofa with non-removable seat cushions.
When the furniture is new in the showroom, shoppers would not be able to tell the difference between the two different foam densities.
Three years later, there will be a very noticeable difference in both looks and comfort.
But most retail salespeople are not skilled enough to justify the extra expense to their customers.
When I first encountered Ashley Furniture in the 1970s, the company was a small Arcadia, WI manufacturer, making cheap bookcases and occasional tables.
At that time, I was a buyer for a Top 50 furniture retail chain.
IKEA opened up its first U.S. store in 1985.
Ashley immediately recognized that it could not hope to compete in its existing product line of bookcases and tables.
Ashley became the first U.S. furniture manufacturer to explore the advantages of building furniture in China.
The company soon branched out into bedroom and dining room furniture, followed by upholstery.
Over the past few years, tariff and supply chain issues have forced Ashley to move most of its production out of China to other Asian countries – and also to the U.S.
Most Ashley upholstered furniture, including reclining pieces, are now Made in the USA.
I recently spoke with Ashley's VP of Business Development at the October 2022 International Home Furnishings Market in High Point, NC.
In response to my question, he told me that 75% of Ashley reclining furniture sold in the U.S. is currently being made domestically.
Klaussner's reclining furniture is mass-produced using low-cost materials and inexpensive labor.
Klaussner has the same problems as most of its large competitors, including non-removable cushions that wear out within a few years
In addition, there seems to be an unusually high number of complaints about frame failures.
This is a problem commonly found with cheap imported reclining sofas but is not as common with U.S.-made furniture.
[Note – This may be linked to a change from plywood to engineered wood frames. Over the past two years (Pandemic & supply chain crisis) the price of plywood tripled. Some manufacturers switched to engineered woods. They were easier to obtain (and much cheaper.]
Smith Brothers no longer offers reclining sofas or sectionals.
Reclining chairs are still available and are excellent quality. When they were still making reclining sofas and sectionals, Smith Brothers was rated #8 in this review article.
This 90-year-old furniture manufacturer is located in the heart of Indiana's Amish community and prides itself on building furniture the old-fashioned way, one piece at a time. Everything the company makes is custom built.
Frames are solid maple, reinforced with double dowels, screws, glue, corner blocks, and metal brackets. The company builds its own frames.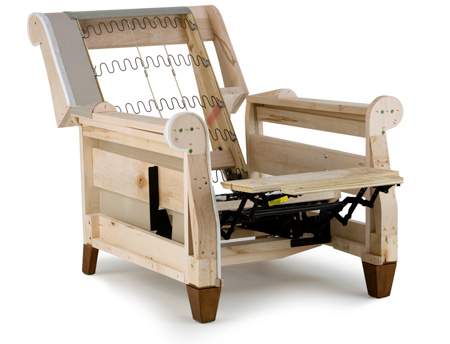 The company designs its own exclusive arm support system to reduce the arm wobble that is commonly found in reclining furniture.
Seat cushions are removable and reversible, with coil spring construction. No-sag springs are used to support the back.
Reclining furniture brands that no longer make furniture in the U.S. include:
Barcalounger no longer makes furniture in the U.S. 
All Barcalounger seating is now made in Malaysia.
Barcalounger was one of the first major furniture manufacturers to make and sell reclining furniture back in the 1940s.
Throughout the 1970s, the company had a reputation as the top quality brand for reclining furniture.
The reputation still lingers, although its products have no relationship to those made by the old Barcalounger company.
[UPDATE Nov. 22, 2022 – Lane Furniture has shut down and fired all employees.]
HIGH POINT, NC Nov. 22, 2022 — WXII News, Winston Salem is reporting that United Furniture Inds. has terminated all  Lane employees. According to the station the company, which has operated under the Lane brand in recent years, sent two letters to employees. The first instructed employees not to report to their work locations today. The second e-mail, sent overnight, immediately terminates all employees, with the exception of over-the-road drivers currently out on delivery.

According to WXII, the memo stated that, "Your layoff from the company is expected to be permanent, and all benefits will be terminated immediately without provision of COBRA."
Lane no longer makes reclining furniture in the U.S.
Lane is one of the best-known brands in the furniture industry with a history that goes back over 100 years.
Unfortunately, this is not the same company. Ownership has changed three times since 1996.
If you like my Insider's Guide To Furniture please encourage your friends and family to check it out.
Unlike other furniture review sites, I do not solicit or accept payment from any of the brands reviewed or mentioned on my website.
My 45 years in the furniture industry have provided me with a detailed knowledge of furniture brands, construction, quality & value.
Over the past decade, I have written over 2,000 articles, reviews, and answers, seen by over 2 million viewers.
If any company or individual feels that the information on this website is out-of-date or inaccurate, please let me know and it will be promptly corrected.
Important Note about advertising on this website:

I do not solicit or accept payment from any of the brands reviewed or mentioned on InsidersGuideToFurniture.com.

Despite this, you may see ads on the website. These ads are generated by Ezoic.

Ezoic is a Google platform for website publishers. It is completely automated!

I do not have contact with any of the companies or agencies that choose to advertise on this website through Ezoic.