Sofa beds & sleepers are less durable than stationary (non-sleeper) sofas.
This includes matching stationary sofas made by the same brand in the same collection.
This is true for both low cost and high end sofa sleepers.
Sleeper durability does not matter as much for low-cost sleepers.
In low priced sleepers, seat cushions are more likely to wear out first.
For expensive sleepers, the mechanism is likely to wear out before any other part of the sofa bed.
High priced sleepers can be far less durable than stationary sofas made by the same brand.
High end custom upholstery brands typically make sofas that will last 20+ years.
High end sleepers, made by the same high end brands, may need to be replaced in 10 years or less.
Sleeper product descriptions on brand and retailer websites are inaccurate.
Written construction details and product descriptions for sleepers are usually identical to those describing stationary sofas made by the brand.
Sleeper specifications rarely mention mechanisms, but often describe sinuous wire or other foundations that do not exist.
Frames described as "solid wood" may be mostly plywood, even when matching stationary sofas have solid wood frames.
Adding a sleeper mechanism & mattress fundamentally alters the construction and reduces the overall durability of sofa beds & sleepers. 
Most sleeper mechanisms and mattresses are not designed for everyday use.
Sleeper mechanisms and mattresses may last 10 years or more if rarely used.
Mechanisms that are frequently used may wear out within 3 -5 years or even sooner.
Many sleeper warranties specifically exclude coverage if mechanisms and mattresses are used frequently.
Almost all sofa beds & sleeper sofas are built around a plywood box.
The mechanism is bolted inside the plywood box.
Arms & back are bolted to the plywood box.
Sleeper mechanisms and mattresses are heavy.
This places extra strain on a frame that has less reinforcement that what is normally found on a stationary sofa.
Moving a heavy sleep sofa during shipping, or around your room, can bend the delicate mechanisms and make it difficult to operate.
Most sofa sleepers built in the U.S. are available only in queen and full-size.
Queen is by far the most popular size.
King-size sleepers are available from some brands, but are far harder to find.
Twin-size mechanisms that fit into chairs, ottomans or cabinets exist, but are sold in far smaller quantities.
$3000 standard (non motion) sofas are superior in quality (and durability) compared to $1000 non-motion sofas.*
There is far less difference in quality and durability when comparing $3000 sleepers with $1000 sleepers.
High-end brands often use identical mechanisms to those found in mid-range brands selling for less than half the price.
$3000 stationary fabric sofas should last 15 years or more. They have stronger frames and better (more expensive) foundation supports than the cheaper sofas.
$1000 stationary fabric sofas will have an average lifespan of 5 years (with standard 1.8 density foam cushions.)
The expected lifespan of a $3000+ sleeper is the same as the expected lifespan of a $1000 sleeper unless it has upgraded (longer lasting) seat cushions.
Sleeper mechanisms are usually backed by warranties ranging from 1 to 3 years.
High-quality manufacturers of sofa beds & sleepers differentiate their products by offering more comfortable (& more expensive) mattresses & seat cushion options.
High end upholstery manufacturers usually offer multiple custom options, including custom sizes.
Sleeper sofas are far more restricted in available custom sizes.
The length and depth of the mechanisms allows only a very few different lengths and no variation in seat depth.
Sofa sleepers often feel firmer than stationary sofas. High-end brands may offer softer seat cushion options.
Blend-down cushions (a combination of foam with feathers/fiber) will soften the feel compared with standard 1.8 density foam cushions found on most lower priced sleepers.
High-quality spring-down cushions will soften the feel and also last twice as long. (15+ years for most people.)
Power mechanisms that open and close the sleepers are available on a few high-end sleepers.
These may be especially useful for older folks and those with back or other health issues.
Power mechanisms are not widely available.
The power mechanisms that I have seen severely restrict the design and styling of the sleeper.
Most sleeper mechanisms are not built for everyday use.
The mechanism warranty may be void if the sleeper bed is used on a daily basis.
A $1000 sleeper is most likely to be replaced when the cushions wear out (about 5 years.)
The mechanism is the second most likely component to fail, especially if used frequently.
A $3000 sleeper is likely to be replaced after 10 years.
At that point, both the cushions and sleeper mechanism are at the limit of their average lifespan.
Worn-out cushion cores can be replaced for a few hundred dollars.
Sleeper mechanisms are significantly more expensive to replace.
There are a limited number of sleeper mechanism suppliers.
Two companies (Leggett & Platt and HSM) produce over 75% of all sleeper mechanisms sold in the U.S.
Only a few furniture companies make their own sleeper mechanisms. American Leather is one of these.
There are only 4 different mechanism sizes made for American sofa beds.
The vast majority of mechanisms sold fit a single size: Queen size.
My estimate is that at least 75% of all sleepers sold in the U.S. are Queen size.
L&P and HSM each produce a very limited number of different sleeper mechanisms.
Both companies have bought out numerous small competitors over many years.
Unique mechanisms made by those small companies were rarely added to the product lines.
Profits are maximized by stamping out and assembling thousands of identical parts.
Adding new mechanisms to the product line has a minimal effect on total sales and is less efficient.
Power mechanisms have started showing up over the past few years on higher-priced sleepers.
Only a very small percentage of sleeper sales use power mechanisms currently.
Power mechanisms are usually made by smaller companies.
Most sleeper mechanisms are not designed for heavy duty use.
Residential grade mechanisms usually have 1 year warranties.
Heavy-duty mechanisms usually have 3-year warranties.
Warranties exclude coverage for heavy usage.
Sleeper mechanisms are not designed for daily usage.
Using your sleeper every day can void your warranty.
Replacing defective sleeper mechanisms is a difficult and expensive task.
The basic design of sleeper sofas eliminates many of the quality advantages found in more expensive stationary sofas.
In a sleeper, the mattress serves as the seating foundation.
High-quality 8-way hand-tied or coil spring foundations do not fit.
The first part to fail usually determines upholstered furniture lifespan.
Standard 1.8 density foam seat cushions, found on most mass-produced seating, are likely to require replacement within 5 years.
Better quality 2.5 density foam, Qualux or coil spring cushion construction, found on more expensive sofas, should last 15+ years or more for most people.
Sleeper design also makes a difference in the expected lifespan of the frame and foundation.
Better quality sofa frames & foundations usually last 20+ years.
Low-cost plywood or engineered wood sofa frames and sinuous wire foundations, used on mass-produced stationary seating, usually lasts at least 10 years.
Sleeper frames made by better quality brands are weaker than the stationary sofa frames made by the same manufacturer.
Sleepers are heavier than stationary sofas and put more strain on the frame.
Sleeper frames omit frame support features found in high end stationary seating frames.
High-end sleeper frames (and mechanisms) are likely to have a lifespan that is similar to those found in lower priced mass produced sleepers.
No manufacturer or retailer ever explains to its customers that the brand's sleepers are not as durable as its stationary sofas.
Sleeper construction details are often left blank.
Sofa bed descriptions and specifications are often copied directly from stationary sofa descriptions.
Sofa bed descriptions and specifications are usually incorrect, especially for the frame and foundation.
This industry-wide inaccuracy in product descriptions for sleepers is very understandable.
Sleepers usually make up only a small portion of a brand's sales.
Detailing differences between sofas & sleepers would be confusing to many potential customers.
It could have a negative impact on a consumer's overall perception of the brand.
Mattress quality has improved tremendously over the past 20 years.
There are many excellent (and comfortable) high-quality sleeper mattresses now available.
Higher-priced sleeper brands may differentiate their products by offering higher-quality mattress options.
Mattresses found in less expensive sleepers may still be comfortable.
Sleeper mechanisms sold with U.S.-made sofa beds are only slightly better than those made 20 years ago.
The uncomfortable bar across the top of the mechanism is no longer a problem, but very little else has changed.
European sleeper mechanisms have been greatly improved, but are rarely available in the U.S.
What are the different types of sofa bed & sleeper mattresses?
Foam – Uncomfortable 3 – 4 inch polyurethane foam mattresses were once standard in popularly priced sofa sleepers.
High-density memory foams have replaced the cheaper foams. The difference in comfort is huge.
5 – 6 inch thick mattresses are now standard. Avoid sleeper mattresses that are only 4" or less.
Extra thick mattresses cost more (and usually improve comfort.)
Innerspring – Innerspring mattresses are now available with many sleeper models.
Most sleeper designs limit the height (thickness of mattresses) to 5", but there are a few models that will accept mattresses up to 7" thick.
Innerspring mattress price & quality is highly dependent on the number and gauge of the coils.
Better quality queen size sleepers usually have 600+ coils.
Air/Innerspring hybrid – This type of sleeper mattress combines an innerspring coil construction with an air bladder.
Air/Spring mattresses exceed the normal 5-7" sleeper height restriction.
The hybrid design enables the inflated mattress to be 10+ inches thick when in use.
The coil springs add an additional support and comfort that is not available in air-only mattresses.
Air/Innerspring hybrids use far less air than traditional air beds.
This makes them less susceptible to leaks or other common problems associated with low-cost air beds.
Hybrid air/innerspring mattresses inflate within one minute.
Sofa bed & Sleeper mechanisms sold in the U.S. are different from those sold in Europe.
European sleeper mechanisms are often superior to those available from U.S. furniture manufacturers, in both comfort and ease of operation.
Most are also significantly more expensive.
European mechanism manufacturers have been studying the U.S. market, but have few sales so far. Large U.S. retailers consider cost to be more important than functionality.
The best way to see the difference between the quality of European sleeper mechanisms and those available in the U.S. is to check out the websites of the manufacturers.
The difference in quality is stunning!
Here are the four largest European sleeper mechanism suppliers:
Sedac-Meral (Belgium, France, Portugal, Bulgaria)
AltaFlex (Italy)
GF Components (Germany)
Lampolet (Italy)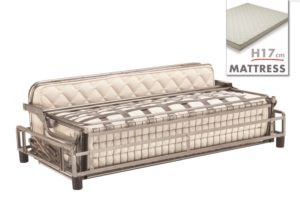 The photo above shows a European sleeper mechanism from Lampolet.
The two primary U.S. sleeper mechanism suppliers are:
Hickory Springs (HSM)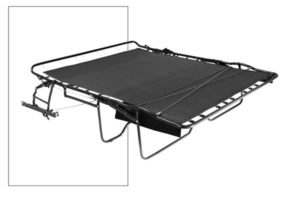 Above is a photo showing a very common type of mechanism used in sleepers sold in the U.S., made by Leggett & Platt.
The inexpensive Leggett & Platt mechanism shown above can be found in both cheap and high-end sleepers. 
A Leggett & Platt mechanism similar to the one shown above can be found in both of the sofa sleepers pictured below.
The first is a Hancock & Moore sleeper sofa selling for over $10,000.
The second is a sofa sleeper from Slumberland selling for $799.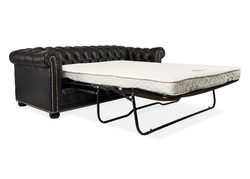 Shown above: Hancock & Moore Kent Chesterfield Leather Sleep Sofa with Leggett & Platt mechanism offered on Sale for $10,633 at Walter E. Smithe.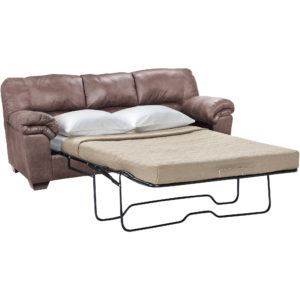 Shown above: Ashley Redmond Sleep Sofa with Leggett & Platt mechanism offered on Sale for $799 at Slumberland.
U.S. sleeper mechanisms usually employ a mattress support system made from a hammock-like structure reinforced by transverse support wires and further supported by one or more tubular metal bars.
Many European mechanisms use a system of independent isolated arched wooden slats suspended within a foldable tubular metal frame.
The slats insulate the metal frame to keep the operation silent.
These slats act as independent "leaf springs" similar in concept to the rear suspension of an automobile.
European sleeper mechanisms ship unassembled for easy entrance through narrow entranceways.
Narrow doors and passageways are a far more common problem in Europe than in the U.S.
The obvious question is why U.S. sleeper manufacturers don't use the better quality European units.
Major U.S. retail chains have determined through numerous studies over many years that cost is the most important competitive factor for selling sleepers to their customer base.
The top 100 retail chains sell 85% of U.S. furniture.
The top 20 retail chains account for over 50% of U.S. furniture sales.
Cost isn't as important for smaller high-end U.S. manufacturers who do not sell to major retail chains. A bigger concern is product availability.
European suppliers do not have enough U.S. sales to warehouse inventory locally.
U.S. manufacturers have to place large orders and then wait several months for shipments to arrive. Few have been willing to do this so far.
The Covid 19 crisis and subsequent supply chain problems have made international shipping even more unreliable over the past two years (and far more expensive.)
Sofa bed & Sleepers Warranties
Furniture warranties are highly deceptive.
No matter how clearly they appear to cover a specific type of problem or defect, mattress warranties will include exceptions or exclusions.
Most sleeper mattresses seem to have 3-year limited warranties.
Mattress warranty periods are more related to marketing requirements than the actual expected lifespan of the mattress.
Cheap mattresses get 1 year warranties.
Standard quality mattresses usually get 3-year warranties.
Better quality mattresses receive 5, 10 or limited lifetime warranties
The purpose of longer warranty periods is primarily to encourage customers to upgrade to a more expensive mattress.
The more expensive mattress may or may not last longer and be more comfortable, but that is mostly irrelevant to the warranty period.
Sofa bed & sleeper mattresses made over the past 10 years rarely wear out.
 It is very rare for any mattress (other than air beds) to have defects that result in an approved warranty claim.
All mattress warranties include a clause stating that coverage does not include defects caused by either "normal use" or "improper use" of the mattress.
Those two exclusions account for almost all sleeper mattress complaints.
Daily use of a sofa bed usually voids the warranty. It is considered "not normal" use.
Sleeper mechanism warranties
Most sofa bed & sleepers mechanisms have 1 – 3 year warranties.
Sometimes retailers extend the warranty period to give their customers a perception of better quality.
5-year, 10-year, and limited lifetime warranties are all available.
No matter how long the warranty period is specified, there will be a 1 year limit on "Labor."
The supplier's cost for the actual mechanism is minimal. A queen-size mechanism usually costs around $100 (at the manufacturer's cost.)
The time and labor needed to remove the old mechanism and install a new one is far more costly.
As a result, restricting labor coverage to 1 year eliminates most of the warranty's cost liability, no matter how long the official warranty period may designate.
Mechanisms are far more likely to become damaged than mattresses.
Mechanisms are most easily damaged in transit or when moved about in the home.
Summary
Are there any good sofa beds & sleepers for U.S. furniture shoppers?
Only a few American manufacturers make their own sofa bed & sleepers mechanisms.
American Leather makes its own Comfort Sleeper mechanisms and product line.
These have several improvements over the generic mechanisms used by most U.S. furniture manufacturers.
This mechanism includes a hardwood platform bed with no bars or springs.
The Comfort Sleeper arrives disassembled to fit through narrow doors and hallways.
The 80″ bed length is longer than the 72" length found in many other sleepers.
Lazar is a North Carolina manufacturer that appears to be trying very hard to improve on the standard U.S. sleeper.
The new Paragon sleeper line is available in an unusually large number of sizes.
Paragon sleepers include:
Memory foam mattress on top of a platform bed.
Made to order in the style, size, color and more—of your choice.
Backed by a Lifetime warranty.
Lazar's eco-friendly Earth Designs line incorporates a design that features extra-thick premium mattresses.
Although they use the same generic Leggett & Platt mechanisms, they have designed their sleepers to accommodate a top quality 8.5" thick coil spring mattress (instead of the standard 5-inch mattress thickness.)
Lancer is a North Carolina contract furniture manufacturer, specializing in hotel furniture.
Their sleepers are very basic in style, with an emphasis on long-term durability.
Lee Industries has an unusual mechanism that fits through 27" width doorways.
Luonto Furniture is a Finnish manufacturer, selling sleepers through several U.S. retailers.
Their product line includes several European mechanisms which are unfamiliar to most U.S. furniture shoppers.
Pinterest lists several European and U.S. sleeper manufacturers.
The photo at the top of this article shows an American Leather sectional with sleeper option.
If you like my Insider's Guide To Furniture please encourage your friends and family to check it out.

My 45 years in the furniture industry have provided me with a detailed knowledge of furniture brands, construction, quality & value.

Over the past decade, I have written over 2,000 articles, reviews, and answers, seen by over 2 million viewers.

If any company or individual feels that the information on this website is out-of-date or inaccurate, please let me know and it will be promptly corrected.

Important Note about advertising on this website:

I do not solicit or accept payment from any of the brands reviewed or mentioned on InsidersGuideToFurniture.com.

Despite this, you may see ads on the website. These ads are generated by Ezoic.

Ezoic is a Google platform for website publishers. It is completely automated!

I do not have contact with any of the companies or agencies that choose to advertise on this website through Ezoic.