No and yes. The term "genuine leather" has more than one meaning.
For furniture, the answer is "No!"  "Genuine leather" upholstered furniture is made with "real" leather processed from animal hides. Real leather made from hides does not peel.
For accessory items (belts, wallets, purses, etc.) the answer is "Yes!" Accessory manufacturers and retailers generally use the terminology "genuine leather"  to describe the same type of material called "bonded leather" by the furniture industry. "Real leather" is termed "all leather" or "top grain leather" or "full grain leather" by accessory companies.
Bonded leather is a horrendous material that has generated thousands of complaints over the past decade. It is especially popular on reclining furniture. Unfortunately, recliners put extra strain on this "delicate" material. The movement of the seats and backs results in "rubbing" against the fabric. This rubbing can result in separating the thin facing material from the backing of the bonded leather.
Bonded leather furniture can begin peeling less than one year after purchase. More commonly the peeling process begins within 2 – 5 years. Once the peeling process begins, the furniture is ruined. It cannot be repaired.
Bonded leather peels on $10 "genuine leather" belts and it peels on $4000 reclining sectionals. In both cases the product is ruined. It cannot be repaired once it begins peeling.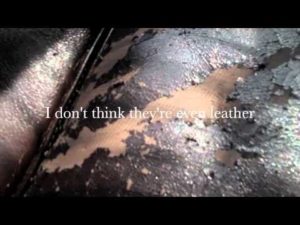 The term "genuine leather" is also sometimes used by furniture salespeople to describe "Leather Match." This is furniture that combines "real leather" made from hides on the seats and inside backs with synthetic leathers on the outside arms, backs and base. The synthetic leathers may be vinyl, polyurethane or bonded leather. Polyurethanes and vinyls do not peel. Only the bonded leathers peel.
​Know someone who might be interested in this post? Please like and share this post with them. If you have questions or comments please leave them below.​