Where can I find a high quality, affordable leather sofa?
I've been looking for an affordable leather sofa that will last for the rest of my life.

Nobody posts prices because it's all special order. I'm tired of wasting time working with salespeople only to find they don't have anything suitable for less than $10,000.

Is it possible to find a high quality, long-lasting leather sofa for under $5000?

Please tell me where to go. I'm ready to buy!
Answer:
Below are 5 brands selling high quality leather sofas priced between $4000 and $5000.
How good is Carolina Custom Leather?
Last week (Oct. 16, 2023), while at the International Home Furnishings Market in High Point, NC., I visited several high end leather seating showrooms.
Hancock & Moore is a well-known, top quality manufacturer. I've frequently seen and examined their furniture. 
Carolina Custom Leather is a smaller, less familiar brand. This was the first time I had visited their High Point Market showroom.
These two companies have factories that are located just a few miles apart, and the top managers of both companies are familiar with each other.
Carolina Custom Leather's quality and comfort appeared indistinguishable to me from the far more expensive Hancock & Moore.
Comparing Carolina Custom Leather with Hancock & Moore.
For this review, I compared Hancock & Moore's 9844 leather sofa with Carolina Custom's 554-03 sofa. (Photos shown below.)

Comparing these two similarly styled sofas in base grade leathers, Carolina Custom is priced (at retail) about $3000 below Hancock & Moore.

The price difference is even larger as the leathers are upgraded.
Photos and specifications of the two sofas can be seen below:
Frames: Both are 5/4″ thick solid hardwood, double-doweled, glued, and screwed with mortise & tenon joinery. (Built to last 50+ years.)
Carolina Custom and Hancock & Moore both use plywood for their reclining furniture frames.
Both companies buy their reclining frames and mechanisms from the same supplier (Ultra-Mek.)
Foundations: Both are 8 way hand tied and knotted.
Cushions: Both use Marshall unit Spring / Down cushion cores as the standard. Several other options are available for both brands.
Leather: Hancock & Moore's Class 1 base grade leather is similar in quality to Carolina Custom's Grade A leather. I also priced the Carolina Custom sofa in a Grade E leather (5th highest of 6 grades.) 
Craftsmanship: Comparing craftsmanship is always highly subjective, but I could not see anything that distinguished Hancock & Moore as having superior craftsmanship. Both companies hand-craft their furniture, one piece at a time.
Price Comparison: 
Hancock & Moore's retail price is from Walter E. Smythe's H&M City Sofa ad, dated Oct. 21, 2023.
The Carolina Custom price is from the Furnitureland South showroom on Oct. 17, 2023.
Hancock and Moore 9844 leather sofa – Regular Price: $9,259  Sale Price starting at: $7,407 (Class 1 Leather)

Carolina Custom 554-03 leather sofa (with nailheads) Regular Price:$4,939  Sale Price: $4,344. (Grade A Leather)

Carolina Custom 554-03 leather sofa (with nailheads) – Regular Price:$5,172  Sale Price: $4,654. (Grade E Leather – 5th highest of 6 grades.)


Carolina Custom's $300 additional charge for upgrading from a base grade corrected semi-aniline to a full aniline natural leather is a great bargain. Upgrading to a similar quality leather from Hancock & Moore costs far more.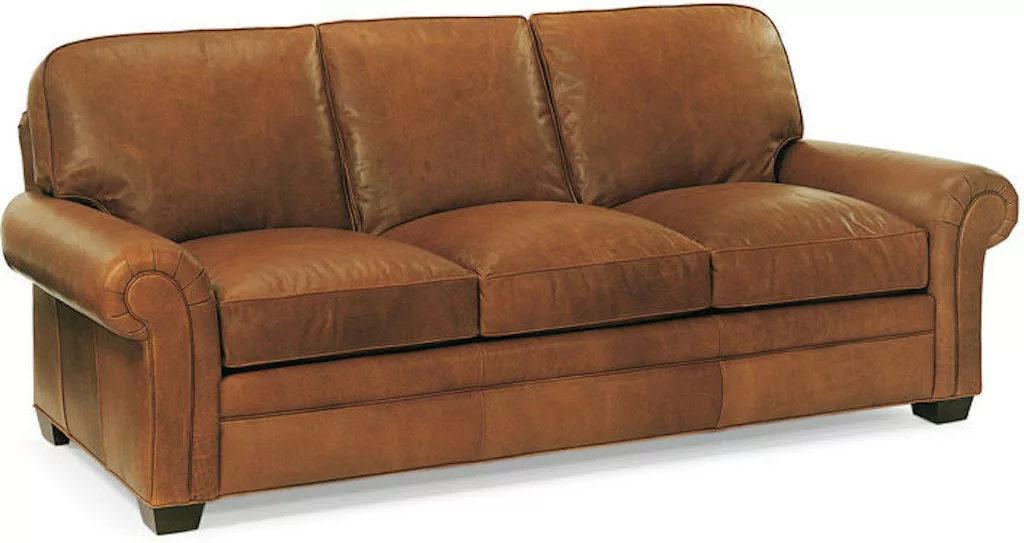 Many well-known leather brands are now being built with plywood frames.
Bradington Young, American Leather, Sherrill, Temple, and Lee are just a few of the "high end" plywood frame brands.
High quality 7/8″ plywood frames will last 20+ years.

5/4″ solid hardwood, that has been double-doweled, glued, and screwed, with mortise & tenon joinery, can last 50+ years.
Other high quality leather sofa manufacturers under 5K.
Each of these brands makes compromises in quality and construction that help reduce pricing.
But all are excellent quality and value, and should provide comfortable seating for 15 to 20+ years, if purchased with the available top quality cushion options.
This is the leather division of Sherrill furniture.
Frames are 7/8″ plywood and 4/4″ thick solid hardwood.
Foundations are 8 way hand tied.
The company doesn't identify the foam density used in their standard cushions, but they do have a Spring Fiber upgrade available.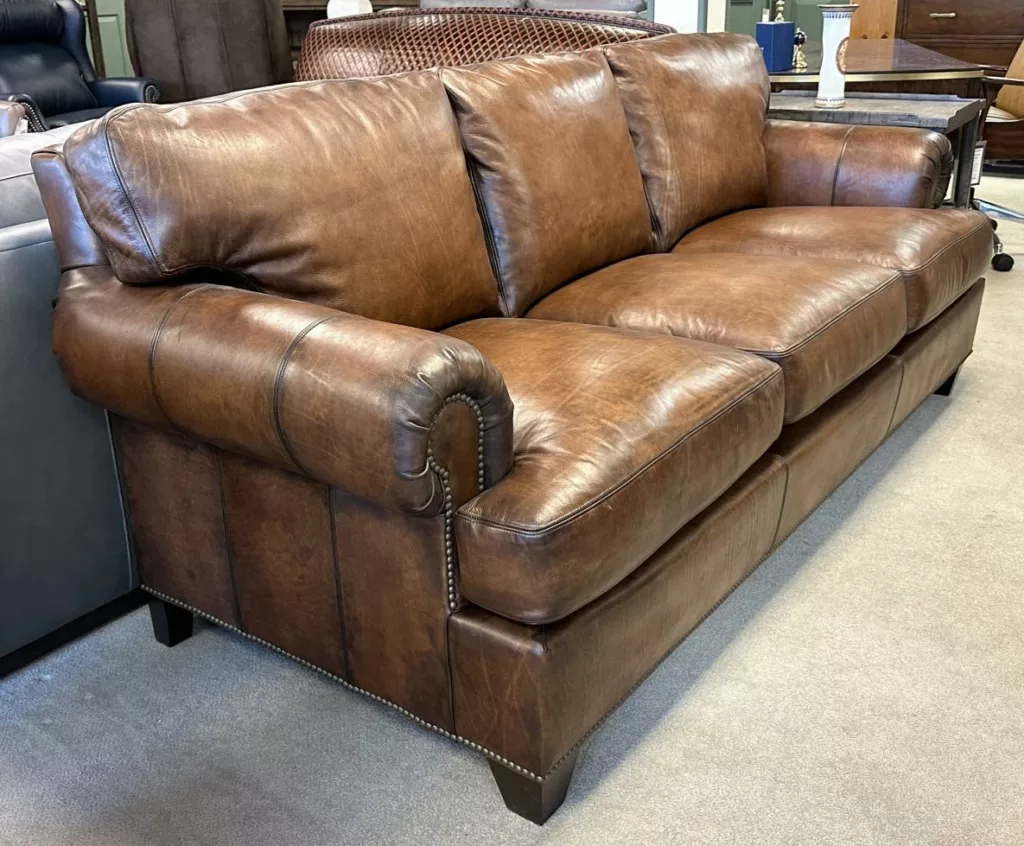 Leather sofas built with plywood frames and 8-way hand tied foundations.
The standard cushions are 1.8 density foam. There have been complaints about these cushions.
Get the Spring Down upgrade! Spring Down cushions will last three times as long and be problem free.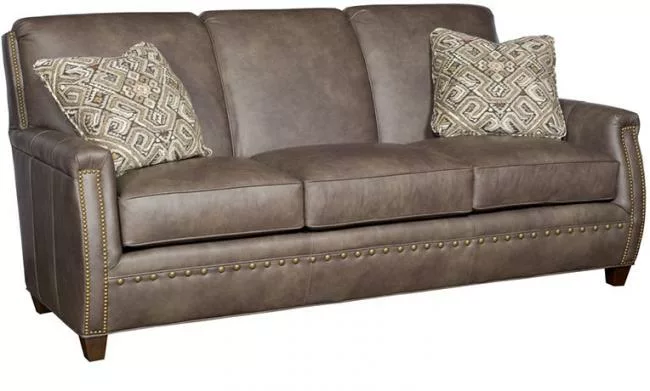 Modern style 8 way hand tied leather sofas are available in 80″, 90″, 100″, and 110″ sizes.
Mantle uses a 13 ply hardwood plywood frame. This is stronger than the standard 7 layer plywood frame used by most furniture manufacturers. Combined with an 8 way hand-tied foundation, Mantle's leather sofas should last 20+ years if you get the upgraded cushions.
Mantle's standard cushions are 2.05 density Qualux foam. Although that's better than many of its mid-priced competitors, spend the extra money for the upgraded 2.55 density Qualux foam or Spring Down cushions. They'll last twice as long (15 – 20+ years.) 
Mantle is a Direct-to-Consumer brand, shipping from the factory to your home in 4-6 weeks (longer if you want custom frame modifications.)
Currently, as of October 2023, Mantle has a 10% discount for first time purchasers using the Discount Code Mantle10.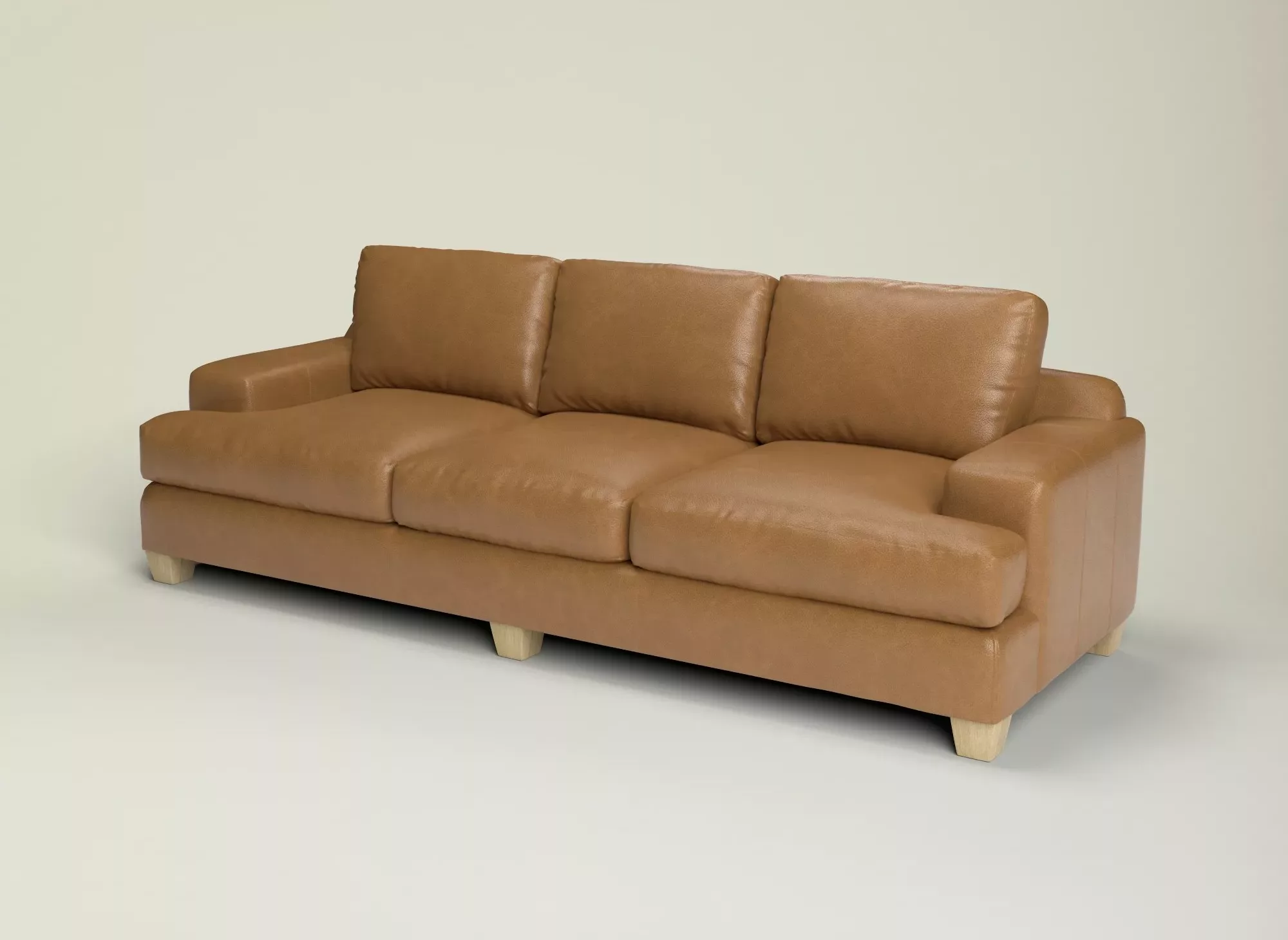 This is an Eco-friendly California Direct-to-Consumer custom manufacturer, with modern sofa styles and sizes priced below $5000 in leather.
Medley Home's frames are solid hardwood, but they use sinuous wire foundations instead of 8 way hand tied.
Although the sinuous wire isn't as comfortable as 8 way hand tied, it should still last 15+ years.
2.5 density foam cushions are standard and should hold up for 15+ years.
* Medley Home offers a Special 10% off Discount to Insiders Guide readers. 

Use Coupon Code "InsidersGuide".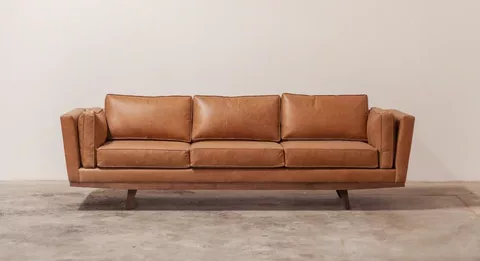 If you like my Insider's Guide To Furniture please encourage your friends and family to check it out.
My 45 years in the furniture industry have provided me with a detailed knowledge of furniture brands, construction, quality & value.
Over the past decade, I have written over 2,000 articles, reviews, and answers, seen by over 2 million viewers.
If any company or individual feels that the information on this website is out-of-date or inaccurate, please let me know and it will be promptly corrected.
Important Note about advertising on this website:

I do not solicit or receive any payment or compensation from the brands reviewed or mentioned on InsidersGuideToFurniture.com.

Despite this, you may see ads on the website. These ads are generated by Ezoic.

Ezoic is a Google platform for website publishers. It is completely automated!

I do not have contact with any of the companies or agencies that choose to advertise on this website through Ezoic.
The photo at the top of this article shows a Carolina Custom Leather Hancock Sofa.