Are Barcalounger recliners good quality compared to other brands?
Answer:
Better quality Barcalounger recliners have a weight capacity of 400 lbs.
Those Barcaloungers will last 10+ years.
Barcalounger also makes lower priced recliners, in both leather match and fabric, for large furniture discounters.
The weight capacity for these cheaper recliners is only 250 lbs.
The 250 lb. weight limit Barcaloungers sell for less than$800 in leather and even less for fabric.
There is a lot of low priced competition for cheap recliners that can support only 250 lbs. per seat.
Most of the better quality Barcalounger recliners are priced from $1500 to $2500.
Leather recliners priced under $2000 usually have 1.8 or 2.0 density foam seat cushions.
The average lifespan of recliners with foam seat cushions is 5 years.
After 5 years of use, the foam compresses and the seat is no longer comfortable.
Barcalounger's pocketed coil seat cushions, built for a 400 lb. weight limit, are far more durable.
The lifespan should be 10 – 15+ years, more than twice as long as similarly priced recliners with foam cushions.
Barcalounger's better quality leather reclining sofas are priced from $3000 – $4000.
Barcalounger's seats use a layer of 1.8 density foam surrounding the pocketed coils.
This foam padding softens the feel of the pocketed coil springs.
But they don't use enough foam padding. After a few years, the seat cushions may feel too firm for some people.
 Hydeline is another leather recliner brand selling in the same price range.
Hydeline uses the same pocketed coils in their seat cushions.
But Hydeline uses more and better foam padding.
They use layers of 2.2 density foam and memory foam with a down and feathers wrapper.
Hydeline's weight limit is only 350 lbs., but I don't think it is any less durable than Barcalounger.
Hydeline makes both stationary and reclining leather seating.  
*Hydeline offers a Special 5% discount to Insiders Guide to Furniiture readers.
Use Coupon Code IGF5X or Order Directly from  Hydeline Special Discount Link.

Items already marked On Sale are not eligible for the 5% discount.
Barcalounger's advantage is a far broader lineup of recliner styles & types.
Barcalounger also offers more special features.
Some are priced above $4000, but are still excellent values.
Barcalounger is included in my review article, 25 Best Reclining Sofa Brands for 2023
Barcalounger's reclining furniture is leather and leather match.
Leather match uses top grain leather for seats, backs, inside arms, & split grain leather for the outside parts.
Barcalounger's leather is top grain. The website does not specify whether it is also semi-aniline.
Each of Barcalounger's products and groups is available in only a limited selection of leathers.
Fabric is not available.
All Barcalounger reclining sofas are powered.
Some models have additional motors for the headrest and/or lumbar support.
Most reclining chairs are powered.
Manual mechanisms account for about 1/3 of current chair sales.
Extra-Sturdy Construction
Frames:
Mortise & Tenon frames with 3/4″ plywood made with 11 & 14 plies (layers of wood veneer.)
Solid hardwood spring boards & corner blocks.
The most common plywood found on better quality recliners is 7/8″ thick with 5 – 7 plies.
Although the plywood used here is only 3/4″, it has twice as many plies. The extra plies more than make up for the reduced thickness.
Also, the plywood covers the entire side panels. That is superior to the normal construction, which leaves most of the side panels open.
There is a lot more wood in these frames than on many of Barcalounger's competitors.
Foundation:
Sinuous wire.
Mechanisms:
Heavy-duty Leggett & Platt and Cenro mechanisms.
Cushions:
Pocketed coils with 1.8 density foam.
Pocketed coil cushions last more than twice as long as solid 1.8 density foam seat cores.
Barcalounger's recliners are good quality.

They should have no problems lasting 10+ years for most people.

Estimated weight limit: 400 lbs. per seat.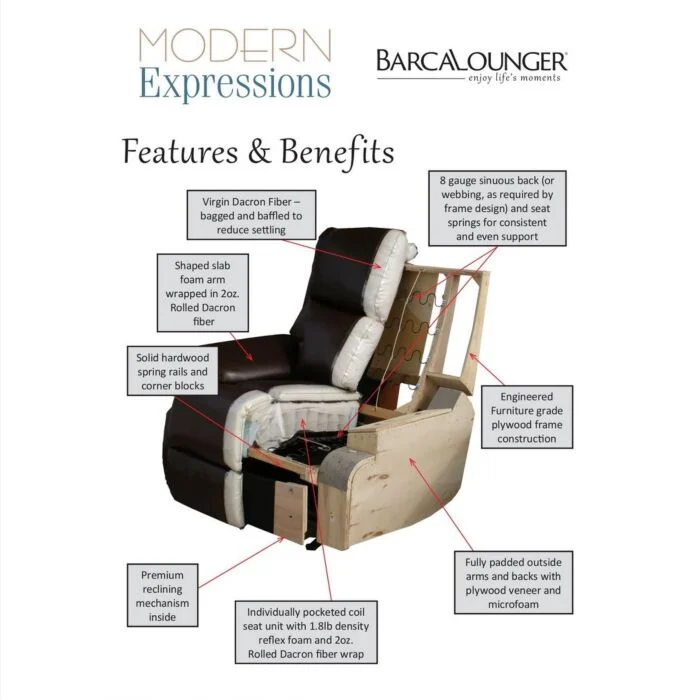 Barcalounger features two primary style categories:
Vintage (traditional style)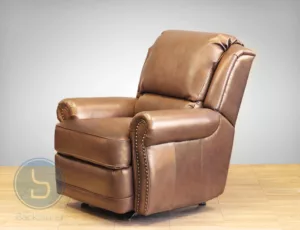 Modern Expressions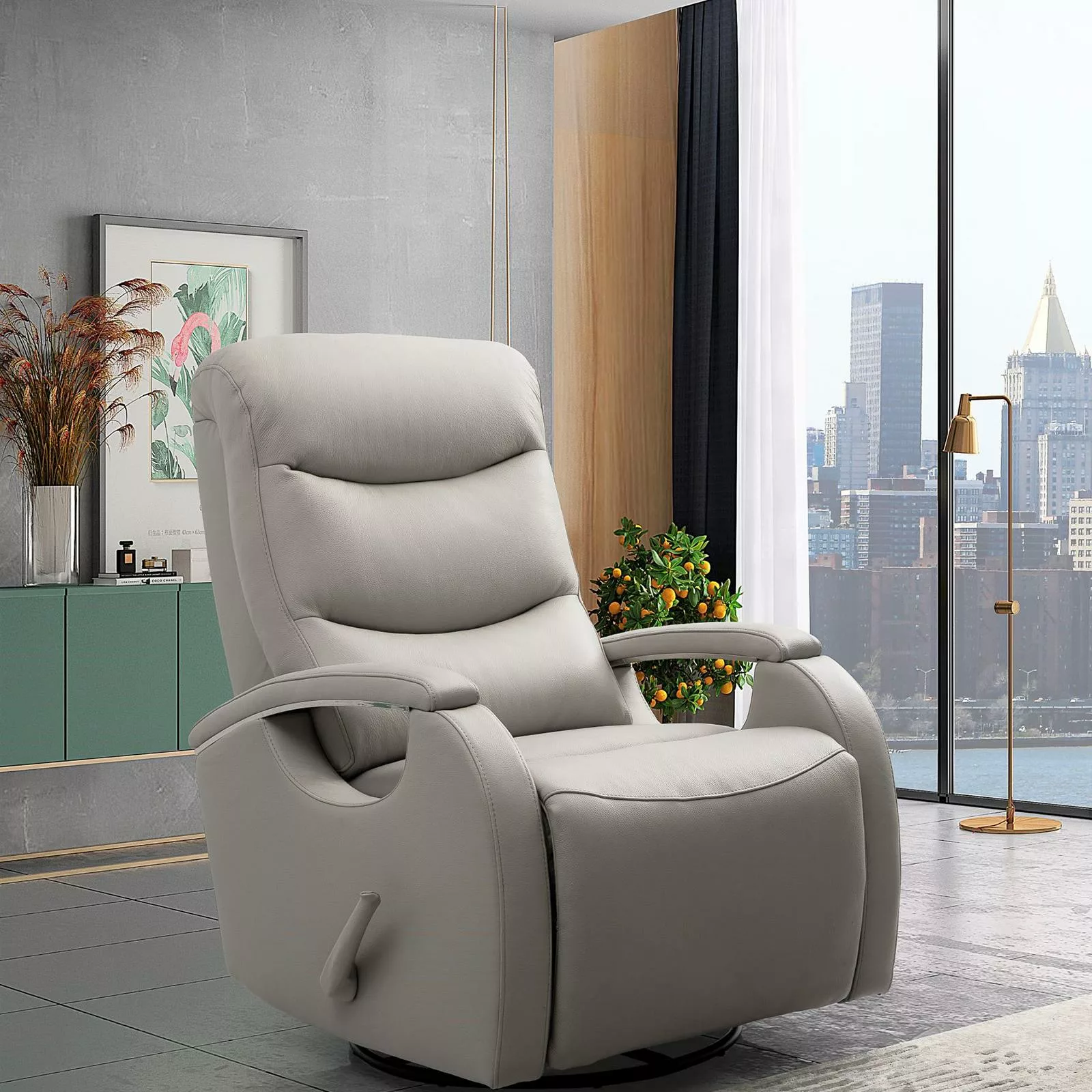 Styles & Special Features include:
Big & Tall

Heating/Cooling

High/Low Legs

Rocker Recliners

Swivel Recliners

Wall Proximity

Zero Gravity
Heads Up recliners with power-tilt headrests
The video below shows a demonstration of Barcalounger's unusual power headrests that can be adjusted to tilt-forwards
Lift Chairs
Barcalounger offers two types of Lift chairs:
Lux Recline & Lift
ThermaLift
Media (Theater) Seating
Sofas and console loveseats have hidden cup holder in the arms.
The loveseat also has hidden storage and a cell phone charger.
Matching recliner has hidden cup holder and hidden cell phone charger.
USB ports are available on all pieces.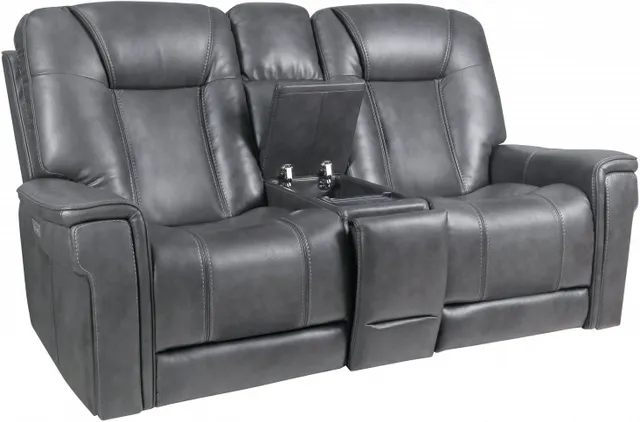 Pedestal Recliner & Ottoman (Scandinavian Style)
Barcalounger's Pedestal recliners & ottomans compare favorably with Fjords in both quality and price.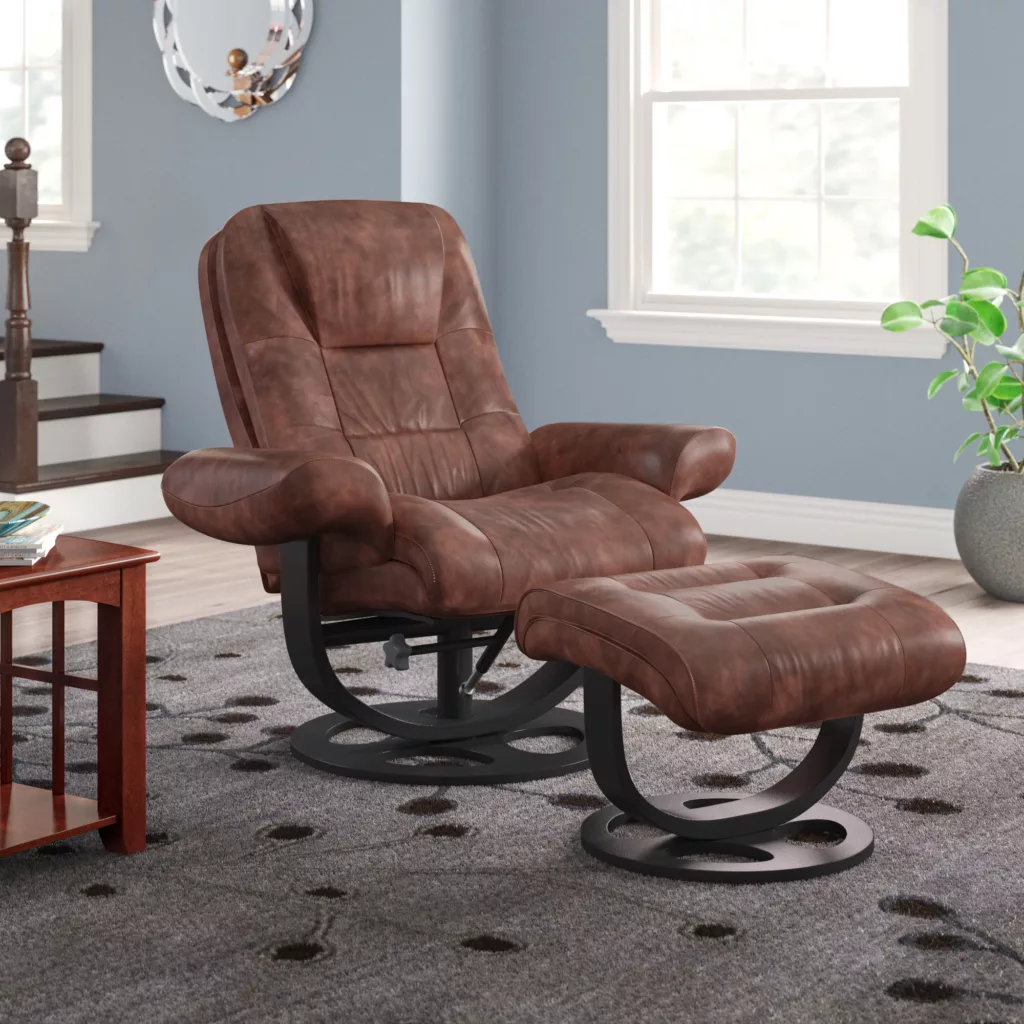 Barcalounger is one of the oldest U.S. reclining furniture brands.
Founded in 1940, Barcalounger was considered the top quality recliner brand for several decades afterwards.
The company filed for Chapter 11 bankruptcy in 2010.
Larry Smith, the former President of Barcalounger, organized a consortium to purchase the bankrupt company's assets.
Originally, the plan was to shut down the company's North Carolina factory and move all production to Martinsville, VA.
In 2011, Barcalounger announced all production was being moved to China.
Currently, in 2023, Barcalounger is being produced in China & Vietnam.
Barcalounger's headquarters are in Morristown, TN.
Larry Smith is still President of Barcalounger.
Barcalounger has made a remarkable recovery since its bankruptcy 12 years ago.
Today, in 2023, the line is thriving and has an interesting variety of reclining furniture products.
There are more than a dozen different product lines.
If you like my Insider's Guide To Furniture please encourage your friends and family to check it out.
My 45 years in the furniture industry have provided me with a detailed knowledge of furniture brands, construction, quality & value.
Over the past decade, I have written over 2,000 articles, reviews, and answers, seen by over 2 million viewers.
If any company or individual feels that the information on this website is out-of-date or inaccurate, please let me know and it will be promptly corrected.
Important Note about advertising on this website:

I do not solicit or receive any payment or compensation from the brands reviewed or mentioned on InsidersGuideToFurniture.com.

Despite this, you may see ads on the website. These ads are generated by Ezoic.

Ezoic is a Google platform for website publishers. It is completely automated!

I do not have contact with any of the companies or agencies that choose to advertise on this website through Ezoic.