Question:
I'm looking for a reclining sofa.

Is Jackson Catnapper a good brand?

How is their furniture constructed?
Answer:
Catnapper is the brand name for reclining furniture made by Jackson Furniture Industries.
The company has over 1500 employees and 1 million sq. ft. of manufacturing space in 6 different facilities, located in Tennessee, Mississippi, Texas, and Florida.
Catnapper offers a wide range of features and options.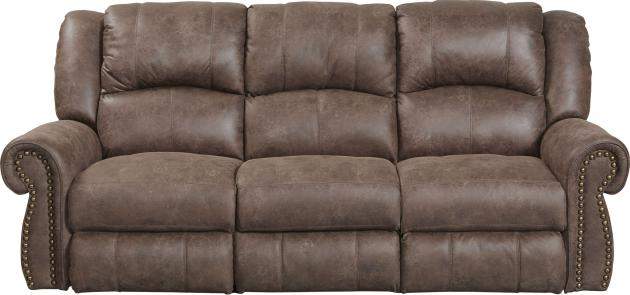 One of Catnapper's best features is the "Comfort Coil" cushions, available on most of its models.
I consider coil spring seat cushions to be an upgrade over the standard 1.8 density foam.
Very few of Catnapper's low and mid-priced competitors have offered coil spring seat construction, probably because of the extra cost.
Catnapper offers both power and manual reclining mechanisms.
Most people currently purchase powered reclining furniture. That percentage is growing.
Many brands no longer sell manual mechanisms.
Manual mechanisms usually last longer than power mechanisms.
When manual mechanisms break down, it is usually possible to get replacement parts, even after 10 years.
When power mechanisms break down, replacement parts are frequently unavailable after 5 years.
Jackson Catnapper has a large number of negative reviews.
All mass produced reclining furniture brands generate large numbers of negative reviews.
Larger items (sofas and sectionals) are very heavy. They are easily damaged during shipping or when moved within the home.
Large reclining sectionals and sofas are more likely to receive complaints and negative reviews than smaller items like recliner chairs.
Apparently, as of 2023, Jackson Catnapper is still offering bonded leather as a fabric option.
Bonded leather

is possibly the single largest source of complaints in the entire furniture industry since it was first introduced in 2010.
Since that time there have been well over 100,000 complaints about "peeling" bonded leather. (I know of individual retail chains that have received over 1000 bonded leather complaints in a single year.)
If you are interested in why retailers (and their suppliers) have accepted this huge problem for so long, check out my article, Why Do Furniture Companies Sell Bonded Leather After Knowing That It Peels?
Beginning a couple of years ago, many of Catnapper's competitors began switching to 100% synthetic composite faux leathers that combine polyester and polyurethane.
The new composite faux leathers are indistinguishable from bonded leather in look and feel – and they don't peel!
100% synthetic faux leathers are highly durable and usually last 10+ years.
You can check out Jackson Catnapper customer reviews at:
Better Business Bureau reviews
If you like my Insider's Guide To Furniture please encourage your friends and family to check it out.

My 45 years in the furniture industry have provided me with a detailed knowledge of furniture brands, construction, quality & value.

Over the past decade, I have written over 2,000 articles, reviews, and answers, seen by over 2 million viewers.

If any company or individual feels that the information on this website is out-of-date or inaccurate, please let me know and it will be promptly corrected.

Important Note about advertising on this website:

I do not solicit or accept payment from any of the brands reviewed or mentioned on InsidersGuideToFurniture.com.

Despite this, you may see ads on the website. These ads are generated by Ezoic.

Ezoic is a Google platform for website publishers. It is completely automated!

I do not have contact with any of the companies or agencies that choose to advertise on this website through Ezoic.