These sprays can add some temporary additional protection for natural fibers such as cotton and linen that have little natural resistance to stains.
Fabric protection sprays are far less effective for synthetics such as polyesters (including microfibers),nylons, acrylics and olefins.
These synthetic fabrics are highly stain resistant to begin with. The added benefit of a fabric protection spray is minimal at best.
Fabric protection added by the retailer (or purchased in spray cans) is not permanent. To maintain effectiveness it needs to be renewed periodically.
This raises concerns for many people about how safe these sprays are, particularly for small children and pets.
When Scotchguard introduced the first fabric protection spray in 1952 it was a highly effective stain and water repellent that afforded significant protection to most fabrics.
Unfortunately the products were based on a formulation that was determined to be carcinogenic and removed from the marketplace in 2002.
The current reformulated fabric protection sprays (some with the same brand names) are now considered non-toxic, but they are far less effective than the original formulations.
Fabric protection sprays have a huge profit margin for furniture sellers. Retailers typically charge $50 – $100 for protecting a sofa.
For this reason salespeople are often encouraged to pressure customers into purchasing the fabric protection option.
Similar fabric protection sprays can be found at most grocery or hardware stores for a far lower cost than the price charged by furniture stores. The can pictured below is available from Walmart for $5.99.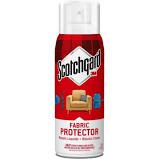 Know someone who might be interested in this post? Please like and share this post with them. If you have questions or comments please leave them below.