The modern pull-out sofa bed was invented by Bernard Castro.
After emigrating to the U.S in 1919 from Sicily, Castro worked as an upholsterer's apprentice.
He opened his first Castro Convertible store in New York City in 1931 with $400 in capital.
Castro Convertibles sold over 5 million sofa sleepers before closing in 1993.
Castro's convertible sofa sleepers were extraordinarily heavy and solidly built. Many still survive and remain in use.
The big breakthrough for the highly innovative Castro Convertible product line came in 1948 when Bernard Castro introduced an early TV commercial starring his 4 year old daughter Bernadette.
Bernadette catapulted her father's convertible couch to national fame by illustrating how the sofa sleepers were "So easy to open, even a child can do it!"
Bernadette's commercials ran over 40,000 times (over several decades) earning her the distinction of being the most televised child in America.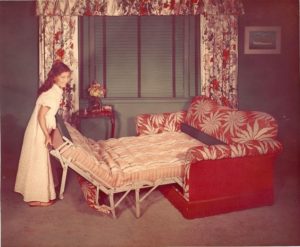 The story of Castro Convertibles can be seen on a YouTube video
Castro Convertibles was acquired in 1993 by Krause Furniture.
The Castro Convertible brand was retired until 2010 when Bernadette Castro and her children bought back the intellectual property.
The business was relaunched featuring one of the most popular of the original products, the Castro Convertible Ottoman – an ottoman that converts into a sleeper.
Know someone who might be interested in this post? Please like and share this post with them. If you have questions or comments please leave them below.