Question:
How long does Top Grain Leather Furniture Last?

Is there any way to make it last longer?
Answer:
The problem with your question is that, for most mass produced upholstered furniture, the leather is going to last longer than other parts of your sofa or recliner.
Regardless of how much you spend, leather furniture, including top grain leather, lasts only as long as the weakest component part.
High-quality leather (made from hides) can last 50 years or more with proper care. These hides may be either full grain or top grain leather.
Lower quality "corrected" top grain leather should still last at least 10 years.
High-quality frames will last 20+ years. Not-so-high-quality frames can still last 10 years or more.
The problem is the cushions.
Your brand new $3000+ leather sofa (or $5000+ leather reclining sofa) is probably made with seat cushions that will wear out in 3 – 5 years.
The cushions may begin to wear out within 1 year.
Most mass produced seat cushions will need replacement within 3 – 5 years.
Replacing seat cushions can be expensive and complicated.
Getting a cushion replaced under warranty is nearly impossible.
Regardless of the warranty period specified in bold print at the top of the warranty, there will also be exclusionary clauses further down where most people don't read.
These exclusions void the warranty when the cushions have worn out due to either "normal use" or "abuse."
Those two exclusions cover almost everything that can cause a cushion to lose its shape or comfort and need replacement.
Most manufacturers and retailers are reluctant (or will refuse) to supply replacement cushions or cushion cores, even for customers willing to pay for them.
Worn out removable cushions can be fixed.
Custom upholsterers can replace worn out foam, but good quality foam or coil spring core replacements (that will last longer than 3 – 5 years) can be expensive.
Reclining furniture generally wears out more quickly than stationary seating, especially large reclining sofas and sectionals.
Reclining furniture weighs considerably more than non-reclining pieces.
Frames are weaker. Many of the extra foundation supports found on non-reclining sofas cannot be used in combination with the mechanism.
Most mass produced reclining furniture is made with non-removable cushions. These wear out just as quickly as removable cushions, but cannot be easily replaced if they become worn out or damaged.
It may not be possible to repair a non-removable cushion at all, unless there is additional (matching) leather available.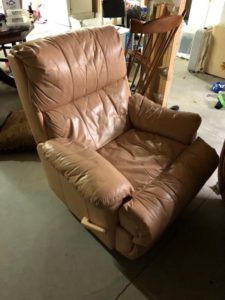 Important Note – Do not purchase furniture made with bonded leather! 
It is an extremely fragile material that cannot be repaired.
Bonded leather can disintegrate even before your cushions wear out, sometimes within one year or less.
Once bonded leather begins to peel (delaminate) it cannot be repaired.
Warranties (including extended warranties) almost never cover bonded leather problems.
There are thousands of complaints each year from consumers whose "almost new" sofas have been ruined by peeling bonded leather.
Manufacturers and retailers are fully aware of the huge number of problems and complaints associated with bonded leather.
Despite numerous attempts within the furniture industry to voluntarily eliminate this defective material, competitive pressures to supply "cheap" leather furniture are overwhelming.
If you like my Insider's Guide To Furniture please encourage your friends and family to check it out.
My 45 years in the furniture industry have provided me with a detailed knowledge of furniture brands, construction, quality & value.
Over the past decade, I have written over 2,000 articles, reviews, and answers, seen by over 2 million viewers.
If any company or individual feels that the information on this website is out-of-date or inaccurate, please let me know and it will be promptly corrected.
Important Note about advertising on this website:

I do not solicit or accept payment from any of the brands reviewed or mentioned on InsidersGuideToFurniture.com.

Despite this, you may see ads on the website. These ads are generated by Ezoic.

Ezoic is a Google platform for website publishers. It is completely automated!

I do not have contact with any of the companies or agencies that choose to advertise on this website through Ezoic.