"Pebbled" leather refers to a particular type of texture found in some leathers. The Pebble texture can be found on many faux leathers and vinyls. It is also a common texture found on animal hides used to make leather.
The pebble texture can be found on real leathers at all price ranges. For lower priced top grain leathers, the natural grain is completely sanded off and an artificial grain is embossed onto the blank hide. That artificial grain can be a pebble pattern.
On lower priced embossed top grain leathers, the artificial pebble grain pattern will be uniform throughout the hide.
Pebble grain patterns can also found on higher priced natural leather hides. Each natural leather hide is unique. The grain patterns are as different as fingerprints. Grain patterns can vary widely within the same hide.
Pebbled leathers are particularly difficult to sample. It is not unusual for a natural pebble leather to look very different from the small sample that was approved. Wide variations in pattern are not considered a valid reason to cancel or return leather furniture.
Leather hides can have both natural and artificial pebble graining within the same hide.
Although the best (most expensive) hides will have only natural graining, lower quality (but still very good) hides may combine the natural pebble grain with artificial graining.
In order to have the pebble effect on as much of the hide as possible, the leather finisher may artificially emboss the "unpebbled" parts of the hides to match the look of the "pebbled" parts. Also, any flawed portions of the hide may be sanded down and embossed with an artificial grain to blend in with the natural part of the hide.
All of this impacts the final price of the leather hides, along with many other factors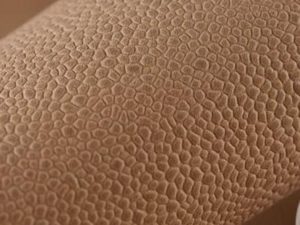 Know someone who might be interested in this post? Please like and share this post with them. If you have questions or comments please leave them below. Shopping for furniture can be complex and frustrating. Salespeople often do not have enough knowledge to answer your questions or give advice based on limited experience. Take this opportunity to get real information and advice before spending hundreds or thousands of dollars.