Question:
We need a reclining couch for our living room. My husband is 6'-6" and around 320 lbs. I am hoping to find something that won't wear out in a couple of years like our previous one, but won't cost a fortune either.

Prior, to reading your blog we had visited 5 furniture stores in our area and narrowed it down to a Hooker Lyra Zero Gravity Couch, which costs a little over $4000. I am unsure if the 2.0 density foam in the Hooker couch is substantial enough for my husband. 

We both work physical jobs and like the idea of a zero gravity couch that allows us to elevate our backs and legs to different positions.

We have also been considering getting two less expensive couches, so that he can switch between them, giving each couch time to recuperate between uses. Do you think that might work?

I am hoping to get 7-8 years out of this reclining couch, although past experience tells me it may be closer to 3 – 4 years. I am leaning towards an extended warranty since my husband wears out furniture so quickly.
Answer:
Hydeline's

leather reclining sofas should work for you.
Hydeline is a Direct-to-Consumer brand. It cannot be seen in brick and mortar stores.
Note: I do not receive payment of any kind from Hydeline or any other brands I write about.
The Hydeline website features a half dozen reclining couch models with zero gravity mechanisms priced below $3000.
Several additional models in the Outlet section of the website are priced closer to $2000. The construction is identical.
Zero gravity mechanisms are generally considered to be especially good for physical problems such as painful backs or necks.
A zero gravity mechanism can add a few hundred dollars to a reclining sofa's price compared with more basic mechanisms.
Hydeline has solved the biggest problem limiting the lifespan of affordable reclining furniture:
Seat cushions that wear out long before the leather.
Polyurethane foam cushions begin wearing out the very first time somebody sits on them.
Over time, the cushion foam breaks down, gradually losing its resilience (ability to bounce back), firmness, and comfort.
The speed at which the foam breaks down is determined by several factors, including foam density, thickness, surface area, weight supported, and the amount of time the cushions are used each day.
Large reclining furniture manufacturers face cutthroat competition, trying to get floor space (or website visibility) in the limited number of major furniture retailers.
This cutthroat competition has forced manufacturers to cut costs on everything that cannot be seen when the furniture is new in the showroom.
Frame costs have been drastically reduced.
Fortunately, the new, lower cost plywood and engineered wood frames are usually still strong enough to last at least 10 years.
Leather costs have been reduced.
Using synthetic leathers or split leather for everything other than the seats, backs and inner arms reduces the retail price of a "leather" sofa by about $200.
The other major hidden raw material cost is the foam.
Cheap 1.8 density foam is indistinguishable from more expensive 2.5 density foam in a brand new sofa cushion.
1.8 or 2.0 density foam cushions will not last 10 years.
For some people, they will retain  their resilience and comfort for 5 years.
For many others, cheap foam cushions will flatten out and lose their initial comfort within 3 years.
For a 320 lb. man, 1.8 or 2.0 density foam cushions will be completely worn out within 1 year.
2.5 density will last much longer, but it increases the cost of an average sofa by at least $100.
Coil spring cushions last longer than foam.
They still need good foam padding above the coils to create comfort, but much less than for solid foam core cushions.
Coil spring cushions, padded with thin layers of higher density foams, retain their initial feel and comfort far longer than the cheap foam cushions currently dominating the furniture industry.
Until recently, long-lasting coil spring cushions were available primarily as options for high end brands.
Hydeline is using coil spring/foam hybrid seat cushions.
Hydeline's coil spring/foam cushions have three foam layers nesting fabric wrapped pocketed coil springs.
The top foam layer is 2.25 density.
The second layer is memory foam. Memory foam is denser and more resilient than polyurethane foams. (It's also more expensive.)
The pocketed coil springs are next.
A third foam layer with 2.25 density foam supports the pocketed coil springs.
This hybrid cushion construction is made exclusively for Hydeline in the U.S.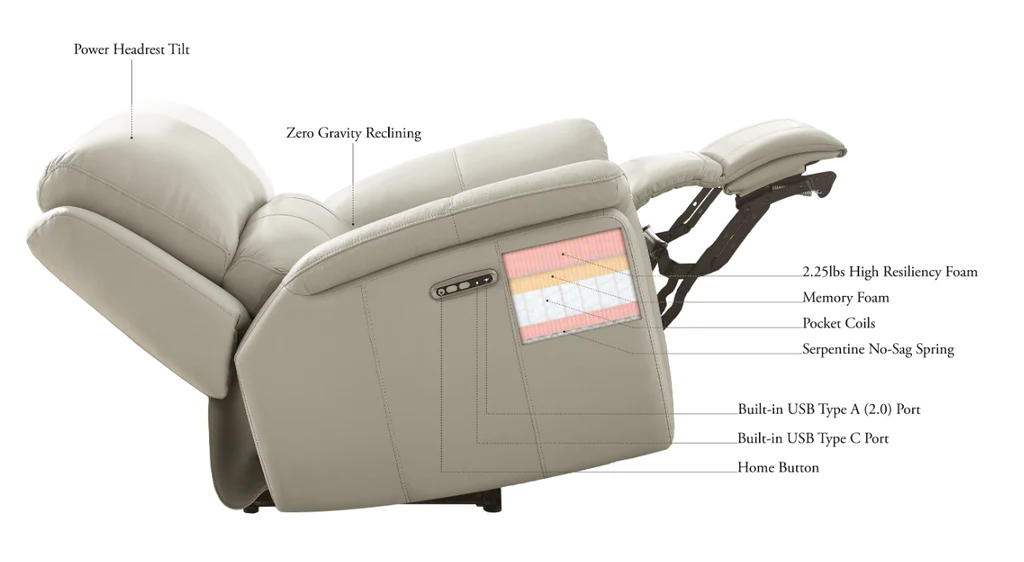 So, why am I so confident, these hybrid cushions will have a much longer lifespan than standard foam cores?
IKEA has been selling a similar hybrid cushion construction for over 10 years.
Many of these are used in sofas priced below $1000.
IKEA sofa & cushion construction
IKEA's coil spring/foam hybrid cushions also have 2 foam layers above pocketed coil springs, but no foam below.
Hydeline's foam specs (2.25 density and memory foam) are more durable (and more costly) than the foam used in IKEA's cushions.

IKEA's two foam layers use 2.0 and 2.2 densities.
There is no foam layer beneath the pocketed coils.
This may be the reason for the frequency of comments about IKEA's cushions being "too firm."
How long do coil spring/foam hybrid cushions last in IKEA's cheap sofas with flimsy frames?
$550 IKEA sofas with coil spring/foam hybrid cushions are lasting 8 – 10 years – and still going strong for many of their customers.

For more detailed information, please see my article, IKEA Sofas – All the Experts are Wrong!
In your question at the top of this article, you stated that you liked the Hooker Lyra zero gravity reclining sofa.
Here is how the Hydeline and Hooker Lyra reclining sofas compare with each other:
Frame: Hydeline is solid hardwood and hardwood plywood.
Hooker is plywood only. Both frames should last at least 10 years.
Leather: Hydeline is semi-aniline top-grain leather with leather-match.
The couches have top grain leather on the seats, backs, and inside arms. Matching polyurethane synthetic leather is used on the outside parts.
An all-top-grain-leather option is available for a $200 additional charge.
Note: Polyurethane synthetic leather is not the same as bonded leather.

Never buy anything with bonded leather.
Hooker is leather/split leather – The top grain leather used is the same quality semi-aniline that Hydeline uses on their inside parts.
Split leather (the bottom grain of the hide that is left over after the top grain has been removed) is used on the outside parts instead of polyurethane.
Split leather is less durable and harder to clean than the polyurethane synthetic leather.
The primary advantage of split leather is that it allows furniture companies to truthfully advertise their furniture as all-leather, at a price about $200 less than if the entire piece was covered in top grain leather.
The costs of split leather and polyurethane leather match are similar.
Hydeline offers leather/split leather for its non-reclining sofas and chairs. It is less practical on reclining furniture.
Cushions: Hydeline's cushions have a top layer of 2.25 density high resiliency foam, followed by a layer of memory foam.
Next come the fabric wrapped pocketed coil springs followed by a sinuous wire foundation. (See photo below.)
For someone weighing 320 lbs., these cushions should last at least 5 years – and hopefully several years longer.
Ask Hydeline's customer service if it is possible to special order extra-firm cushions.
Hooker's seat cushions are 2.0 density foam wrapped in polyester fiber.
For someone weighing 320 lbs., 2.0 density foam cushions will probably flatten out within 1 year.
Seat depth: Hydeline: 22″ vs.  Hooker: 21″. That 1″ difference in depth could make a difference to someone 6 ft. 6″ tall.
Special order custom options: Hydeline accepts special custom orders. Examples include:
Special leather colors
Top-grain leather on the entire couch instead of leather match.
The firmness of the seat cushions can be adjusted.
I have not discussed this with anyone at Hydeline, but it should be possible on a special order, to reinforce the frame to make it even stronger.
Hooker does not accept special orders other than what is available from the retailer. 
Hydeline is made in China.
It is the only Chinese made brand I have ever recommended in my blog.
Before writing this article, I visited the Hydeline factory showroom in High Point, NC. to examine their furniture in detail. 
Hydeline is the Direct-to-Consumer brand of Amax,  a major supplier of leather furniture to large retail chains. It can be found in Costco under the Prospera Home brand.
Hydeline's warranty is 10 years on frames, 5 years on mechanisms, and 1 year on foam.
This is pretty standard for upholstered furniture. The same warranty can be found for brands that are both less and more expensive than Hydeline.
Extended warranties are not available and are never a good value where they are available.
Please check out my article, What Do Furniture Warranties Really Protect? 
In your specific case, you should be aware that any furniture warranty may be difficult to enforce.
Most manufacturers and retailers will argue that use of their furniture by someone weighing 300 lbs. violates the "normal use" exclusionary clause that is found in all furniture warranties.
In my opinion, Hydeline makes the sturdiest and most durable reclining sofas up to the $5000 price level.

If you read my article, Natuzzi Editions vs. Palliser – Which is Better? it should be obvious that Hydeline's leather reclining furniture is better quality and will last longer than both of those brands at similar prices.
If you like my Insider's Guide To Furniture, please encourage your friends and family to check it out.
My 45 years in the furniture industry have provided a detailed knowledge of furniture brands, construction, quality & value.
Over the past decade, I have written over 2,000 articles, reviews, and answers, seen by over 2 million viewers.
If any company or individual feels that the information on this website is out-of-date or inaccurate, please let me know and it will be promptly corrected.
Important Note about advertising on this website:
I do not solicit or accept payment from any of the brands reviewed or mentioned on InsidersGuideToFurniture.com.

Despite this, you may see ads on the website. These ads are generated by Ezoic.

Ezoic is a Google platform for website publishers. It is completely automated!

I do not have contact with any of the companies or agencies that choose to advertise on this website through Ezoic.