Are there any high quality, affordable 8-way hand tied couches?

I have searched your website, but can't find what I'm looking for.

I'm replacing a 20-year-old 8-way hand tied sofa with spring down cushions.

I know they don't make them like they used to.

Should I get my old couch reupholstered?
Answer:
Reupholstery may be a good option for you.
If you prefer a new couch, high quality 8 way hand tied seating is available.
Most 8 way hand tied sofa, when combined with high quality cushions, will last for 20+ years.
8 way hand tied sofas usually begin around $3000 in fabric or $5000 in leather.
Depending on the fabric or leather grade and custom options selected, prices can go much higher.
If you shop carefully, you may be able to find 8 way hand-tied sofas priced under $3000.
Mantle Furniture makes high quality 8 way hand tied sofas beginning under $2500.
Mantle is a family owned company. The same family also owns Temple Furniture, and has been making high end 8 way hand tied seating in North Carolina for over 60 years.
Quality is similar to well-known brands such as C.R. Laine, Bradington Young, Sherrill, Lee Industries, Huntington House, Temple Furniture & Taylor King.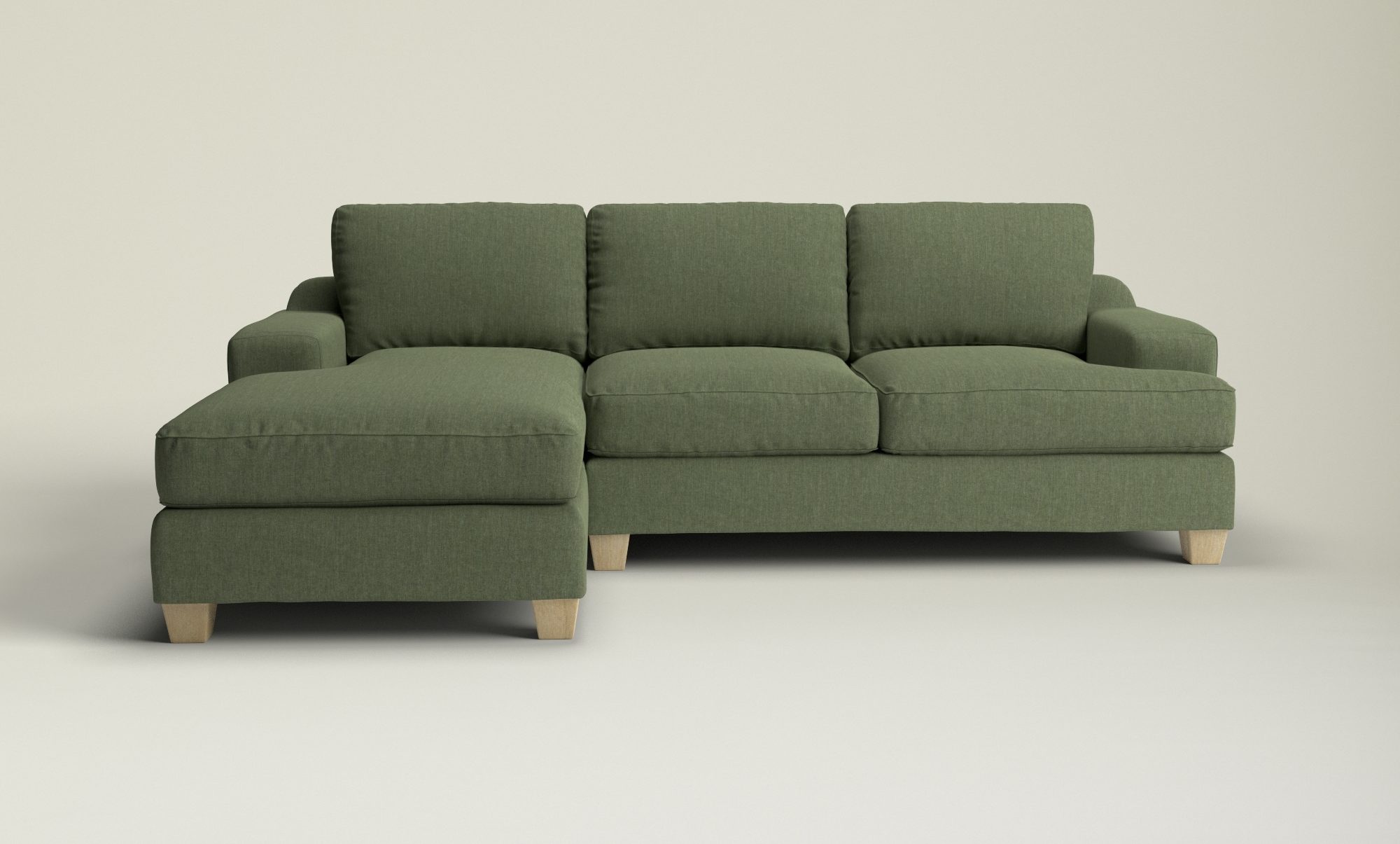 Mantle Furniture affordable 8 way hand tied sofas and sectionals.
The company has several advantages over other 8 way hand tied sofa brands.
Mantle sells Direct to Consumers.

No retailer markup.

Quick shipping.

Outstanding customer service.
Mantle sells Direct to the Public.
The company offers a limited product line with only 4 styles currently.
Each style is available in multiple sizes plus additional custom sizes.
Fabric and leather selection is limited. COM (Customer's Own Material) orders are accepted.
Custom options listed on the website include cushion types, wood colors, trims.
Additional custom options are available upon request.
Lower prices for 8 way hand tied upholstered furniture.
Bypassing retailers allows Mantle to offer lower prices than similar quality furniture sold by other brands.
Mantle is the only brand I know of selling custom-built 8 way hand tied couches for less than $2500.
Quick Shipping for Custom built sofas & sectionals.
Mantle builds and ships its 8 way hand tied seating in only 4 – 8 weeks.
Most custom manufacturers of 8 way hand tied couches and sectionals require 12 – 24 weeks for manufacturing & shipping.
Custom options, not listed on the website, may increase the production time.
Outstanding Customer Service
Phone calls & emails to Mantle are promptly answered by a small, but exceptionally knowledgeable, customer service staff.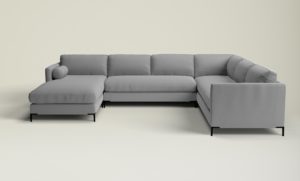 Mantle offers a minimal product line with limited options.
Only 4 styles are currently offered.
The limited selection helps keep prices down and speeds up shipments.
The current fabric selection includes fewer than100 fabrics and a dozen leathers.
4 wood finishes are offered.
Mantle's website does not show cushion options, but 10 different cushions are available.
My strong recommendation is to avoid the standard 2.05 density foam cushions.
Upgrade to the 2.55 density Qualux foam or Spring Down cushion options.
Both cushions should provide 15 to 20+ years of comfortable sitting.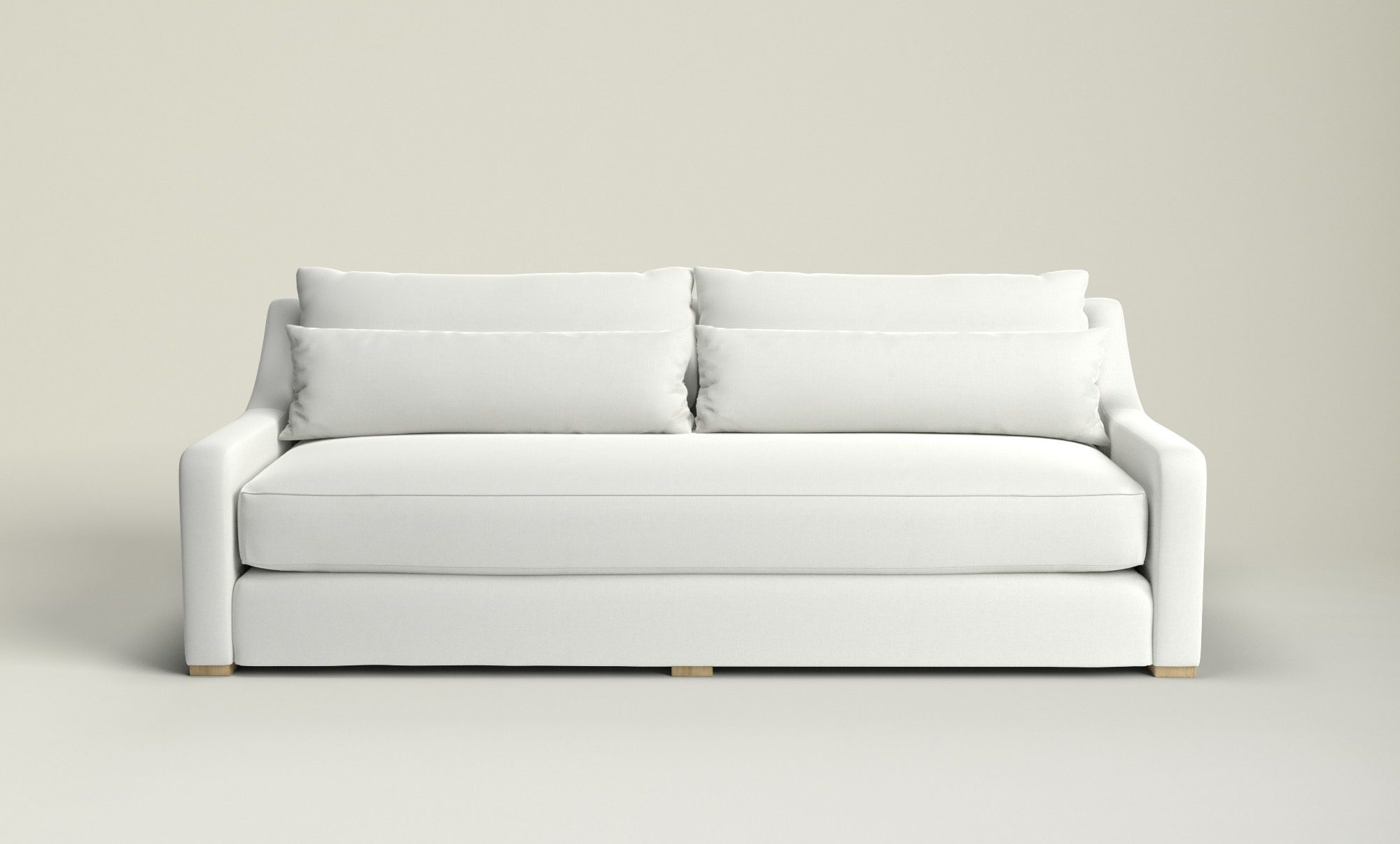 Each Mantle style is available in multiple sizes & configurations.
Each of the 4 style groups includes 1 chair size, 2 loveseat sizes, 4 sofa sizes, & 7 sectional configurations.
Additional custom sizes can be ordered.
Special lengths and seat depths are available upon request.
Modified arm and back heights are also available.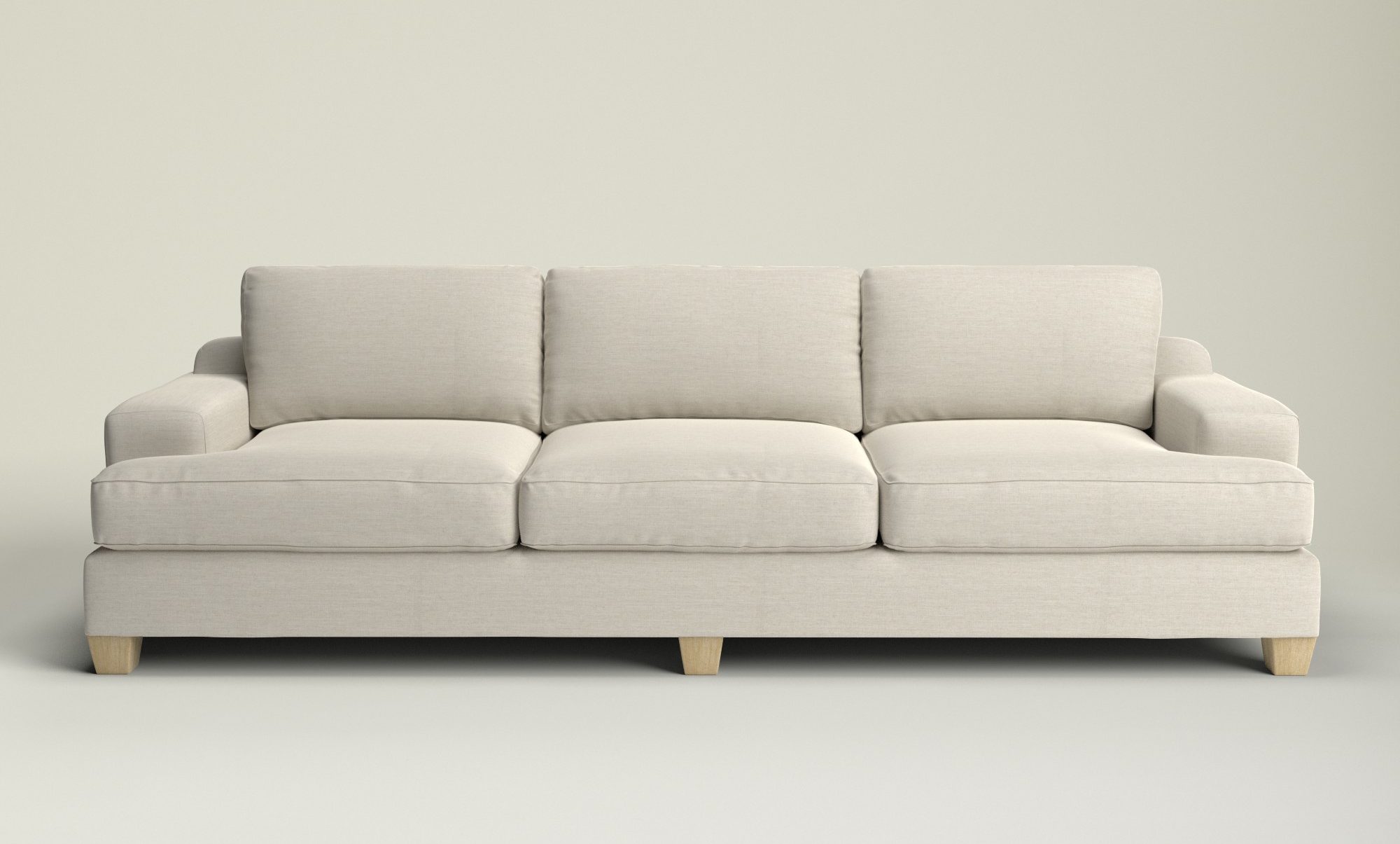 Frames are 7/8″ hardwood plywood with 13 plies.
Most high end plywood frames are 7/8 inches thick, but have only 7 plies.
The additional plies make the frames stronger.
They are more durable than many 4/4″ solid hardwood frames.
Frames are backed by a lifetime warranty and should last 20+ years.
Spring systems (foundations) are all 8 way hand tied.
Multiple cushion options are available.
Standard cushions are 2.05 density Qualux® foam with a 21 ILD firmness rating*.
This cushion should last 10+ years (for average size people.) It is a plush "soft" cushion.
Optional 2.55 density Qualux® foam cushions with a 31 ILD firmness rating*.
This is an extra firm cushion that should last 15+ years.
Spring down cushions are not currently on the Mantle website, but are available upon request.
Spring down cushions should last 15 – 20+ years with little or no loss of shape, firmness, or comfort.
The Spring down cushions are firmer than the standard 2.05 density foam cushions, but softer than the 2.55 density extra-firm cushions.
Spring Down cushions are a good choice for larger than average individuals.
Other cushion options are also available.
A foam's ILD firmness rating does not affect cushion lifespan.
Foam density does affect lifespan.

Higher densities last longer (and cost more.)

2.5 density foam cushions will last 3 times as long as 1.8 density cushions.
Qualux® is widely considered the highest quality polyurethane foam brand.
Learn more about foam in my blog article What is the difference between a sofa cushion's foam density and firmness?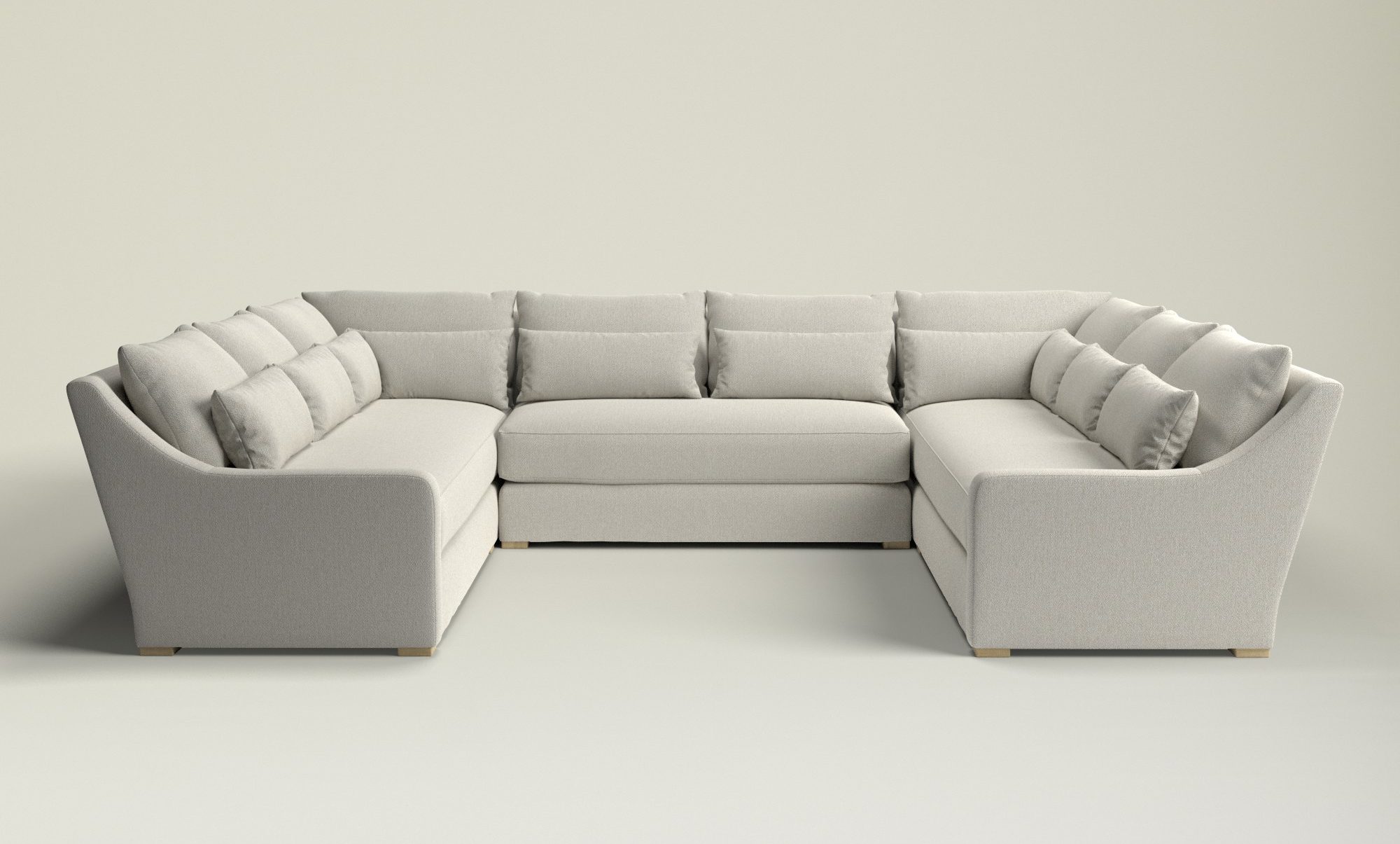 Mantle is owned by the same family that has owned and operated Temple Furniture for over 65 years.
Mantle's office is across the street from Temple's factory and headquarters.
Mantle's furniture is made in the Temple factory.
The casual contemporary styling is different than Temple.
The two companies do not sell the same furniture, but the quality is the same.
For more information about Mantle Furniture, contact:
Jess Brasswell, Customer Service Manager. Email: support&mantlefurniture.com. Phone: 833-622-1848
If you have enjoyed your current sofa for 20 years, reupholstering is probably a good option for you.
Selecting a heavily discounted, discontinued fabric can greatly reduce reupholstery costs.
Thousands of discontinued fabrics can be found online and in fabric stores.
Fabric can be a major cost of reupholstery.
If you are working with an interior design professional, they will probably recommend a "designer fabric" priced at $30 – $50 per yard (or more.)
They may not tell you about the huge selection of high quality "discontinued" designer fabrics available for less than half the price.
Finding the perfect discount fabric may take time and effort, but you can save hundreds of dollars.
Online fabric sellers will mail swatches to your home.
For more information about discounted fabrics, see my article, Do Discount Fabric Stores & Websites Really Sell Quality Fabrics at 50% Off?
If you like my Insider's Guide To Furniture please encourage your friends and family to check it out.
My 45 years in the furniture industry have provided me with a detailed knowledge of furniture brands, construction, quality & value.

Over the past decade, I have written over 2,000 articles, reviews, and answers, seen by over 2 million viewers.

If any company or individual feels that the information on this website is out-of-date or inaccurate, please let me know and it will be promptly corrected.