I have been deeply involved with new product design & upholstered furniture manufacturing over the past 30 years.
Previously, I purchased over $100 million of furniture as a buyer for a major furniture retail chain in the 1970s & 1980s.
Please send me your comments & questions. I will respond promptly.
Ekornes Stressless recliners and reclining sofas are among the best in the world for both quality & comfort.
I am writing this Ekornes Stressless recliner and reclining sofa review while sitting on a Stressless leather recliner purchased in the 1990s.
It still looks & feels like new.
It is the most comfortable chair I have ever owned.
Ekornes is a Norwegian furniture brand, built in the USA.
Ekornes was founded in Norway in 1934. The Stressless reclining furniture brand was introduced in 1971.
Most Stressless sofas sold in the U.S. are built in the company's 200,000 sq. ft. Morganton, North Carolina factory.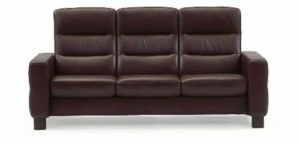 Stressless offers both motorized & manual recliners & reclining sofas.
Both manual and power models provide extremely comfortable, highly durable ergonomic seating.
Power mechanisms are growing in popularity, but the Stressless manual mechanisms are something special. 
Shifting positions is effortless (even easier than pressing a button.)
The seat automatically conforms to your body, adjusting to whichever position is most comfortable for you.
No need to worry about power outages or motor breakdowns.
Manual styles can save hundreds of dollars compared with powered versions.
Stressless recliners are amazingly comfortable & built to last a very long time.
This is Top of the Line furniture, designed to last 20 years and more.
Inner frames are built with steel. Exposed frame parts are fabricated using 32 layers of steam-bent beech plywood.
This is an expensive way to build a frame, but it is beautiful and extremely durable.
Cushions are constructed with contoured high-pressure molded foam.
Contoured molded foam is too expensive for most residential seating. It's found in automotive and high-use commercial seating.
Those applications require better-quality cushions that keep their shape and firmness far longer.
Advantages of contoured molded foam (over conventional polyurethane foam) include:
Higher resilience (ability to bounce back after use) and long-term durability.
Sustained comfort during long periods of sitting.
Does not lose its shape or firmness.
Stressless specializes in leather reclining furniture.
You don't need to worry about "bonded leathers," "leather match" or other faux leather alternatives. This is the real stuff!
Several different leather grades are available. High-performance fabrics are also offered.
The top leather grade is superb but can add several hundred (or thousand) dollars to the price of your Stressless furniture.
The lowest cost base-grade leathers are excellent quality and will last 20+ years.
The base grade leather on my personal Stressless chair still looks great and feels soft after more than 20 years.
Free leather upgrades are occasionally offered if you shop around.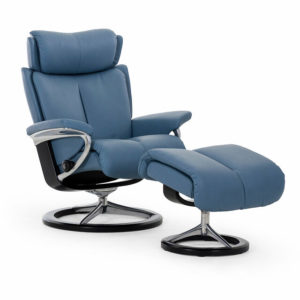 The Stressless reclining chair design is an amazing technological achievement.
Stressless reclining chairs can rock, swivel 360 degrees, and provide lumbar and head support. Some open all the way back into a sleeping position.
Those features aren't special. Other recliners can also do those things.
The difference is that "other" recliners are prone to mechanical failures. Cushions wear out. Fabrics and fake "leather" fall apart.
Reclining furniture is the source of more consumer complaints than any other single furniture category.
Stressless recliners are engineered to last a lifetime.
Cushions still feel brand new after 20 years.
All the delicate mechanical parts have been replaced with a "simple" (but not cheap or easy to duplicate) mechanical system.
The reclining mechanism works effortlessly. It is ingeniously designed to function flawlessly without wearing out or breaking down.
Top-quality leather (including the base grade) will also last 20 years and more.
Watch how a Stressless chair is made.
Of course, not all Stressless furniture will make it through 20 years without needing some part replaced.
When repairs are needed, the seating can be disassembled, and the damaged part replaced.
That is not the case for many lower-quality recliner brands.
Peeling bonded leather, worn-out seat cushions or other common problems can be expensive to repair.
These may cost almost as much as a new piece.
Stressless also features Home theater seating, optional ottomans & tables.
One unusual accessory is the "elevator ring." This is designed to increase the seat height for Stressless recliners with round bases.
Modern style European seating is usually a few inches lower than American seating.
The elevator ring increases the seat height to make the furniture feel more "American."
Shopping for Stressless recliners & reclining sofas can be tricky.
There is more than one Stressless website and they feature different products. You cannot purchase directly from the manufacturer.
Some models and leathers may be restricted and not available to all Stressless retailers.
Prices can vary widely from store to store based on the model, options, and leather grade.
Reclining chair & ottoman prices range from $1800 to $5000+.
Reclining sofas range from $5000 to $10,000+.
Optional upgraded leathers can add several hundred (or thousand) dollars to a sofa's price.
Individual retailers may offer limited-time special pricing on specific models.
There is more than one Stressless website and they feature different products. You cannot purchase directly from the manufacturer.
Some models may be restricted and not available to all Stressless retailers.
Does Stressless ever go on Sale? 
How can I find Stressless Discounts or Sale Prices?
The InsidersGuideToFurniture.com blog may be able to help.
Sometimes we have access to discounts that are not available to the general public.
If you are seriously interested in purchasing Ekornes Stressless furniture, contact me.
Use the comment section below. I respond promptly.
Check out my blog article, Who are the Best American Reclining Sofa & Sectional Brands?     18 different brands are reviewed & rated.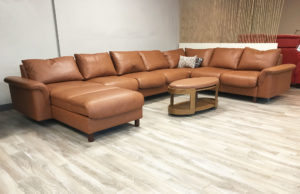 Stressless reclining furniture is incredibly comfortable and well-built. But it is expensive.
Important Stressless Update 10-18-2022
I have been noticing that there seem to be far more complaints about Stressless over the past few years.

I had attributed many of these complaints to temporary problems resulting from the company's Morganton, North Carolina factory expansion from 100,000 to 200,000 sq. ft.

The expansion was completed in September 2022.

It now appears as though there may be another factor in play here.
In 2018. Ekornes, the parent company of Stressless, was sold to the Chinese Group Qumei.

Stressless accounts for 70% of Ekornes' total sales.
This acquisition has not been reported in U.S. furniture trade publications, but there is an article published in Hong Kong, dated 10-18-2022, detailing serious problems with the merger.

The merger is being described as "the snake that swallowed the elephant."
Apparently, Qumei has suffered serious financial losses since the merger.

Ekornes sales and profits have dropped since the merger took place.

This has placed additional stress on top of the heavy debt Qumei took on to acquire Ekornes.
On top of that, the Chinese economy and real estate development has been weak.

Although U.S. sales are growing strongly, European sales (an even larger market) have declined.

As a result, overall sales have not increased since Ekornes was acquired in 2018.
Qumei's brand philosophy and marketing strategy is completely different than what succeeded for Ekornes over its 80 year history.

The Ekornes brand philosophy and marketing strategy was slow and stable growth, generating high profit margins and long-term dividends.

New products were introduced gradually, allowing them to be perfected before being introduced to the marketplace.
Qumei's stated objective has been to rapidly increase Ekornes (and Stressless) sales.

To achieve this goal, the company has been rapidly introducing new products.
The majority of these new products are motorized reclining pieces.

In the entire furniture industry, the motorized reclining furniture category has the highest rate of problems and complaints.
This rapid expansion of product lines, especially into motorized seating, is apparently creating quality problems for a brand that had carefully cultivated an 80 year reputation for excellence..

Check out these recent TrustPilot reviewsfor a sample of what this means.
Overall, my feeling is that the older manual style Stressless pieces are probably still being made at a top quality level.

I would stay away from their newer styles, especially those with motorized mechanisms.
If Stressless is out of your price range, check out
Fjords.
Fjords is also a Norwegian company. Its styling and functionality are similar to Stressless at a lower price.
Fjords reclining furniture is sold nationwide.
I have not personally tried out any of the Fjords products, but they seem to have an excellent reputation.
Know someone who might be interested in this post? Please like and share this post with them. If you have questions or comments please leave them below.