Is Lovesac good quality?
Is it worth the very high price?
I'm thinking of buying a new Lovesac sofa with the embedded speaker system (about $5440 after tax and discounts).

But the Lovesac price makes me hesitate.

I understand the benefits of the Lovesac that makes it higher priced, and especially that the Lovesac has speakers, but I just don't know if it's ultimately worth the money. So difficult to decide.
Answer:
LoveSac is an ingenious design, with lots of bells and whistles.
But the furniture is not high quality despite the price.
From a purely price perspective, Lovesac definitely fits the "high end" furniture definition.
In my review article, 65 Bad, Better & Best Sofa Brand Reviews for 2023, the high-end (Best) category is defined as including brands whose sofas are $3000 or higher (in fabric.)
A basic Lovesac 3 seat sofa (without electronics) is priced around $4000 ($3550 on sale.)
In my Best category, I review 20 different brands. Each gets numerical scores for quality and value.  
Most of the high end brands reviewed have scores of 7 or 8 for both quality and value. A minority of the brands score 9 or 10 for superior quality or value.
I rated Lovesac at 4 in quality and 2 in value.
These are the lowest scores out of the 20 high end brands.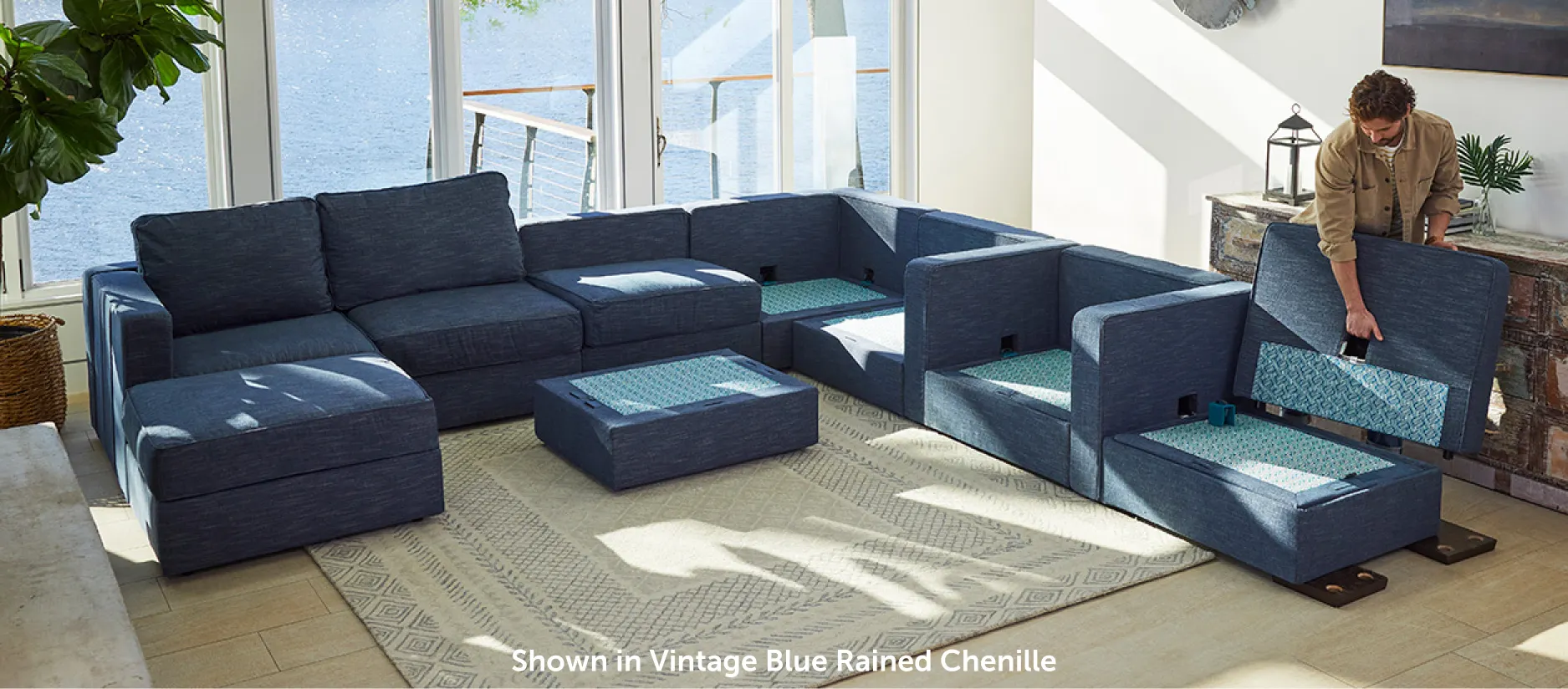 Lovesac is inferior quality and a poor value compared with other brands selling at similar prices.
Basically, Lovesac will not last as long as other brands in the same price range and is less comfortable
It is not built for long-term durability, and is not particularly comfortable after just a few years of use. (Larger size individuals or kids who like to jump on furniture will wear it out even faster.)
The vast majority of brands listed in the high-end section of my article will last 15+ years.
Achieving a 15+ year sofa lifespan requires high-quality cushions made with 2.5 density foam, Spring Down, or equivalent. Most of the high-end brands have optional cushion upgrades.
Lovesac's frame and foundation should hold up for 10 years, but the cushions won't come close.
Lovesac offers a 3 year warranty on its cushions. If you have above average size individuals in your family or active kids who like to jump on cushions, you may get less than 3 years comfortable use from the cushions.
Replacement cushions are available, but they are extremely expensive.
LoveSac is especially strong at Marketing. They make a very determined effort to secure positive reviews from customers who have recently received their furniture and have not yet experienced problems.
If you look at reviews from customers who have owned their LoveSacs for more than a year, the complaints overwhelm the compliments.
LoveSac salespeople make a very big deal about the "Lifetime Warranty."
Furniture warranties are legal documents designed to protect furniture companies, not consumers. Very little is actually covered for a "lifetime." Broad exclusion terms nullify nearly everything that most people think is covered.
The Lifetime Guarantee protects against "manufacturer defects." But the warranty does not apply to "failures stemming from use, abuse, or excessive wear."
Unless the damage occurs during shipping, and is noticed immediately, almost 100% of future complaints will arise from one of those exceptions.
This includes worn out or uncomfortable cushions, fabric defects, frame failures and more.
When checking for customer reviews, you should ignore those on the Lovesac website. 
Lovesac has complete control over reviews on its website and can edit or delete reviews without notice.
More accurate reviews can be found on independent customer review sites. These include:
Lovesac is included in the high-end (Best) category based on its price.
There are several brands in the lower priced "Better" category that are far better in quality and should last at least twice as long.
For example, Mantle Furniture makes a 3 seat sofa with 8 way hand tied construction and 2.5 density cushions that should last 15+ years. The price is $1500 less than an equivalent Lovesac.
Other brands priced $500 – $1000 less than Lovesac (for a 3 seat sofa), that should last at least twice as long include: Medley Home, Maiden Home, Simplicity Sofas, Kincaid, King Hickory, and Omnia.
If you like my Insider's Guide To Furniture please encourage your friends and family to check it out.

My 45 years in the furniture industry have provided me with a detailed knowledge of furniture brands, construction, quality & value.

Over the past decade, I have written over 2,000 articles, reviews, and answers, seen by over 2 million viewers.

If any company or individual feels that the information on this website is out-of-date or inaccurate, please let me know and it will be promptly corrected.

Important Note about advertising on this website:

I do not solicit or accept payment from any of the brands reviewed or mentioned on InsidersGuideToFurniture.com.

Despite this, you may see ads on the website. These ads are generated by Ezoic.

Ezoic is a Google platform for website publishers. It is completely automated!

I do not have contact with any of the companies or agencies that choose to advertise on this website through Ezoic.