There are many different types of furniture. I will confine this answer to upholstered furniture only.
Cushion construction is the single most important factor in determining the comfort and lifespan of your couch, sofa, or chair.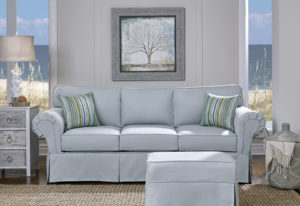 Shown above – Ashton sofa by Simplicity Sofas< features standard 2.5 density HR Ultracel foam or optional spring down cushions.
A recent furniture industry survey indicated that most consumers expect their new couches to last only 3–5 years.
A similar study conducted 15 years ago indicated that consumers expected their new couches to last 7 – 10 years.
The 3 – 5 year lifespan estimate is pretty accurate.
The reason for this short lifespan, however, is very surprising to most consumers.
The natural tendency for uneducated consumers is to associate a sofa's long term durability with its frame and foundation construction,.
In reality most "cheap" frames and foundations will last 10 years or more.
Cushions are almost always the first part of a sofa or couch that will wear out and need replacement.
Standard cushions found on low and mid-priced upholstered furniture typically begin to flatten out and lose their comfort within one year.

These cushions are often completely worn out and in need of replacement within 3 – 5 years.

Cushion replacement is rarely simple or inexpensive. As a result, most people do not bother.

Non-removable cushions that have flattened and worn out cannot be replaced.

Non-removable cushions are found on most low and mid-priced leather and reclining furniture currently being produced.

Non-removable cushions have two major advantages for manufacturers and retailers.

Substantially reducing the cost of the leather (or fabric) needed. The cost savings is particularly significant when more expensive materials (such as leather) are used.
Reduction of labor costs. Furniture with non-removable cushions can be manufactured more quickly and efficiently in mass production.

Removable cushions have inner cores that are replaceable.

Most furniture companies do not go out of their way to make this replacement process easy or inexpensive.

Replacement cushion cores are not routinely offered or available from most retailers.
Manufacturers do not encourage customers to replace cushion cores.

Replacing worn out cushion cores usually means finding an independent local upholsterer who will make up custom replacement cores.

Cushions wear out quickly. They are difficult and expensive to replace.

As a result it is extremely important to get the best (most durable) cushions possible when the furniture is new.
In-stock upholstered furniture generally does not come with upgraded cushion options.

Standard cushions used for mid-range upholstered furniture have a lifespan of 3 – 5 years for average size people and average use.
Custom upholstered furniture is usually available with a choice of different cushion constructions.

It is highly recommended to choose a cushion construction that will last longer than the standard cushions available. Premium quality cushions should last 10 years or more.
Note – not all upgraded (more expensive) cushions are built to last longer.
Some optional cushion upgrades may actually decrease lifespan compared with the standard cushion construction. (These include cushions that decrease the foam core thickness and substitute extra fiber or feathers/down.)

If your sofa has non-removable cushions, upgraded options that increase the furniture's lifespan will not be available to you.
There are three basic types of cushion construction for most couches and sofas sold in the U.S.

Foam
Coil springs
Down/feathers

Many cushions are made using a combination of two or all three of these various constructions.

Foam is the most commonly sold cushion construction. It is available in several different densities.

Each foam density is available in a wide variety of different firmnesses.
Although most people think that density and firmness are synonymous they are actually very different.
Most foam suppliers typically stock 4-5 commonly used densities for residential furniture seat cushions ranging from 1.5 to 2.5. The number designates the weight (in pounds) of 1 cubic ft. of foam.
Each of these different densities may be available in 10 or more different firmnesses ranging from very soft to very firm.

The expected lifespan of a foam cushion is primarily dependent on the density and thickness of the foam.

A foam's "firmness" has very little effect on the expected cushion lifespan.
Since most consumers equate "firmness" with durability, cheap foams are often made "extra firm."
With a low density foam, however, that "extra firm" feeling will not last long.

Foams used in seat cushions for moderately priced residential furniture generally range from 1.5 through 2.0.

Lower density foams are typically used for back cushions or padding that goes over the arms or other parts of the frame.
Higher densities (2.3 – 2.8) can be found on more expensive residential furniture.
Furniture designed for heavy commercial or institutional use may use foam with densities of 3.0 or higher.

The higher the foam density, the more the cushion will cost.

Variations in firmness usually do not affect cost. HR (High Resilience) foam is slightly more expensive than non-HR foams and will last longer.
Manufacturers' descriptions rarely state whether or not the foam used is HR.
Most mid-range quality manufacturers (making sofas that sell for $999 or more) use HR foams since the increased cost is minimal.
All high quality manufacturers (making sofas selling for $1500 or more) should be using HR foams.

The most commonly used foam density for residential furniture sold in the U.S. is 1.8.

Foam that is described as "High Density" without any specific number is usually 1.8 density foam.
The foam core is usually anywhere from 4″ – 6″ thick and is typically wrapped in a dacron polyester fiber.
The fiber wrapping is generally 0.5 – 1.5″ thick on the top and bottom of the cushion.
The fiber wrap softens the feel of the cushion and fills out the corners of the cover.
The fiber will add some thickness to the total cushion height, but has no effect on lifespan.
A 4″ thick foam core made with 1.8 density HR (High Resiliency) foam may need to be replaced within 3 years (or less) with average use.
A 5″ thick foam core made with 1.8 density HR (High Resiliency) foam can be expected to need replacement within 5 years (or less.)

Actual foam densities will vary during the manufacturing process.

A variation of 0.1 is considered normal. A 1.8 density foam may actually be 1.7 or 1.9.
Larger variations are not unusual.
Density variations can occur within a single foam bun.

Many couches are sold with cheaper (and lighter weight) 1.5 density foam that will deteriorate even more rapidly, often within one year of purchase.

The overall thickness of the cushion may or may not be an indication of a cushion's durability.

"Value priced" couches will sometimes have cushions that are bulked up with several inches of polyester fiber around the foam core.

That polyester fiber will rapidly compress causing the cushion to lose its shape. Better quality sofas typically use 1″ – 1.5″ of fiber on each side of the cushion.
Lower quality couches may use up to 3″ of fiber on each side. Thick layers of fiber are a cheap way to bulk up a cushion over the short term.
Thick fiber quickly compresses and causes the cushion to lose its shape – often within one year.

If you want to get more than 5 years of use from your couch you will need to find a couch with a better quality cushion.

Higher priced couches generally use thick higher density foams with at least a 2.3 density.
Cushions supported by built-in coil springs are generally more durable than lower density foam cushions.
Down blend cushions use Down/feathers in combination with a foam core cushion.

Down blend cushions have a shorter lifespan when compared with a solid slab of similar density foam.

When down/feathers are used with either coil springs or foam cores the mixture is typically 5% (or less) down and the remainder feathers. Down is far more expensive than feathers.

More expensive furniture may use higher percentages of down. Down is much softer and plush than feathers.
100% Down/feather cushions were extremely popular in the 18th, 19th and early 20th centuries. They are far less common today, both because of the high cost and the need to fluff up the cushions every time you stand up. Down/feathers have no "resilience" and do not "bounce back" by themselves after use like foam or coil springs.

Regardless of the price that you paid for your cushions, do not expect them to be covered under Warranty.

Warranties (including extended warranties) typically state, in large bold print near the top of the warranty document, that the cushions are warrantied for an extended time period.

The warranty will clearly state that the cushions will be covered for "manufacturer's defects" for 1 year, 3 years, 5 years or more.
Exclusionary clauses, in small print, further down in the warranty document, will void the cushion protection specified in bold print.
These exclusionary clauses will disclaim responsibility for any cushions showing either "normal wear" or "abuse."

"Normal wear" includes "flattening" and "loss of shape," the two primary signs that cushions are wearing out.
"Abuse" can include any visible soil or stains (and other common conditions.)

Tip for the uneducated furniture purchaser – When shopping for a couch always test the cushions by picking them up.

As a general rule, if the seat cushions feel "light" you are looking at a couch with a very short expected lifespan.
The longest lasting cushions will be the heaviest.

Know someone who might be interested in this post? Please like and share this post with them. If you have questions or comments please leave them below.