Question:
Where can we purchase a quality 84" sofa for under $3,000?

We're tired of purchasing furniture that doesn't last!

I have been searching the Internet for a quality sofa for months.

Any help would be most appreciated. Jennifer 8-24-2022
Answer:
If you need to "try out" a sofa in a store before buying, Pottery Barn offers good quality sofas in multiple sizes in the $2000 – $3000 price range.
They also have cheaper (lower quality) sofas.
Crate & Barrel offers similar looking sofas at similar prices, but many of their pieces use flimsy Flexolator seat support foundations.
Flexolators are the cheapest and most fragile foundation available.
They are usually found on sofas selling for less than $1000.
Pottery Barn uses sinuous wire foundations.
Sinuous wire is inexpensive and doesn't add to the sofa's comfort like 8-way hand tied.
But they should last 10 – 20 years without problems for most people.
Pottery Barn's seat cushions are made with 1.8 density foam. 
In a normal three seat sofa, the cushion cores would probably need replacement after 5 years (or fewer for people weighing over 200 lbs.)
But most of Pottery Barn's sofas use larger cushions.
The sofas have one or two large cushions instead of three smaller ones.
Larger cushions last substantially longer than smaller cushions.
If you find a sofa that you like, check out comparative pricing at

 Furnitureland South.
Furnitureland South is the world's largest furniture store (1.3 million sq. ft.) selling over 1000 different brands.
Half of their sales are made online.
They ship all over the world.
Furnitureland South offers special discounts to readers of my blog.
I have arranged for one of their most experienced design consultants to personally assist my blog readers with design advice and special pricing.
If you have any questions Contact:
Jason Campbell, Design Consultant
jasoncampbell@furniturelandsouth.com
Mobile:  336.324.7678 | Phone: 336.822.3243
Direct-to-Consumer manufacturers offer especially good values in the $2000 – $3000 price range.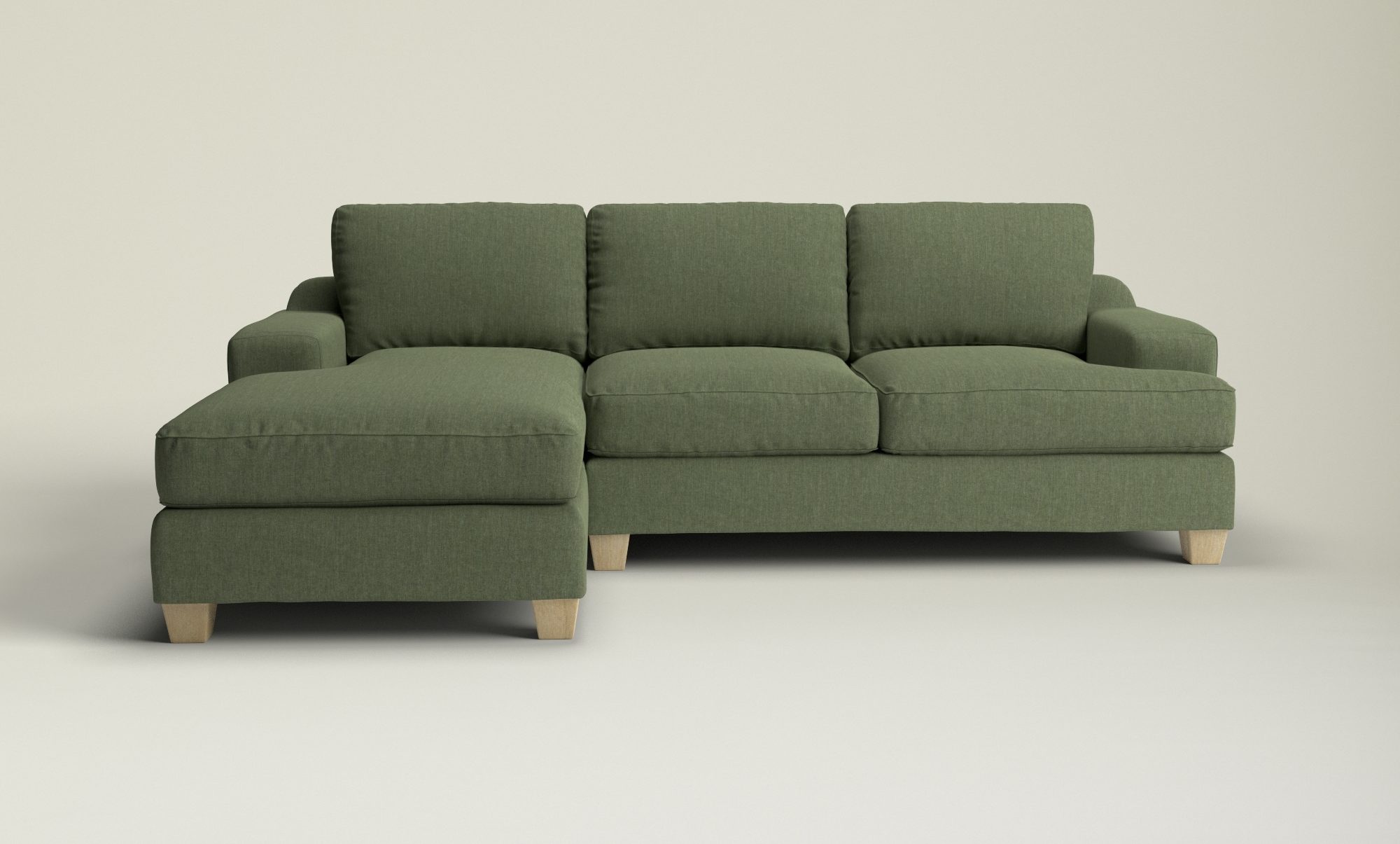 Mantle Furniture makes custom-built 8-way hand tied sofas starting at $2000.
This is a North Carolina manufacturer that bypasses retailers and ships direct to the public.
Mantle's website lists sofas in 80″, 90″, 100″ & 110″ sizes.
In-between custom sizes, including 84″ are also available.
Shipping times are 4 – 8 weeks.
Mantle is built with 8-way hand tied construction, the most expensive and comfortable seat suspension anywhere.
They have 3 cushion options:
2.05 density plush foam (Should last 10+ years before core replacement is needed.)
2.55 density extra firm foam (Should last 15+ years before core replacement is needed.)
Spring Down  cushion firmness is in-between the first two cushions.
They should last 15+ years with very little loss of firmness or shape.
The Spring down option is not currently on the website. You would need to request pricing.
Check out my latest blog article:
Where Can I Find a High Quality 8 way hand tied Sofa at a Reasonable Price?
The article includes a review of Mantle.
For additional information about Mantle contact:
Jess Braswell, Customer Service Manager
Tel. 833-622-1848
Simplicity Sofas is also a manufacturer selling exclusively online, direct to consumers.
They make incredibly durable (solid oak frame) sofas in the $2000 – $2500 price range
These sofas are designed to last forever (really!)
Check out my article, Why Can't Sofas Last Forever? for a description of the unique design and construction.
Simplicity Sofas does not offer any discounts.
They do not do custom sizes.
They make 78″, 80″ and 88″ sofas only.
Warning! – The company has a huge order backlog and according to recent reviews is terrible about answering phone calls and emails.
Disclaimer – I founded Simplicity Sofas in 2007 and retired 6 months ago.

I do not receive any payment or compensation if any of my readers choose to purchase from this brand (or any other company mentioned in the InsidersGuideToFurniture.com)
For additional information, contact:
Martha Bustamante
Tel. 800-813-2889.
The company contracts with several small manufacturers for exclusive designs.
In general, the line offers good quality sofas in the $2000 – $3000 price range.
The quality and construction may differ among different models.
Some pieces have 8 way hand tied foundations. Many do not.
I do not have any special pricing arrangement with Maiden Home.
Please check out my blog article Sofa Durability vs. Cost: How to Buy a Long-Lasting Affordable Couch.
Know someone who might be interested in this post?
Please like and share this post with them.
If you have questions or comments please leave them below.