Why do your Flexsteel reviews seem so negative?
I've read a lot of articles and spoken to people who tell me that Flexsteel makes top quality furniture.

I've seen several reviews from people who say they have enjoyed their Flexsteel furniture for 15 or even 20 years.

Why do your Flexsteel reviews seem so negative?
Answer:
Flexsteel Quality rating: 7.5 / Value Ranking: 7.5
Flexsteel's quality has improved recently.
My biggest concerns, expressed in my older articles and detailed below, have been addressed and corrected by the company.
Update: As of 9-6-2023, many of the improvements that Flexsteel told me they would be making have not occurred.

Cushion foams have not all been upgraded from 1.8 density to 2.0 density.

Many of their products are still being made with 1.8 density foam.

Flexsteel is still using composite cushions with 1.2 density central foam cores with thin 1 inch strips of high density 2.5 density foam above and below the low density core.

In my opinion these composite cushions will not last even as long as 1.8 density foam core cushions.
Flexsteel is currently making above average quality seating in their price range.
My Quality/Value ratings for Flexsteel (listed above) have recently increased by a full point.
The rating scores were raised after viewing Flexsteel's current product line at the April 2023 International Home Furnishings Market in High Point, NC.
 If you want to compare Flexsteel with other reclining furniture brands, check out my article, 25 Reclining Furniture Brands Reviewed for 2023.

My review article, 65 Sofa Brand Quality & Value Ratings for 2023 compares Flexsteel with other mid-range stationary (non-reclining) sofa brands.
Flexsteel has a long reputation for quality among U.S. furniture brands.
Flexsteel's blue flat steel spring support foundation has always been the most durable in the furniture industry since it was first introduced over 100 years ago.
Unfortunately, over the past decade, quality standards for other components have slipped, affecting Flexsteel reviews.
Prior to 2010, Flexsteel-built seating, made in the USA, often retained its comfort and functionality for 15+ years.

Flexsteel seating produced from 2010 through 2022, mostly built in Asia and Mexico, rarely lasts that long.

In 2023, most Flexsteel furniture is still built in Mexico and Asia, but quality appears to be improving.
Over the past 12 years, Flexsteel has undergone a major transformation.
Beginning with the 2007 – 2010 Recession, the company suffered multiple financial crises and management changes.
Flexsteel's product line, construction, and quality have frequently changed in recent years, not always for the better.
Over the past few years, Flexsteel closed down most of their U.S. furniture manufacturing facilities.
Prior to 2010, reclining furniture represented less than 25% of Flexsteel's total sales.
Today, reclining furniture accounts for over 70% of Flexsteel's business.
Reclining furniture has been the fastest growing segment of the furniture industry over the past decade.
Reclining seating is also the biggest source of complaints by furniture purchasers during that time period.
Because of widespread reclining furniture problems throughout the industry, my Flexsteel reviews have often been critical.
Bonded leather & Cushion problems have generated the most complaints.
Bonded leather was first introduced in 2010.
At that time, excellent 100% synthetic polyurethane and vinyl faux leathers were available.
But these synthetic materials were shunned by the overwhelming majority of furniture shoppers.
Bonded leather represented a major marketing breakthrough.
Because it could be truthfully be described as "partially real leather," salespeople were able to overcome consumer aversion to purchasing furniture made with vinyl or polyurethane.
Some salespeople informed their customers that the " 16 -20% real leather content" made it better than 100% synthetic faux leathers.

Other salespeople did not bother to explain the difference between "bonded" and "real" leathers.

Customers often just assumed the material was "real leather" and the salesperson did not correct their wrong assumptions.
Millions of customers thought they were buying "real leather" furniture at cheap prices.
These misperceptions have resulted in hundreds of thousands (or possibly millions) of consumer complaints about peeling and flaking "leather" over the past 12 years.
Fortunately, most furniture retailers stopped ordering bonded leather furniture a couple of years ago.
Bonded leather has largely been replaced in residential seating by 100% synthetic polyester, polyurethane and composite polyester/polyurethane faux leathers.
Many of the 100% synthetic faux leathers are virtually indistinguishable from bonded leather in both looks and feel.
Vinyl is still not fully accepted as a substitute for bonded leather.
Although vinyl has become widely accepted on leather-match seating, most consumers still seem to be resistant to using vinyl on entire pieces.
Bonded leather is still widely used for cheap office seating & small accessory items.
For small accessory items, such as belts or wallets, bonded leather is usually described on labels as "genuine leather."
In the furniture industry, the term "genuine leather" is still reserved for leather made from animal hides.
Flexsteel's Nuvo leather, was introduced in 2011.
Over the years, Flexsteel has been very careful to describe Nuvo leather as a "recycled" leather, not a bonded leather.
But I have never seen an explanation of the difference.
A good description of Flexsteel's Nuvo leather can be found in the article, What is Nuvo Leather & How Good Is It?
Both "bonded" and "recycled" leathers frequently peel or flake, often within 1 – 3 years.
Since its introduction, Nuvo leather has generated thousands of customer complaints.
At the April 2023 High Point, NC Furniture Market, a Flexsteel sales manager told me it has dropped Nuvo bonded leather from its fabric lineup.
But as of today, Flexsteel furniture made with Nuvo leather, is still being advertised for sale.
For more information about bonded leather, check out my article, Why Did Furniture Companies Continue to Sell Bonded Leather After Knowing It was Defective?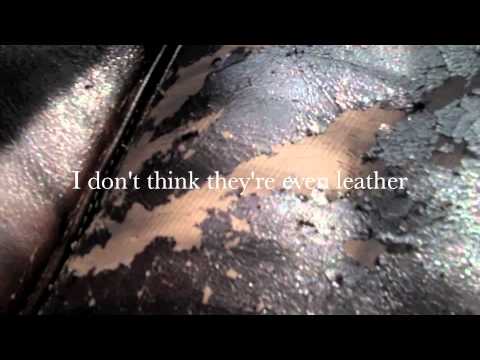 Flexsteel cushion construction
Over the past decade, Flexsteel has been constantly trying out new cushion constructions.
Foam in one of the most expensive components of upholstered furniture.
Until the Pandemic, Flexsteel's major retail customers had been applying tremendous pressure for Flexsteel (and all of its competitors) to reduce prices.
Reducing the quality and amount of foam is one way to reduce costs.
But it also decreases the average lifespan of the seating.
During the Pandemic a major blizzard in Texas shut down chemical factories for several months.
The result was a severe shortage of polyurethane foam and skyrocketing foam prices.
Many furniture factories, unable to obtain foam at any price, shut down for months.
Some never reopened.
The Pandemic's shortages, shipping problems, and other supply chain problems did have one benefit for furniture manufacturers.
Large retailers finally accepted substantial price increases from their furniture suppliers.
These were the first major price increases for the furniture industry since the Recession started in 2008.
Since the end of the Pandemic, many of the inflated costs have started coming down.
But furniture retail prices have not retreated to their former low levels.
The higher prices are being accepted by retailers and their customers.

I believe this is resulting in better quality furniture being produced.
Prior to 2010, Flexsteel sofas were made with seat cushions that often lasted 10 – 15+ years.
Since then, Flexsteel cushions and foam padding have been more likely to wear out within 5 years or less.
Various experiments to create lower-cost cushions have resulted in large numbers of consumer complaints.
One example was Flexsteel's multi-layered cushions with a 2.0 density foam core, surrounded by1.2 density foam layers.
The result was uncomfortable cushions with even shorter lifespans.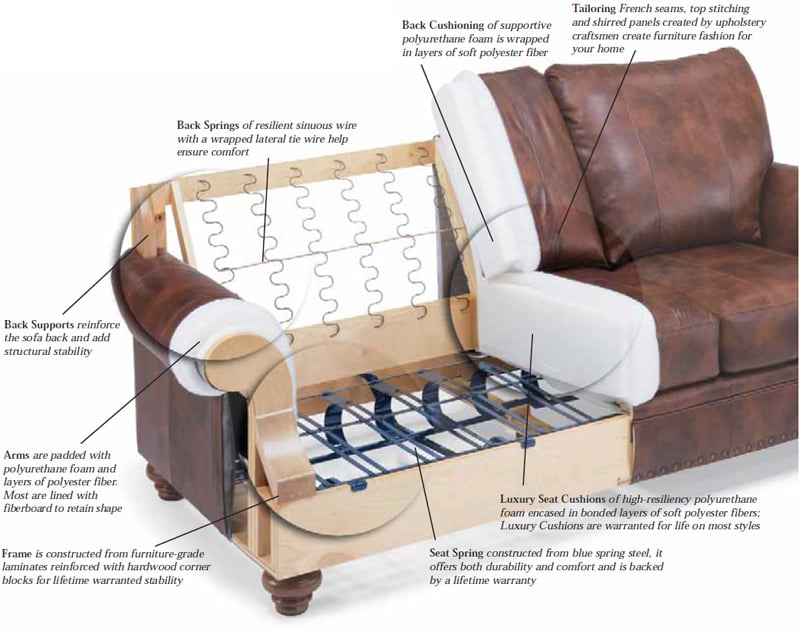 Flexsteel sofa and recliner construction:
Frames: 
Flexsteel uses 7/8″ plywood with 7 plies. Although this is far less expensive than Flexsteel's old solid wood frames, these plywood frames should still last 20+ years for most people.
Foundation: 
Flexsteel's famous flat blue steel seat support system has been the strongest in the furniture industry for over 100 years.
For average people with average use, the blue steel flat springs should last 50+ years.
If used by 300+ lb. individuals or if jumped on by kids, they will probably still last 50+ years.
[Historical factoid – I was representing Flexsteel to the U.S. government in the 1980s, when they were sued by Drexel-Heritage over the award of a government contract for sofas.

Drexel's argument was that the contract specified "8-way hand-tied" foundations, which they claimed were superior to Flexsteel's blue steel flat spring.

Flexsteel won the lawsuit (and the contract) by "proving" that the blue steel spring was "as good or better than" 8-way hand-tied springs.]
Cushions: 
Flexsteel appears to once again recognize that sofas last only as long as the seat cushions remain firm and comfortable.
All sofas now use 2.0 density foam (an upgrade from the 1.8 density foam used by many of Flexsteel's competitors.)
In addition, the cushions are larger and thicker than they have been in previous years.
Foam cores are now larger (more surface area) and thicker (6″ or more.)
Larger and thicker seat cushions last longer than smaller or thinner cushions.
Flexsteel has introduced a new Flex Collection. 
This is their version of LoveSac's highly successful Sactional design.
Flex is a modular collection of interchangeable arms, backs and seating units.
These can be combined into dozens of different configurations.
Flex has several advantages over LoveSacs Sactionals.
Lower cost – Flexsteel's Flex Collection is far less expensive than LoveSac's Sactionals. Retail prices should be less than $1000 per seat. In my opinion, LoveSac is way overpriced for its quality level.
Better quality/value – The Flex Collection is a much better value with an overall quality that is as good or better than LoveSac. Flex even includes a modified version of Flexsteel's famous blue steel flat spring seat support.
Comfort – Sactionals have a back that has less pitch (more straight up) than most seating. This is a result of their original design and assembly requirements.
Flexsteel has a normal pitch for its backs, which results in a more comfortable seat.
Easier Assembly – Flex assembly is simpler and takes less time than Sactionals.
Sizing – I have not directly compared the sizes of LoveSac and Flexsteel modular units, but from general observation, Flexsteel' seating units seem to be smaller (and better suited to many rooms) than LoveSac's huge, oversized seating units.
Flex does have some disadvantages when compared with Sactionals:
Limited storage beneath seats
No removable, washable covers. This is not as big a disadvantage as it used to be. Flexsteel offers a large selection of high performance fabrics that are very durable, highly stain resistant, and easy to clean.
When Sactionals were first introduced, many of their early fabrics were cottons. The ability to remove and wash fabric covers was far more important for cottons than for today's high performance synthetics, which can be easily spot cleaned.
Flexsteel's Flex Collection is now in stores. So far Flexsteel reviews have been very favorable.
Several new Flexsteel product lines were introduced at the October 2022 Home Furnishings Market and are now beginning to appear in stores.
The Sky Collection features special Cloudlux cushions with Trillium (down alternative) filling replacing the polyester fiber found in most sofas at all price ranges.
Trillium is far more expensive than the polyester fiber it is replacing, but provides more resilience with a softer feel.
Several high end manufacturers have been experimenting with Trillium for their back cushions, but few are using it for seat cushions.
My initial Flexsteel review of the Sky Collection Trillium filled seat cushions, based on trying them out in October 2022, was that the seat cushions were uncomfortably soft.
The excess softness has been corrected. The Sky seat cushions are now very comfortable.
They are also very heavy, which is a good indication that they should last for a long time.
Flexsteel also introduced its Zecliner line, which combines recliner and sleeper functions.
It seems to be doing well in Flexsteel reviews.
Flexsteel  also introduced Charisma in October, 2022.
This was a new, lower priced upholstery line, without the Flexsteel brand or the famous blue flat steel spring foundation.
6 months later, at the April 2023 High Point Furniture Market, I did not see any Charisma products in the showroom and the salesperson who showed me around did not mention it.
Apparently the line is now being shipped. I have not seen any Flexsteel reviews of this product line.
[Disclosure: Flexsteel was one of my clients in the 1980s when I was representing multiple furniture manufacturers to the U.S. government.

Over a 6 year period, I sold over $12 million of Flexsteel furniture to the U.S. army and various government agencies.

Ethan Allen and Bassett were two other clients during that time period.

---

If you like my Insider's Guide To Furniture please encourage your friends and family to check it out.

Unlike other furniture review sites, I do not solicit or accept payment from any of the brands reviewed or mentioned on my website.

My 45 years in the furniture industry have provided me with a detailed knowledge of furniture brands, construction, quality & value.

Over the past decade, I have written over 2,000 articles, reviews, and answers, seen by over 2 million viewers.

If any company or individual feels that the information on this website is out-of-date or inaccurate, please let me know and it will be promptly corrected.

Important Note about advertising on this website:

I do not solicit or accept payment from any of the brands reviewed or mentioned on InsidersGuideToFurniture.com.

Despite this, you may see ads on the website. These ads are generated by Ezoic.

Ezoic is a Google platform for website publishers. It is completely automated!

I do not have contact with any of the companies or agencies that choose to advertise on this website through Ezoic.