The size of a 3 seat sofa usually ranges from 78″ – 90″ (198 cm – 220 cm.)
The size (length) of a sofa is determined by:
the width of the cushions and
the width of the arms.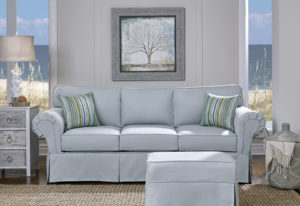 88″ 3 seat Ashton sofa from Simplicity Sofas shown above.
Seat cushions have to be at least 21″ (53 cm) in width. This width is smaller than normal and is more commonly found on chairs rather than sofas.
Cushion widths of 23″ – 24″(58 – 61 cm) are the most common.
It is theoretically possible to have seat cushions that are 30″ (76 cm) or more, but at that point you can just add a 4th normal size cushion.
Seat cushions that are 27″ or wider are more commonly found only on 2 seat sofas.
Three cushions will give you a width of anywhere from 66″ – 74″ (168 – 188 cm) of space between the arms.
At that point the total width of your sofa will be determined by adding the thickness of the arms.
Most sofa arms are at least 3″ (8 cm) in width.
Most are between 4″ – 6″ (10 – 15 cm) but it is not unusual to find arms that are 8″ (20 cm) or even wider.
There are two arms on a sofa so you need to double the individual arm measurement.
Taking the smallest cushion width of 22″ and the smallest arm width of 3″ the smallest three seat sofa will total 72″ (183 cm).
In reality it will be extremely difficult to find a three seat sofa with a length of 72″ (183 cm.). Normally that sofa length comes with two cushions.
Three 27″ width cushions with 8″ arms gives a total sofa length of 97″ (246 cm.)
Theoretically it is possible to find 3 seat sofas measuring anywhere from 72″ – 97″ (183 cm – 246 cm). Though custom sofa sizes may increase the price tag.
The normal range for a 3 seat sofa, however, is 78″ – 90″ (198 cm – 220 cm.).
Know someone who might be interested in this post? Please like and share this post with them. If you have questions or comments please leave them below.